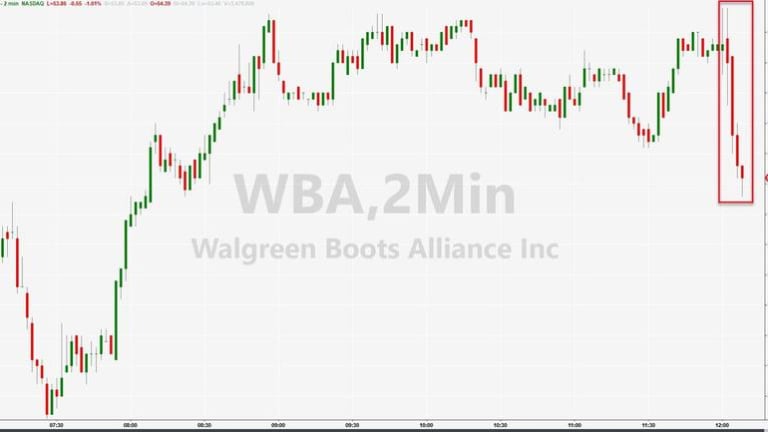 CVS, Walgreens Shares Slide As Amazon Files International Trademarks
PillPack has shifted focus, and is apparently aiming to build its foundation abroad.
Courtesy of ZeroHedge
Amazon has just taken another step in its assault of the pharmacy industry. Since the company acquired PillPack, a disruptive online pharmacy, back in 2018, pharmacy mainstays like CVS and Walgreens Boots Alliance have been rattled by the e-commerce and cloud-computing giant's move into their territory. Their shares dipped on Tuesday as CNBC reported that Amazon had just filed trademarks for its 'Amazon Pharmacy' brand in several foreign markets, including Australia, Canada and the UK.
​
Amazon unveiled its plans to rebrand PillPack as 'Amazon Pharmacy' late last year, signaling to the market that it intended to pursue its pharmacy aims despite a high bar set by regulators in the US.

The problem with selling pharmaceuticals in the US is that, although the market is probably the largest for pharmaceuticals on the planet, it's also extremely competitive and complex. Since the PillPack buy, Amazon has already run into problems, including being sued by some of its competitors, and facing resistance from incumbent pharmacies when requesting patient data.
So, PillPack has shifted focus, and is apparently aiming to build its foundation abroad. Of course, filing the patents doesn't necessarily guarantee that Amazon is expanding PillPack. The pharmacy old guard has done an admirable job protecting their turf, and some are skeptical of Amazon's ability to break in.
But if Jeff Bezos has proven anything during his multidecade push to transform Amazon into 'the Everything Store', it's that Amazon can be a surprisingly fierce competitor. And the industry stalwarts will need to rely on more than just the largesse of consolidation to beat Bezos.