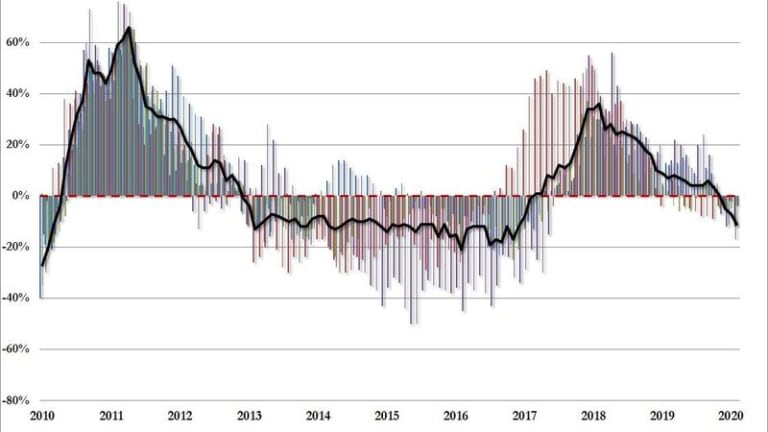 Caterpillar Machine Sales Plunge Most In Three Years
Fears about the virus's impact on global growth have helped send shares of the economic bellwether down 38% this year...
Courtesy of ZeroHedge
Just in case the world needed yet another confirmation the world's manufacturing industries, primarily construction and mining, are grinding to a halt, it got one late on Thursday when Caterpillar reported that in February its global machine sales suffered their biggest drop since December 2016.
The report, which covers the first full month when the coronavirus pandemic paralyzed China's economy and was rapidly spreading across the rest of the world "underlines how the coronavirus outbreak is putting a drag on the industries that Caterpillar supplies" according to Bloomberg. While the North American region posted another double digit drop, declining from -11% in January to -12% in February, it was Asia that was hit the hardest, tumbling from a modest, -2% drop in January to a whopping -17% in February, the biggest decline in four years.
As Bloomberg further notes, the downbeat mood in the heavy manufacturing industry permeated ConExpo, the largest construction convention in North America. In remarks at the Las Vegas gathering this week, which surprisingly has not been canceled, Caterpillar CEO Jim Umpleby said the coronavirus hasn't yet caused major supply snags, and the company was focusing on executing the plan set in place when he first took over as CEO. In other words, the real fall in retail sales is yet to come, and may be why Umpleby didn't offer much detail on how the worldwide move to stamp out the virus will change prospects for the business.
"Our guidance was based on the best information that we had at the time, and if we have any changes to that we'll do it when we put out our first-quarter results," Umpleby told Bloomberg in an interview. Translation: expect CAT to pull its entire 2020 guidance in the coming days.
Fears about the virus's impact on global growth have helped send shares of the economic bellwether down 38% this year, off to its worst start since 2009.
But the worst is yet to come, because the coronavirus is not even the company's biggest threat: the sudden Saudi oil price war is. CAT reported that oil and gas retail sales fell just 3% (a sixth straight month of declines in the segment), however with the industry now frozen with virtually no new exploration for the foreseeable future, we expect this CAT vertical to plummet to zero next month. Trying to put some lipstick on the pig, CFO Andrew Bonfield said Wednesday that oil-market tumult from the past week will impact the oil and gas business, but said that it's still too early to tell how strong that may be.