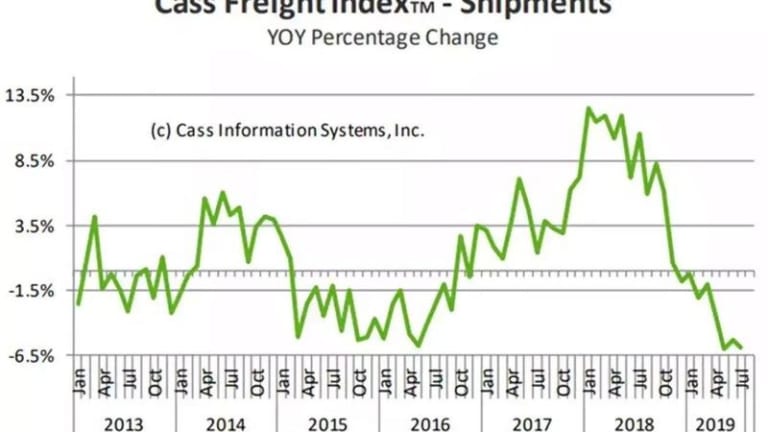 Cass Freight Index Contracts 8th Month, Predicts Negative GDP By Q3/Q4
The Cass Freight Index® Report shows trucking shipments as negative for the 8th month.
Courtesy of Mike Shedlock, MishTalk
Based on global shipping indexes, Cass expects a US GDP contraction in the third or fourth quarter.
​
​
The Cass Freight Index® Report shows trucking shipments as negative for the 8th month.
Key Points
When the December 2018 Cass Shipments Index was negative for the first time in 24 months, we dismissed the decline as reflective of a tough comparison. In January and February 2019, we again made rationalizations. When March was also negative (-1.0%), we warned that we were preparing to "change tack" in our outlook; when April was down (-3.2%), we said, "we see material and growing downside risk to the economic outlook."
With the -5.9% drop in July, following the -5.3% drop in June, and the -6.0% drop in May, we repeat our message from last two months: the shipments index has gone from "warning of a potential slowdown" to "signaling an economic contraction."
We acknowledge that: all of these negative percentages are against extremely tough comparisons; and the Cass Shipments Index has gone negative before without being followed by a negative GDP. However, weakness in demand is now being seen across many modes of transportation, both domestically and internationally.
Although the initial Q2 '19 GDP was positive, it was not as positive upon dissection, and we see a growing risk that GDP will go negative by year's end.
The weakness in spot market pricing for many transportation services, especially trucking, is consistent with the negative Cass Shipments Index and, along with airfreight and railroad volume data, strengthens our concerns about the economy and the risk of ongoing trade policy disputes. Weakness in commodity prices, and the decline in interest rates, have joined the chorus of signals calling for an economic contraction.
European Airfreight vs EuroZone PMI
​
​
​
​
​