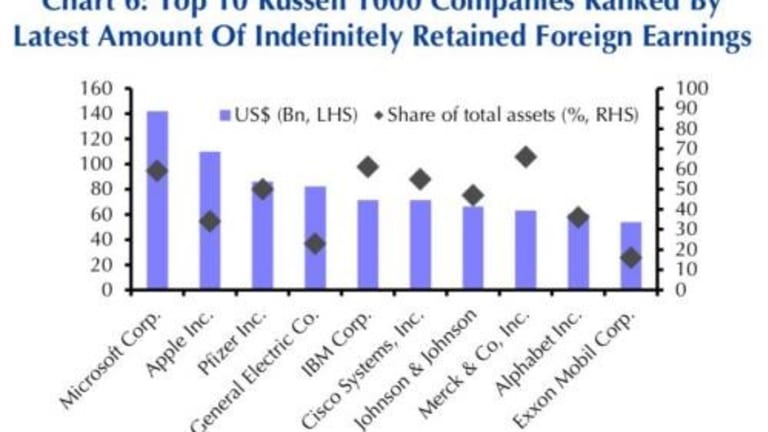 Apple Stops Reporting Cash Held Overseas
Apple stopped revealing how much cash is held offshore and it's not just Apple...
Apple stopped revealing how much cash is held offshore and it's not just Apple...
Courtesy of Zero Hedge
How can one determine if those, mostly tech and pharma, companies with the largest percentage of retained foreign earnings (i.e. overseas cash)…
…. are repatriating their cash now that it is no longer prohibitive to do so under Trump's tax law?
Until recently it was very easy: companies would simply disclose the amount of cash held offshore vs domestically in the "Liquidity and Capital Resources" section of their public filings, as Apple did in its latest 10K:
As of July 1, 2017 and September 24, 2016, the Company's cash, cash equivalents and marketable securities held by foreign subsidiaries were $246.0 billion and $216.0 billion, respectively, and are generally based in U.S. dollar-denominated holdings
​
​
Alas, that is no longer the case because in its two latest 10-Q filings, Apple stopped revealing how much cash is held offshore. And not just Apple but, as Bloomberg discovered, so did all the other companies that collectively have hundreds of billions in cash parked overseas, including Netflix, Microsoft, Google and Oracle.
​
​
While there is certainly nothing "rule-breaking" about leaving offshore cash from one's disclosures – and according to Bloomberg, some tax experts say it makes perfect sense – the move could make it more difficult to gauge whether one of the federal tax changes enacted last year is stoking corporate investment in the U.S., as the Trump administration said it would.
To be sure, Trump did everything in his power to incentivize companies to repatriate offshore cash: according to the new tax law, there is a one-time rate of 15.5% on cash and 8% on non-cash or illiquid assets, with payments stretching as long as eight years. Previously, companies kept their cash offshore due to the prohibitive repatriation tax rate of 35%, which is why Apple, with its massive overseas cash hoard, would also end up issuing over $100 billion in debt domestically: to fund US-based dividends and stock buybacks.
Incidentally, with companies no longer forced to issue bonds to fund buybacks, the amount of bond issuance by cash-rich companies had collapsed to zero in 2018, a development which as we discussed two weeks ago is the equivalent of corporate quantitative tightening.
​
​
And yet, while these cash-rich companies no longer seem to need US-sourced cash, they have suddenly gotten cold feet on reporting the flow of funds. 
Indeed, while Apple has vowed to repatriate most if not all of its $252 billion in cash stockpiled abroad (as of Sept 30), that was also the last date the company reported its foreign cash holdings. Microsoft stopped at the end of last year, while Google, Oracle and Netflix discontinued the disclosure this year. Collectively, the companies hold over half a trillion in cash overseas.
Is this normal? According to some, yes:
"The primary reason for the disclosure in the first place was that cash located in a foreign subsidiary was not the same as cash already in the U.S.," said J. Richard Harvey, a professor at the Villanova University law school and graduate tax program in Pennsylvania. "It makes sense that U.S. multinational corporations would stop disclosing the amount of cash held overseas."
Yes, but the disclosure change also makes it impossible to figure out if these cash-rich companies are also ending what the Treasury Department previously called a "perverse incentive to keep foreign profits offshore."
That said, ending the disclosure seems to be more exception than rule according to Bloomberg calculations
Tech giants like Qualcomm Inc. and Cisco Systems Inc. have continued to put out a number. So have Coca-Cola Co. and rival PepsiCo Inc., as have companies such as Caterpillar Inc. and General Electric Co. Of those companies, Coca-Cola, Caterpillar and GE have reduced their offshore holdings.
Curiously, some tech companies such as Facebook, which still disclose overseas cash holdings, reported a record $20.1 billion last quarter. That's $4 billion more than what it held at the end of last year. It suggests that contrary to promises of repatriation – even with the new tax regime – for many companies it was business as usual.
​
​
Some have downplayed the significance of the roughly $2 trillion held in overseas cash: "Repatriations will be, in the grand scheme of things, relatively modest and opportunistic," said Robert Willens, a tax adviser in New York. "I'm not sure that companies, certainly at this stage of the business cycle, are going to aggressively expand their plant and equipment balances in anticipation of even greater demand for their products."
Others, such as the WSJ disagree, and write that thanks to the repatriated cash, U.S. corporations are buying back their shares at a record pace – and are on pace to have returned almost $1 trillion to shareholders for the 12 months through March through dividends and buybacks – providing fresh support during a rocky stretch for the stock market when many investors have rushed for the exits.
S&P 500 companies that have reported earnings for the first three months of 2018bought $158 billion of their own stock in the first quarter, according to S&P Dow Jones Indices*. About 85% of S&P 500 components have reported so far.*
​
​
That, as the WSJ notes, is on pace for the biggest amount in any quarter: "The move has been fueled in part by a new tax law that is freeing up cash and encouraging companies to bring back money held abroad…. Cash-rich businesses are also raising dividends swiftly. S&P 500 companies are on pace to have returned almost $1 trillion to shareholders for the 12 months through March through dividends and buybacks."
Finally, while the cash-rich companies may or may not be in a rush to repatriate all their overseas cash, one thing is certain: the bulk of the repatriated cash will go straight into shareholder pockets, while spending on capex will be at beast, an afterthought: early signs suggest that much of the freed up cash is going into shareholder returns. Goldman Sachs expects S&P 500 companies' spending on buybacks and dividends to increase by 22% to $1.2 trillion in 2018, outpacing the expected increase in capital expenditures and research and development in 2018, which it sees jumping 11% to $1 trillion.
For those curious which companies will likely engage in the most aggressive stock repurchase programs, here is a list of the companies that until recently had the most cash "trapped" overseas as a % of their market cap.
​
​