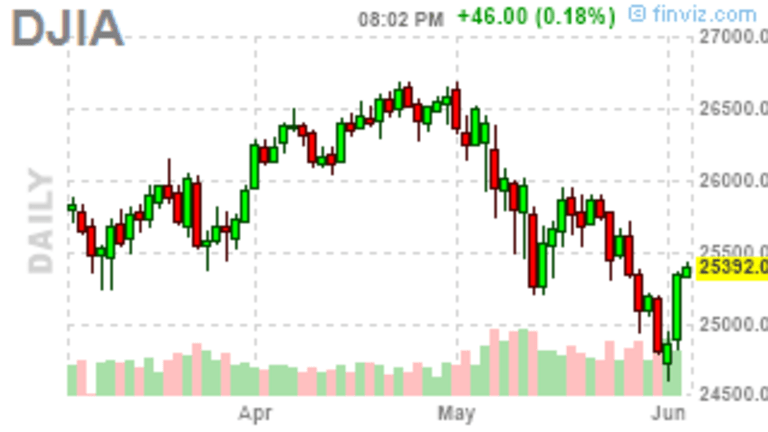 25,000 Tuesday – Dow Tests a Critical Line from Below
Phil - "Remember, we are playing for the bonces – so don't be greedy!"
25,000 or bust!
That's what we'll be watching today as the Dow Futures (/YM) rally 116 points (8am) to come back to the 25,000 mark and yesterday,in our live Member Chat Room, we drew out the following bounce lines:
Dow 26,700 to 24,700 is 2,000 so huge 400-point bounces to 25,100 (weak) and 25,500 (strong)
S&P 2,950 to 2,750 is 200 so 40-point bounces (or what I said above) to 2,790 and 2,830
Nasdaq 7,850 to 7,100 is 750 so 150-point bounces to 7,250 and 7,400
Russell 1,600 to 1,450 is 150 so 30-point bounces to 1,480 and 1,510
As you can see from the sea of red, we didn't make much progress yesterday but the Russell is back at their weak bounce line this morning so there is some hope that the dip buyers are still out there.  Yesterday's volume was good for a Monday but we ended up flat for the day so non-committal too.
The better news is the S&P 500 tested and held the 2,730 mark we predicted in the morning right on the button and that's our 5% line so a good sign if that continues to hold as it means we're still consolidating in the higher part of our expected trading range (see yesterday's notes). 
Keep in mind the index gains are far less impressive since the Dollar is down over 1% since Friday's open while 40 out of 2,730 S&P points clocks in at 1.46% so we're barely keeping up with Dollar deflation on this "rally" so far.  That also makes Oil's (/CL) drop from $66.50 to $52.50 seem even worse, as that's a 21% correction and we should be getting $2.50 bounces to $55 (weak) and $57.50 (strong) but we were firmly rejected at $55 and smacked right back to $52.50 – a very bad sign if we fail again and it's not likely the markets will recover if oil is slumping this badly.
​
​
If oil has a 21% correction and heads lower, it's very likely we'll see the S&P, Dow and NYSE follow as they have plenty of big oil companies in them.  Tomorrow we get the Fed's Beige Book report and it will probably be signaling not to worry but that was a survey taken before Trump threatened to sanction Mexico too.
Fed Chair Powell will be giving the opening remarks this morning at the "Conference on Monetary Policy Strategy, Tools And Communication Practices." at 9:45 at a Chicage Fed Conference.  Yesterday Bullard said that "Unresolved trade disputes and below-target inflation suggest that the Central Bank needs to tread carefully in order to help sustain the economic expansion" and indicated that a rate cut could be warranted.  If Powell makes similar noises, we can expect to see those strong bounce lines so playing the Dow (/YM) Futures long at 25,000 is a good low-risk/high potential reward strategy this morning – as is oil above the $52.50 line.  Australia's Central Bank cut rates to 1.25% last night.  
Remember, we are playing for the bonces – so don't be greedy!
The Nasdaq should be bouncy as well as yesterday was a bit of an over-reaction to the news that Congress was investigating big tech but that's a process that will drag out into next year and won't be affecting their Q2 earnings or even their outlook – just be worried when they get called to testify and that's not even likely to happen until the fall – if they even manage to get it done this year.  
There's not much else going on today but tons of Fed speak in Chicaga and we get Auto Sales reports throughout the day and Factory Orders at 10 am but keep in mind that all these reports are pre-Mexican Tariffs – so take anything with a grain of salt if we can't get off this crazy train.
Be careful out there!