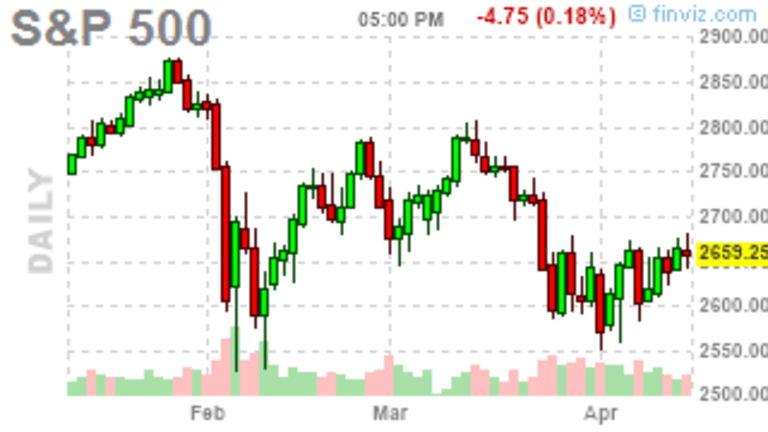 2,750 Tuesday – S&P 500 Hits it's Next Benchmark
It was only September when we got over 2,500 so another 10% in 4 months is a 30% annualized pace for the senior index.
2,750 already?
It was only September when we got over 2,500 so another 10% in 4 months is a 30% annualized pace for the senior index.  Back on 9/26, I asked "Is S&P 2,500 the Market's Waterloo?"  and clearly it has not been, with barely a down day since, punctuated by this year's crazy kick-off that's taking us 75 points higher (3%) for the year, so far.
Of course that's nothing compared to what's going on with our GreenCoins (GRE), which blasted up another 100% this morning on heavy volume, despite the sell-off in some of the more popular crypto-currencies.   That's up 1,000% from our Dec 3rd call to buy the currency, where we guaranteed we'd accept them at 0.00044 as payment for 2018 Annual Memberships.  We even tweeted that one out the same day – so there was ample chance to get in on the fun.
​
​
And why shouldn't we be able to make 1,000% in a month?  That's the new market paradigm these days when, as I predicted on November 29th, at this pace "We Will All Be Billionaires."  The next day (11/30) we analyzed the Dow in "24,000 Thursday – Dow Continues Its Insane March Higher" and now the Dow is at 25,300, up 5.4% in 6 weeks.  Of course, we didn't think it was sustainable and we cashed out our protfolio positions into the holiday and, since last Monday, we've been slowly building them back up – since this rally seems to be showing no signs of slowing down.
While I'd much rather see a good correction before we jump in and start buying again, we also don't want to get left behind in a good rally so we're picking up values where we can – though there aren't many value stocks left these days!
​
Not only is the S&P testing the 2,750 line but the Nasdaq 100 (/NQ) Futures are just under 6,700 – and that's up 10% since October!  We're using the Nasdaq's ultra-short ETF (SQQQ) as our primary hedge at the moment as we really can't believe earnings are going to live up to the hype but it's not really about earnings – it's about the new tax law and what it can drop to the bottom line.
Still, the markets have the momentum and will continue to rise until something stops them so we are simply buying to be defensive at this point.  Last week, for example, we talked about how we would be building up our new portfolios and our trade idea for that morning was:
Sell 10 AAPL 2020 $140 puts for $9.50 ($9,500) 
Buy 10 AAPL 2020 $150 calls for $35 ($35,000) 
Sell 10 AAPL 2020 $180 calls for $20.50 ($20,500) 
​
That spread cost us a net of $5,000 on the $30,000 spread with $25,000 (500%) upside potential if Apple (AAPL) is over $180 in Jan 2020 and, though it's only been a week, the short puts have already fallen to $8.40 ($8,400) and the $150/180 spread is now net $14.80 (14,800) so net $6,400 is up $1,400 (28%) in 7 days because – well because they just GIVE money away in this market, don't they?  
That's why we don't fear missing out on a rally by going to cash, the upside on our options spreads is so much – we just need to know the market isn't going down and we'll outpace the gains by a mile.  Another trade we published in that morning Report was for Ford (F) – and that was a simple covered call with some short puts in case we were able to buy more stock cheaply:
Buy 1,000 shares of F for $12.49 ($12,490) 
Sell 10 2020 F $12 calls for $1.50 ($1,500) 
Sell 10 2020 F $12 puts for $1.50 ($1,500)
​
Though this was not meant to be a sexy play, with only 39% upside potential and though it's only been 7 days, F is already at $13.15 ($13,500) and the $12 calls are $1.90 ($1,900) and the $12 puts are $1.35 ($1,350) for net $10,250, which is already up $760 (8%) from our original $9,490 outlay.  Again, money is just being printed for you at the rate of 1% a day in this market and, while it may be fun – it can't possibly last – especially without inflation.
These are secret Hedge Fund trades, these are straightforward stock and options trades I am telling millions of people about LIVE and then checking back on them a week later to count the winnings.  How is this a realistic market when it's this easy to make annualized returns of over 100%?
THAT is what we are worried about.  At some point, reality will assert itself and the market will correct.
Maybe…
​
​