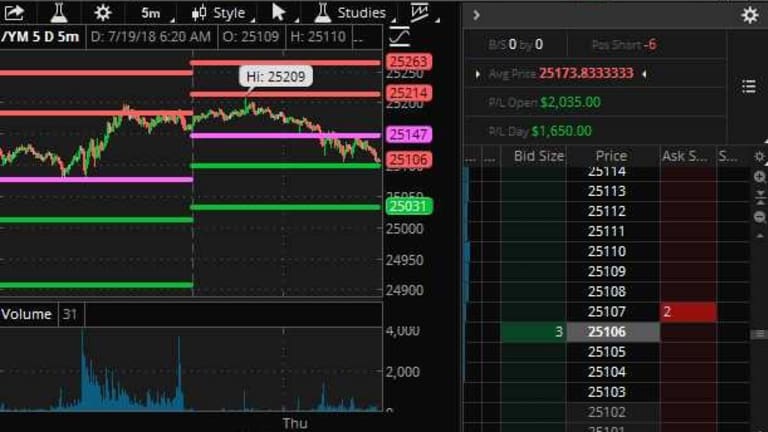 $2,000 Thursday – Our Live Trading Webinar Makes a Quick Two Grand!
We are moving to a lot more CASH!!!
I love it when a plan comes together.  
In yesterday's Live Trading Webinar (replay available here) we worked our way into 6 short Dow (/YM) Futures shorts at an average of about 25,167 and we rode them down this morning to the 25,100 line fora quick $2,000 gainon the set and then, in our Live Member Chat Room, we called for a follow-on short below the 25,100 line, with a target of 25,000 for another $500 per contract gain.
It's been a busy week as we have options expirations so we're reviewing our 5 Member Portfolios, one of which we share with the viewers of Business News Network's (Canada's Bloomberg) Money Talk in a portfolio where we only initiate and change trades on the show so every single trade is available to the viewers live. The disadvantage to that restriction is that we can't make adjustments between shows (I'm on quarterly) so we try to stick to low-touch value trades but, as we teach our Members, trading does not have to be exciting to be profitable and our Money Talk Portfolio is already up 68.6% since we initiated it last September (10 months).  Not bad for free samples!  
​
​
You can see the review of the adjustments we made yesterday at www.philstockworld.com/moneytalk and here are the clips from the show talking about the market, the portfolio and adding a new trade idea on General Foods (GIS):
​
​
As noted, we are moving to a lot more CASH!!! and were shorting the market as we're taking the trade war more seriously than other investors seem to be and, just this morning, to prove my point, there was more saber-rattling from the President about Auto Tariffs, which would be a horrifically bad idea for the entire Global Economy.  That's what sent the market lower, despite pretty good earnings reports so far.
Just because we're generally bearish doesn't mean we can't find values in the market – they are just few and far between.  On BNN I noted that Barrick Gold (ABX) at $12.25 and Limited Brands (LB) at $32.50 are both great bargains and both of the above spreads are cheaper now than when we first picked them up so our loss is your discount if you are coming in fresh!
We didn't find anything particularly encouraging in yesterday's Beige Book Report by the Fed – not in the context of having record-high stock prices.  With record-high stock prices we should be seeing words like "strong" and "robust" not "modest" and "moderate" – this economy is slowing down, not speeding up and speeding up is what's priced in but we won't get a correction until the earnings begin to show how faulty the bulls' premise really is at this point.
As you can see from Citi's Economic Surprise Index, the trend has been lower and lower after a pause on the way down in Q1 but Q2 has been TERRIBLE for data reports yet Consumer Sentiment is still strong, mostly because our Government lies to us an average of 9 times a day, telling us how wonderful things are and how there was no meddling in the election or, if there was meddling, there was no collusion and, if there was collusion, then the investigation into it is taking to long so we should shut it down or let Vladimir Putin take over for Robert Mueller and be allowed to question witnesses and let us know whether he and Trump were guilty.  No wonder people are confused!  
Speaking of confused: Sasha Cohen gets GOP and NRA idiots into supporting fake and RIDICULOUS idea of arming children in the schools.  These are real people who are influential policy makers – what else but "deplorable" describes them?
​
​
"The Liberals are using these school shootings to further their anti-tragedy agenda."  Priceless (5:50)!   And then they guy agrees with him!   He also gets the guy to high-five him over "It's not rape if it's your wife."  Though at least the guy says (hoping) "That probably won't be on the air."  
What's really horrible is how easily he can push himself in front of actual Congresspeople with a lunatic agenda and then gets them to give testimonials reading obvious (to others) nonsense off a teleprompter.  He gets Joe Walsh (R-IL) to say "A first grader can become a first grenader" and Larry Pratt cites totally fake studies stating children have "the pheromone Blink 182" which is, of course, a rock band along with other pop-culture nonsense that goes right over this guy's head yet he's the "expert witness" Congress goes to to pass laws!
Only a drastically under-educated populace falls for this kind of BS! (or elects these morons to represent them)
Fortunately, Stephen Colbert has a cartoon we can all understand:
​
​
That's just TODAY folks – be careful out there!