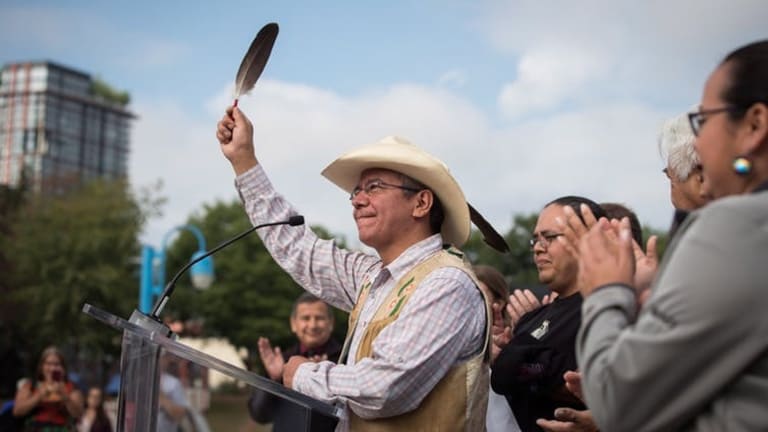 Trans Mountain ruling: Victory for environmentalists
This is misleading spin — and masks Canada's true climate record in a number of ways.
[Trans Mountain ruling: Victory for environmentalists, but a setback for action on climate change](https://www.philstockworld.com/2018/08/31/trans-mountain-ruling-victory-for-environmentalists-but-a-setback-for-action-on-climate-change/ "Permanent Link: Trans Mountain ruling: Victory for environmentalists, but a setback for action on climate change")
Courtesy of David Tindall, University of British Columbia
The court ruling that has halted the Trans Mountain pipeline expansion has seismic implications to the Canadian socio-political and environmental landscape.
One of the many potential implications of the court's decision is the potential impact on climate change — and specifically the federal government's carbon pricing plan, which is now in serious trouble after Alberta's decision to withdraw its support as a result of the Trans Mountain delay.
The ruling by the Federal Court of Appeal quashed the National Energy Board's (NEB) approval permit of the Trans Mountain pipeline expansion project because First Nations had not been adequately consulted and because the implications of increased tanker traffic on the precarious orca whale populations on the West Coast had not been taken into account.
While environmentalists can claim a victory in delaying the construction of a pipeline that would ship a further 500,000 barrels of oil each day to the Pacific Coast, the court ruling also threatens Canada's plan to deal adequately with its greenhouse gas emissions.
Focus on oil spills, tankers
I do research and teach on social aspects of climate change. For most environmentalists, climate change is a central concern. But when taking on the Trans Mountain pipeline expansion, opponents have focused on oil spills and increase tanker traffic because those issues are easier for the general public to understand.
​
​
In assessing the Trans Mountain expansion, the NEB was not allowed to consider downstream effects on climate change. Pipeline proponents often point to the notion that Canada's emissions are a small part of worldwide greenhouse gas emissions (about two per cent according to some estimates). This is misleading spin — and masks Canada's true climate record in a number of ways.
For instance, Canada has only about 0.5 per cent of the world's population, which means its domestic emissions are four times the proportion warranted by its population. Canada's domestic emissions are also more than double the global average on a per capita basis.
Canada won't meet Paris commitments
Canada is on track to miss its commitments under the Paris climate agreement — and that's after Ottawa fudged the targets by changing the baseline for emissions reductions from 1990 (as spelled out in the Kyoto Agreement) to 2005.
According to the latest Climate Change Performance Index, Canada ranks a woeful 51 of 60 countries (the United States under Donald Trump's administration is ranked 56th). The Index's 2018 report described Canada "as one of the largest producers of absolute greenhouse gases as well as per capita emissions." And when we consider the context of the Trans Mountain pipeline extension, it gets worse.
Because of its mandate, the National Energy Board did not consider the emissions that would go into the atmosphere from fossil fuel that is exported to other jurisdictions, nor does Canada count these emissions in its calculations.
Climate experts, myself included, were denied the opportunity to discuss the consequences of the Trans Mountain project because the National Energy Board claimed that it was prevented from considering downstream consequences on climate change from the pipeline expansion.
What are the long term consequences?
So how does the new court decision change all this?
First Nations (those who oppose the project), environmentalists, coastal civic leaders and others are celebrating — and deservedly so, given their efforts. But the longer term consequences from a climate change perspective are uncertain.
The project will almost certainly be delayed several years as the federal government pursues the remedies described by the court or launches an appeal (or perhaps both).
​
​
Justin Trudeau's government deserves some credit for initiating a federal carbon pricing scheme. This is a significant step beyond what other federal governments have done. Trudeau used the pipeline expansion project as a bargaining chip to get a national carbon pricing plan established.
However, as economist and policy expert Mark Jaccard has argued, the federal government has overestimated the likely decrease in green house gas emissions that will result from the carbon pricing scheme.
Regardless of whether the carbon pricing plan in theory is likely to enable Canada to meet its targets, the scheme is now in serious political jeopardy.
Newly elected Ontario Premier Doug Ford has promised to fight federal climate change emission initiatives. And the Federal Court ruling was quite possibly the final nail in the coffin of Rachel Notley's aspirations to be re-elected as premier of Alberta.
A few hours after the ruling, Notley announced Alberta will withdraw its support for the carbon pricing scheme. Notley's likely replacement, Jason Kenney, has also promised to oppose it.
So while the quashing of NEB approval of the pipeline is a victory for environmentalists in one sense, it puts carbon pricing in serious jeopardy — a classic "glass half full" scenario for environmentalists like me.
David Tindall, Professor of Sociology, University of British Columbia
(This article was originally published on The Conversation. Read the original article.)
Read more:Canada's Paris-pipeline paradox