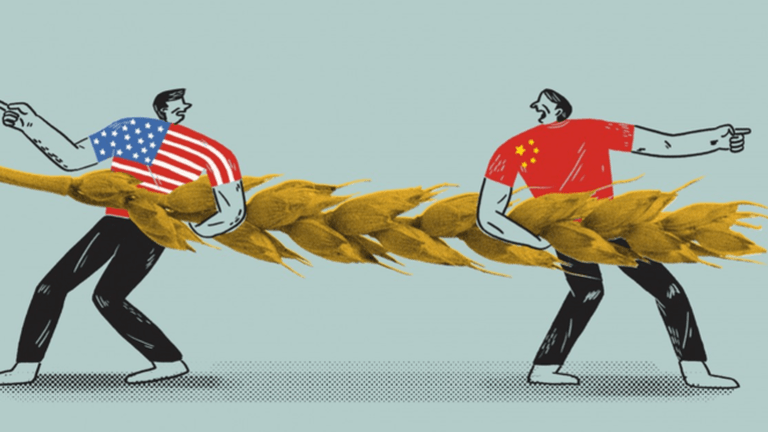 Trade War Nightmare: China Farm Imports From America Have Just Crashed
An escalating trade war would result in the US agriculture sector losing an even larger market share of China.
Courtesy of ZeroHedge
The Ministry of Agriculture and Rural Affairs of the People's Republic of China published new data Monday that shows agricultural imports from the US have fallen, as Chinese buyers shift supply chains out of the US to other countries because of the deepening trade war.
In the first five months of 2019, imports of agricultural products from the US crashed 55.3% YoY. Much of decline was due to a 70.6% YoY decline of soybeans in the same period.
Chinese importers went to Brazil, Argentina, and ASEN countries (Thailand, Indonesia, Malaysia, Singapore, Philippines, Vietnam, Brunei, Myanmar (Burma), Cambodia, and Laos). Data showed imports from the EU, Australia, and Canada also jumped in the first five months as Chinese buyers ditched American products.
​
​
A report last week by yicai.com showed cotton imports from the US reached 60% of forecasts because of the tariffs, along with declining spot prices.
With cotton trade between the US and China on the decline, this could spell near term trouble for American producers because 17% of their total cotton exports route to China.
Ma Wenfeng, an agriculture analyst, told the Global Times on Monday, that China has quickly diversified its import sources away from the US to ensure domestic supply continues. "Overall, China mostly relies on domestic cotton for its textile industry," Wenfeng said, adding that China has undertaken reform to reduce its dependence on American products.
Global Times referenced a report from ncpqh.com that showed total imports of American cotton stood at 505,400 tons, accounting for 4.1% of total cotton supply in China in 2017.
"In comparison, imports of cotton from other countries, including Brazil and India, have been steadily on the rise," Wenfeng noted.
As Chinese imports of American agricultural products comes to a screeching halt, farm sentiment across the Midwestern US plunges to crisis levels.
"We cannot withstand another year in which our most important foreign market continues to slip away and soybean prices are 20 to 25%, or even more, below pre-tariff levels," said John Heisdorffer, chairman of the American Soybean Association, in a statement published on May 13.
Jiao Shanwei, editor-in-chief of cngrain.com, a grain industry news website, said an escalating trade war would result in the US agriculture sector losing an even larger market share of China.
For instance, "the biggest sources of soybeans are mainly in South America, such as Brazil. Imports from the US make up only one-third of total imports," Shanwei told the Global Times on Monday.
While China sources agricultural products from other countries, the US agriculture sector will likely become the biggest loser of the trade war this year, expected to entire a crisis in the coming quarters.