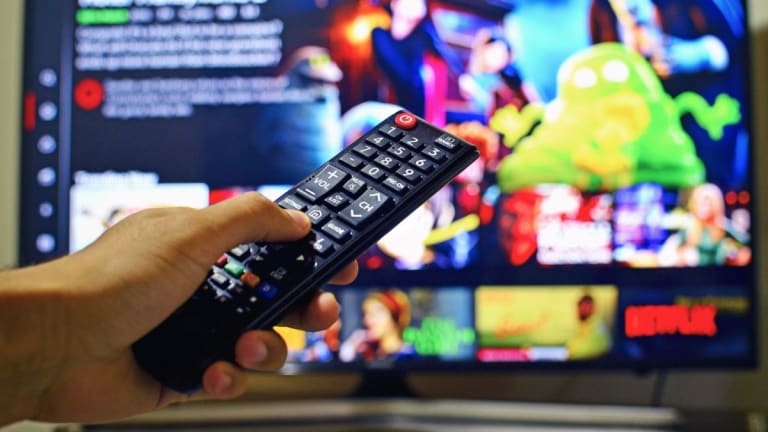 Netflix Burns A Record $19 Million Per Day As Growth Slows; Q1 Forecast Disappoi
Netflix said some customers are leaving due to recent price increases.
Courtesy of ZeroHedge
Two quarters ago, when Netflix subscriber growth hit a brick wall and US subs actually declined, we asked  "is the Netflix growth juggernaut finally dead?" because in its Q3 letter, Netflix said it will add 26.7 million customers in 2019, fewer than it added last year, and the first annual drop in growth this decade.
Then, last quarter, the juggernaut appeared to find yet another "second wind", with the stock surging after the company reported its Q3 earnings, which sparked a short squeeze after Netflix beat on the top and bottom line despite missing on total subs while again slashing guidance (that particular squeeze did not last long and the stock quickly slumped, only to soar starting roughly at the same time as the Fed restarted QE). And just so Apple isn't the only "growth" company to slash various reporting metrics, Netflix joined in and announced that it would stop differentiating between domestic and international margins:
"as we self-produce and license more original content that has global rights, we are finding US vs.international segment contribution margin reporting is becoming less useful internally. We'll stop reporting on it in January 2020 and continue to focus on global operating margin as our primary profitability metric"
Translation: international margins are no longer growing fast enough to merit their own talking point among the investment community. And with the company growth slowing rapidly, especially now that there are numerous other competing streaming services, the we can only assume that it is only a matter of time before Netflix stops reporting its subscriber numbers altogether.
Fast forward to today, when with NFLX trading at the highest level since last July (curiously, unlike most other tech darlings which made new record highs this year, Netflix is still trying to claw back to levels last seen before its 2Q'19 report in July),  moments ago Netflix appears to have found yet another "second wind" reporting a beat on revenue, earnings and Q4 subs, even as it once again trimmed its outlook for the next quarter.
First, the good news: NFLX reported Q4 revenue and EPS of $5.47BN and $1.30 both beating expectations of $5.45BN and $1.05; Q4 global streaming subs rose by 8.76MM, on par with the company's additions a year ago, and also above the company's own 7.6 million estimate and Wall Street's 7.65MM forecast. Of those, just 420,000 came from the U.S., while 8.33 million came from abroad. In total, this was the third best quarter for total NFLX subscribed growth in history, following the blockbuster Q4 2018 and Q1 2019.
And yet, looking at the details, we see that domestic streaming subscriber growth continues to slow down even as international growth is picking up, which we expect will be the narrative pushed by the bulls if the stock is to rebound after hours.
Looking at the table above, Netflix was proud to announce that it hit a milestone surpassing 100 million foreign paid subscribers during the quarter.
Now the not so good news: while in Q4 Netflix added a strong 8.76MM streaming subs, the company's forecast for Q1 was a disappointing 7.00MM, well below the 7.82MM Wall Street estimate, and it is this number that appears to be dragging the stock lower after hours, as the kneejerk response higher was quickly faded.
Commenting on its subs, Netflix said that "we generated Q4-record paid net adds in each of the EMEA, LATAM and APAC  regions" although as it noted, the North American (UCAN) region saw a sharp slowdown, with paid net adds just 0.55m (with 0.42m in the US) vs. 1.75m in the year ago quarter. According to Netflix, "our low membership growth in UCAN is probably due to our recent price changes and to US competitive launches." And while Netflix claims it has seen "more muted impact from competitive launches outside the US (NL, CA, AU)" a look at the company's runrate in subscriber adds suggests that the mega growth party is over and it's all downhill from here.
Somewhat concerning, if not surprising, Netflix said some customers are leaving due to recent price increases. It says its Q1 forecast "reflects the continued, slightly elevated churn levels we are seeing in the U.S. plus an expectation for more balanced paid net adds across Q1 and Q2 this year, with seasonality more similar to 2018 than 2019." The company also said that "this is due in part to the timing of last year's price changes and a strong upcoming Q2 content slate, where we'll have some of our bigger titles like La Casa De Papel (aka Money Heist) season 4."
Perhaps tied to this, Netflix said it has changed how it measures audiences because it has titles of different lengths, from TV shows to movies: "We believe that reporting households viewing a title based on 70% of a single episode of a series or of an entire film, which we have been doing, makes less sense." In other words, Netflix used to report a viewer who watched 70% of a show. Now it's anyone who watched at least two minutes.
As a result, Netflix is now reporting on accounts that chose to watch a given title. The new metric is about 35% higher on average than the prior metric, Netflix says.
Looking ahead, and the reason for the stock's big drop after hours, NFLX had this to say why it expects only 7.00MM subs in Q1 2020 vs a record 9.6MM a year ago:
As a reminder, the quarterly guidance we provide is our actual internal forecast at the time we report.For Q1'20, we forecast global paid net adds of 7.0m vs. 9.6m in Q1'19, which was an all-time high in quarterly paid net adds.Our Q1'20 forecast reflects the continued, slightly elevated churn levels we are seeing in the US plus an expectation for more balanced paid net adds across Q1 and Q2 this year, with seasonality more similar to 2018 than 2019.This is due in part to the timing of last year's price changes and a strong upcoming Q2 content slate, where we'll have some of our bigger titles like La Casa De Papel (aka Money Heist) season 4.
In short, the company's visibility is suddenly collapsing as a result of too many varibales, including rising competition, a non-stop changing content, and higher prices, hardly the stuff bulls are looking for.
Now that everyone and their kitchen sink is launching a streaming service, this is what Netflix had to say about the current state of the market:
Many media companies and tech giants are launching streaming services, reinforcing the major trend of the transition from linear to streaming entertainment. This is happening all over the world and is still in its early stages, leaving ample room for many services to grow as linear TV wanes. We have a big head start in streaming and will work to build on that by focusing on the same thing we have focused on for the past 22 years – pleasing members. We believe if we do that well, Netflix will continue to prosper. As an example, in Q4, despite the big debut of Disney+ and the launch of Apple TV+, our viewing per membership grew both globally and in the US on a year over year basis, consistent with recent quarters.
And just to underscore that the competition is fickle, Netflix also added a Google search comparison for The Witcher, Disney's The Mandalorian, Amazon's Jack Ryan and Apple's The Morning Show. Maybe it should also include a chart showing how many people actually finished watching the Irishman.
What about cash burn?
In Q4, net cash used in operating activities was -$1.5 billion vs. -$1.2 billion in the prior year period. Free cash flow (FCF) in Q4 totaled -$1.7 billion vs. -$1.3 billion in Q4'18. For the full year, FCF was -$3.3 billion which we believe is the peak in our annual FCF deficit. We doubt it.
What does that mean in practice? It means that in Q4 Netflix burned a record $1.7BN, or roughly $19 million per day in the quarter. In light of this massive spending to grow the business – nearly $400MM more than a year ago with fewer subs to show for it – one can ask just how much more cash burn NFLX can stomach in order to avoid a collapse in subscribers.
Among the surge in expenses, Netflix spent $283 million more on marketing last year to $2.65 billion, a 12% increase from 2018. Half that came in the fourth quarter alone, which explains the subscriber surge… and the massive cash burn!
For 2020, Netflix forecasts FCF of approximately -$2.5 billion, although we will take the over, massively. As a result, the company will "continue to use the debt market to finance our investment needs as we did in Q4'19, when we raised $1.0 billion 4.875% senior notes and €1.1 billion 3.625% senior notes, both due in 2030." And some humor: 
With our FCF profile improving, this means that over time we'll be less reliant on public markets and will be able to fund more of our investment needs organically through our growing operating profits.
Good luck with that. And speaking of debt, Netflix saw a steep increase in its long-term debt over 2019. It stood at $14.8 billion on Dec. 31, compared to $10.4 billion a year earlier.
Most worrying for Reed Hastings, the market appears to no longer be giving NFLX the benefit of the doubt as the stock is barely changed despite beating across the board, as more and more are focusing on the unsustainable cash burn and disappointing guidance in a time when competition is soaring.
​