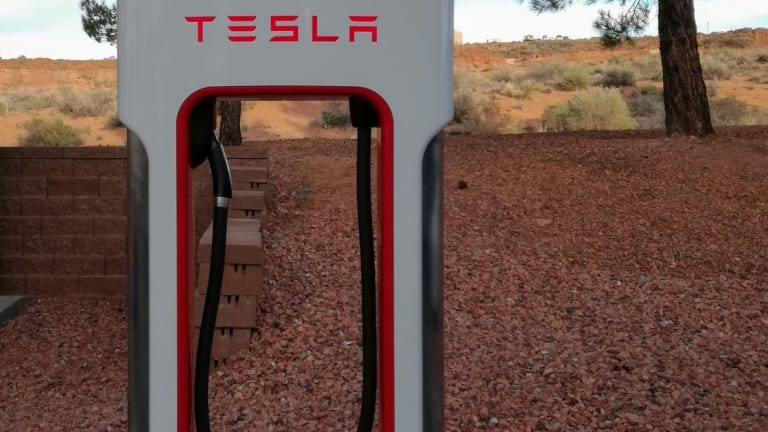 Courtesy of Zero Hedge
In a world in which Elon Musk found himself with increasingly fewer friends, one thing was certain: Morgan Stanley analyst Adam Jonas, always eager for that lead left spot in the next Tesla convertible, would stick with Tesla and Musk through thick and thin, no matter what.
Well, that ended this morning when Jonas appears to have had enough, slashing his price target on the car maker from $376 to $291, stating that following 1Q18 results, he is making significant cuts to his near-term and long-term auto margin forecasts, while forecasting greater equity dilution, i.e. another stock offering. Jones now sees "Tesla as trading near fair value with a balanced risk-reward."
Jonas starts by commenting on the now legendary – and bizarre – Tesla Q1 conference call, saying that "regarding the feedback from the 1Q18 conference call… Elon Musk reserves the right to do very difficult things that could yield great commercial value long term. At the same time, investors reserve the right to understand the costs and the risks near term."
Nonetheless, Jonas appears ready to brush aside the public outcry following the call saying that "we believe any impact on the investor engagement side is fairly limited and the market will focus on more pertinent and quantifiable debates such as the interplay between cash consumption and capital raising."
He does, however, focus on the "recent increase in the pace of management departures and an apparent reorganization of the business suggest to us the need to address some of the technical and fundamental hurdles weighing on company margins."
Going back to the reasons for the earnings forecast cut, Jonas notes that this was "driven by margins" (no punt intended) and adds:
While 1Q18 results were broadly in line with consensus expectations (and slightly above our forecasts),we are making material reductions to our earnings estimates to reflect lingering manufacturing issues with the Model 3 – most recently at Fremont final assembly.While our volume forecasts are largely unchanged, we have reduced our medium and long-term gross margin assumptions for Tesla's passenger car operations. It is our view that the challenges in ramping up Model 3 production reflect fundamental issues of vehicle design, manufacturing process, and automation levels that can weigh against the profitability of the vehicle. The company has acknowledged that it, to some extent, overautomated the Model 3 production process and is now reengineering accordingly. Movements in raw material prices and FX add further headwinds vs. our prior expectations. Tesla management believes the Model 3's margin performance below its 25% target level will be temporary, whereas we believe this headwind is more structural.
Ominously, Jonas – who until now was the company's biggest cheerleader – says that given the execution risk reflected in current results, "an added level of caution is prudent" and explains:
We lowered our long-term auto gross margin forecast to 27% vs. 34% previously. We have assumed Model S gross margins of 35%, Model X at 31%, Model 3/Y at 24%, Roadster at 40% and ZEV credits at 100%.
We lowered our long-term operating margin forecast to 9.8% from 14.3% previously. This change takes our long-term view of group OP margins from best in class premium levels to margins in line with that of the German premium names or recent GM N. American margins. Of this reduction in long-term margin forecasts, 200bps is driven by the above concerns regarding automation, 200 bps is driven by FX (given the stronger dollar and Tesla's US based production), and 100bps is driven by raw mats.
The changes in our Auto margin forecasts drive nearly 90% of our price target reduction to $291.
We have delayed our forecast of the launch of Tesla Mobility (or Tesla Network/mobility as a service) by roughly 1 year, to the middle of 2019. This change contributed around $7 to our price target reduction. We now forecast 2k units fleeted in 2019 ramping to over 50k by 2021, 1 million by 2027 and 1.7 million by 2030.
Additionally, we have increased our estimate for Tesla's capital raising from $2.5bn to $3.0bn, which we continue to expect in 3Q18. We assume 50% of proceeds are used to pay down debt.
We continue to value Tesla Energy at $0.
Lowering our bull case 21% to $441 (vs. $561 previously) and our bear case 45% to $97 (vs. $175 previously). Our bear case moves proportionally more than the bear case reflecting the great amount of financial leverage versus previous periods and the fact that we continue to ascribe zero value for TSLA Energy/SCTY.
Jonas summarizes the major concern facing Tesla as follows:
In our view, the number one issue at the heart of the Tesla investment debate is whether the company is 1) currently operating at a low level of utilization of a very large industrial complex, where incremental revenue can bring large incremental gross margins and improvement of cash consumption, or 2) the next 50-100% of growth in revenue brings forth other calls on cash and does not materially move the company in the direction of a fully self-funding existence.
​
​
With all that said, Jonas then cuts the umbilical cord connecting him to Musk and also cuts his price target to $291 from $376, for the following reason:
We see Tesla as trading near fair value with a balanced risk reward, and believe that is subject to extremely high
levels of fundamental execution risk, market/funding risk, and a highly volatile share price. In our view, Tesla does not offer enough upside to justify an OW rating or enough downside to justify an UW rating.
​
​
More concerning to Tesla bulls, Morgan Stanley sees the "bear" case price at just $97 now, down from $175, and a level that would trigger a full-blown margin call on Musk's stock-backed loans.
​
​
And here is Jonas' latest income statement projection, which now sees the company having a net loss in 2020:
​
​
An amusing aside: asking a rhetorical question, why he didn't simply cut TSLA to sell, the formerly fawning analyst gives the following meandering and meaningless explanation (the real reason, of course, is that Morgan Stanley would still like to be an underwriter on the upcoming stock sale):
Why not Underweight?With 3% downside to our revised price target and high levels of volatility, an investor could reasonably ask why we are not downgrading the stock to Underweight today. There are 3 primary reasons why we reiterate our Equal-weight at this time: (1) It is difficult to judge the true underlying profitability of the automotive operations until Model 3 production is ramped to a higher level and until current bottlenecks are surmounted. (2) We want more discovery around Tesla's potential capital raising execution, including the instruments of capital (debt, equity, ABL facility, etc.), the genre (strategic or financial investor), size and, of course the price. (3) Potential strategic value – our $291 price target is driven by our DCF of the auto business and mobility as a service business. We believe there is significant potential strategic value within Tesla, including its invested capital, design, brand, technology, relationships with key stakeholders (suppliers, governments, commercial partners) and its people.
Still, the message is clear: Tesla has just lost its biggest fan on Wall Street, and as a result the TSLA stock is trading down 2.4% to $285 in the premarket on this "betrayal' by one of the company's – formerly – most prominent sellside friends.