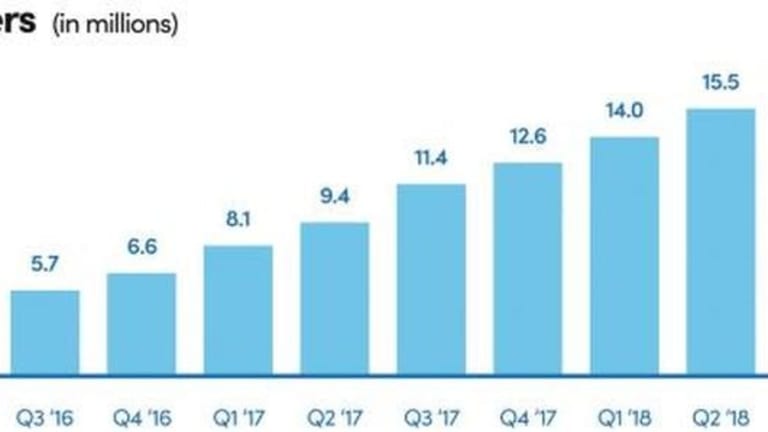 Lyft Plunges As Revenue Doubles But Losses Soar Almost 400%
While LYFT reported stronger than expected revenue, the bottom line was an absolute disaster.
Courtesy of ZeroHedge
Just days after going public in what was the worst unicorn IPO in years, the company reported Q1 earnings after the close and they were a doozy.
First, the good news: the company which is seen as the Gunniea Pig to the upcoming Uber IPO, reported revenue which nearly doubled in Q1, rising 95% from $397MM in Q1 2018 to $776 million in Q1 2019, beating estimates by $38 million, as the number of active riders jumped by 46% from 14 to 20.5 million, continuing what has been an impressive trend over the past three years. Additionally, the revenue per active rider also posted an impressive increase of 34% in Q1, up from $28.27 last year to $37.86 in the quarter ended March 31.
Next, the not so good news: despite a doubling in revenue, Q1 EBITDA was a loss of $216MM, virtually unchanged from the $239 million reported last year. And even though Lyft expects even more top-line growth in both the current quarter and full year, projecting total Q2 revenue between $800 and $810 million generating adjusted EBITDA loss of $270-$280 million, the full year projection is even more concerning, as LYFT now expect total revenue as much as $3.3 billion which, however, will result in even more cash burn, with the company projecting a full year EBITDA loss of $1.15 – $1.175 billion.
In other words, while Lyft – and Uber – scramble to capture market share and aggressively cut prices to capture the marginal driver, they are clearly doing it at the expense of operating leverage, profit marginand of course cash.
Which is also why both companies went public – to fund their unprecedented cash burn as they attempt to put each other out of business. Perhaps sensing that it will eventually lose the war, Lyft didn't disclose gross bookings this quarter, eliminating a key measure investors have used to compare the business to Uber's.
Finally, the downright ugly: while LYFT reported stronger than expected revenue, the bottom line was an absolute disaster: after the ride-sharing company reported net income of $234 million in the year ago quarter, this number exploded over 380% to a shocking $1.14 billion in Q1, larger than the company's entire loss for 2018, with the surge in COGS and SG&A spread evenly across the various line items, but most notably, a ridiculous $859.5 million was due to stock-based compensation, an amount that was only $2 million last year.
The chart below visualizes this ridiculous explosion in the company's net loss:
​
​
As Bloomberg notes, "the report suggests intense competition with Uber Technologies Inc. in the ride-hailing market will continue." Looking at the chart above one can see that every incremental rider stolen from Uber, costs Lyft massive amounts of cash. Which also explains why Lyft warned investors that 2019 will be a costly year. Uber, which is set to IPO shortly, has similarly signaled that competition has further extended its losses. And while investors are watching for an eventual cease-fire, the battle for market share appears to only be escalating.
And speaking of Uber, the world's most valuable unicorn had estimated about $3 billion in revenue in the first quarter, up 19 percent from a year before, although the real question is just how much cash will the company burn. Incidentally, on Tuesday, Bloomberg reported that Uber has enough demand to price its IPO shares at the top of its current range: the company is expected to price Thursday and begin trading Friday on the New York Stock Exchange, in what's expected to be the biggest U.S. IPO in years.
The other question on investors' minds is whether Uber stock will follow Lyft into the abyss: as a reminder, LYFT shares have tumbled 18% from the March IPO price. And while they initially soared after-hours in response to the stronger than expected revenue, they quickly gave up those gains, with LYFT shares resuming their plunge as investors were spooked by LYFT's untenable cash burn, and evaluated whether its accelerating revenue would ever offset the giant losses yet to come. The stock was down as much as 3.9 percent in extended trading.
​
​