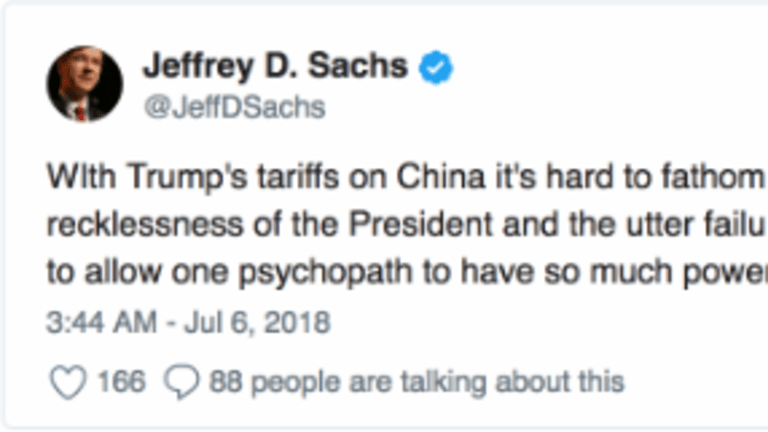 'Hard to Fathom the Recklessness': American Workers, Farmers at Risk as Trump Es
Brushing aside repeated warnings that a rapid escalation of trade tensions between the world's two largest economies...
By Jake Johnson, staff writer at Common Dreams
China immediately hit back with equivalent tariffs and slammed the Trump White House for "behaving like a gang of hoodlums."
Brushing aside repeated warnings that a rapid escalation of trade tensions between the world's two largest economies could place millions of American jobs at risk, President Donald Trump on Friday officially dragged the U.S. into what is already being characterized as "the largest trade war in history" by imposing 25 percent tariffs on $34 billion worth of Chinese goods.
Slamming the Trump administration for "behaving like a gang of hoodlums with its shakedown of other countries," China immediately hit back at the U.S. with equivalent tariffs, taking aim at American soybeans, corn, and other goods.
"With Trump's tariffs on China, it's hard to fathom the recklessness of the president and the utter failure of U.S. politics to allow one psychopath to have so much power," wrote Columbia University professor Jeffrey Sachs, who described Trump's decision last month to hit the European Union, Mexico, and Canada with steel and aluminum tariffs as a "psychopath's trade war."
​
​
In an analysis of Trump's tariff moves on Friday, The Week's Jeff Spross echoed Sachs' conclusion that the president is recklessly rushing into a trade war without any clear objectives or endgame—aside from "putting on a show."
"It's worth remembering that the president was a reality TV star. And in that profession, the point is ratings," Spross writes. "And it's hard to escape the conclusion that this trade war is just another show Trump's putting on. In which case, will he ever let it end?"
While some commentators argued that this first round of tariffs is likely to have massive economic effects, Trump—whose sprawling business empire continues to profit from partnerships with Chinese state-backed companies—suggested to reporters aboard Air Force One on Thursday that he is planning to continue escalating the trade war with China, with the ultimate aim of imposing tariffs on more than $500 billion in goods.
After the first $34 billion in penalties, Trump said, "you have another $16 [billion] in two weeks, and then, as you know, we have $200 billion in abeyance and then after the $200 billion, we have $300 billion in abeyance. Ok? So we have 50 plus 200 plus almost 300."
Providing an indication of the impact Trump's tariffs and China's retaliations could have on American jobs, the Washington Post published a chart showing that while some industries will likely see small job gains over the next several years, they will be far outweighed by massive job losses in other industries.
"One factor for the projected loss is that there are 5.1 million jobs in manufacturing industries that stand to be hurt by higher steel and aluminum prices," the Post reports. "That compares to 313,000 jobs in the industries that make the metals and will benefit from higher prices."
​
​
American farmers—many of whom voted for Trump in the 2016 election and still support him despite the tariffs—are already bracing for impact as China launches its own calculated retaliation against Trump's trade penalties.
​
​
"If the trade war continues into the spring of 2019, the owners of thousands of smaller farms, many handed down from generation to generation, could face tough decisions, pitting their pocketbooks against the president's policies," NBC News reported on Friday.