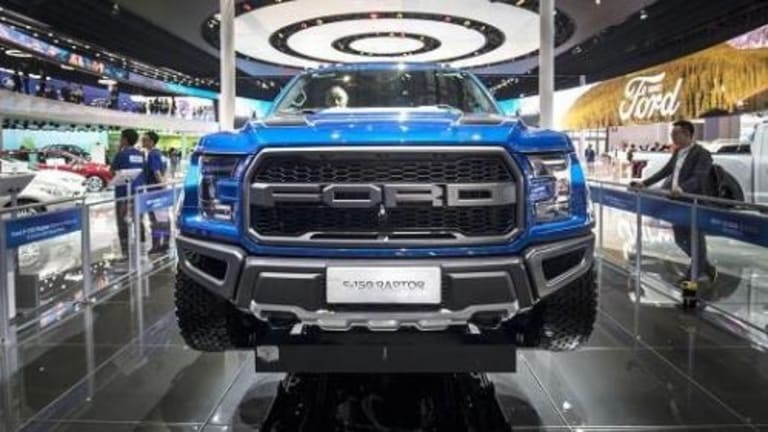 Ford Halts 'All' Production Of F-Series Truck, 'Temporarily' Lays Off Almost 8,0
ollowing a fire at a small auto parts-maker's plant, the supply of key components has been cut off
ollowing a fire at a small auto parts-maker's plant, the supply of key components has been cut off
Courtesy of Zero Hedge
Following a fire at a small auto parts-maker's plant, the supply of key components has been cut off, forcing Ford to halt all production of it's most profitable and popular model – The F-150.
As Reuters reports, the supplier, Chinese-owned Meridian Magnesium Products, said it is "working with the customers" – automakers affected by the fire – to move some of its tooling to a plant in Strathroy, Ontario, in a letter on an internal employee website and signed by George Asher, manager of Meridian's Eaton Rapids plant in Michigan.
The fire, whose cause is under investigation by local authorities, triggered smaller production disruptions to other vehicle manufacturers, but the most significant impact was felt by Ford, whose F-150 full-size pickup is the best-selling vehicle in the US.
Meridian supplies a lightweight radiator support for the F-150 and its heavy-duty sibling, the Super Duty.
"This is an extremely fluid situation,"Kelli Felker, a Ford spokeswoman, said by phone. "We are working hard to get replacement parts. We're working closely with the supplier to manage the situation and determine next steps."
And now, as CBNC reports, during a media call after hours, Ford has been forced to halt production, which means approximately 4,000 workers at Ford's Dearborn Truck Plant will be temporarily laid off, joining roughly 3,600 workers at Ford's truck plant in Kansas City who were told to stay home earlier this week.
"The F-Series platform is critically important to Ford,"said Emmanuel Rosner, an analyst with Guggenheim Securities LLC.
"We estimate it generates annual profits of at least $12 billion for the company, accounting for much more than the totality of Ford's global" profit.
Bloomberg notes that the shutdowns could cost Ford as much as 15,000 F-150s per week, according to James Albertine, an analyst with Consumer Edge Research.
How much could stopping production of the F-Series hurt Ford and dealers who rely on the popular pickup truck to generate huge sales? As CNBC notes, that depends on how long the assembly lines are shut down.
"It takes 76 days for an F-150 to sell, so the company does have a bit of a cushion,"said Ivan Drury, Edmunds senior manager of industry analysis.
"But when you have a vehicle that comprises a quarter of your company's sales,any production disruption is going to cause some consternation."
While Ford said its guidance for the full year was unchanged, it did note – following the shuttering of the second plant – that this production halt "will have an adverse impact" on results.
Additional headlines (via Bloomberg) from the Ford media call:
*FORD SAYS ITS PRODUCTION TOOLS NOT DAMAGED IN SUPPLIER FIRE
*FORD SAYS SHUTDOWN TO ADVERSELY IMPACT 'NEAR TERM' RESULTS
*FORD SAYS 'IT WILL TAKE SOME TIME' TO RESTORE PRODUCTION
*FORD SAYS LOST PARTS ALSO USED IN EXPEDITION, NAVIGATOR SUVS
*FORD SAYS EXPECTS FINANCIAL IMPACT LIMITED TO 2Q
*FORD SAYS IT DOES NOT EXPECT TO LOSE ANY SALES DUE TO SHUTDOWNS