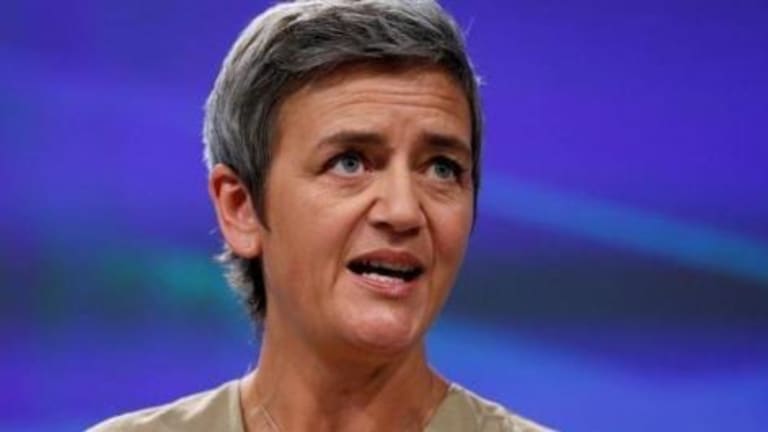 EU Slaps Google With Record $5 Billion Fine For Android Antitrust Violations
For app developers, this could be a huge opportunity, considering that 80% of the world's smartphones run Android.
Courtesy of Zero Hedge
Shares of Google parent Alphabet are in the red on Wednesday morning as European Union antitrust regulators unveiled a record €4.3 billion ($5 billion) fine against the tech giant for allegedly anti-competitive practices related to Google's Android operating system. The wide-ranging probes into Alphabet have been a primary focus of Margrethe Vestager, the bloc's famously aggressive competition commissioner, since she was first appointed to the role in 2014.
Wednesday's fine follows athen-record 2.4 billion euro ($2.8 billion) levied by Vestagerlast year over allegations that Google's search feature unfairly benefited its comparative-shopping service.
Of course, the size of the latest fine is certainly notable, and begs the question: Is the bloc using these fines to retaliate against the US tech industry and President Trump for his refusal to grant a permanent exemption to the EU from the US's tariffs on aluminum and steel imports? Like China, which is also employing similar "stealth" retaliatory measures, the bloc also has a massive trade surplus of roughly $150 billion with the US.
Others have speculated that the hefty fines and intense scrutiny are a result of resentments in the EU over the global dominance of the US tech industry. Bloomberg broke the story, and also pointed out that the expected fine is roughly equivalent to the annual contribution to the EU's budget made by the Netherlands.
The decision will bring the running total of fines levied against Alphabet to €6.7 billion, and could soon be followed by fines related to Google's online advertising contracts – the last of the three anti-trust probes against the company.
​
​
While the fine is immense by most standards, it'll hardly dent Alphabet's profits. To wit, the company earned $5 billion every 16 days in 2017 based on its reported revenue of $110.9. But the size of the fine is a secondary concern for Google: What's worse is an accompanying order that will force Google to allow phone manufacturers to choose non-Google apps to be pre-installed on Android phones. For app developers, this could be a huge opportunity, considering that 80% of the world's smartphones run Android.
More significant than a blockbuster fine could be an accompanying order freeing up phone manufacturers to choose non-Google apps to install on Android phones.That would yield crucial real estate for app developers given that about 80 percent of smart mobile devices use Android.

EU officials have been investigating Google contracts that require manufacturers of Android phones to take Google's search and browser apps and other Google services when they want to license the Play app store.

The EU is also targeting Google's payments to telecoms operators and manufacturers who exclusively install Google search on devices and contracts that prevent handset makers selling phones using other versions of Android.
Per the Financial Times, lawyers for Alphabet say Vestager has grossly misinterpreted the basics of how competition works in the tech industry, and that users of Google Play (Google's app store) can easily download competitor's apps with one click.
Google argues the commission has misunderstood consumer behaviour and wrongly defined the market, excluding Apple as a competitive rival.

"The commission's case is based on the idea that Android doesn't compete with Apple's iOS. We don't see it that way,"said Kent Walker, Google's general counsel. "We don't think Apple does either. Or phonemakers. Or developers. Or users."

Google also argues rival apps are only one download away, making it impossible to shut out competitors even when Google apps are pre-installed or bundled on phones. It depicts the licensing terms as minimum requirements to ensure Android works smoothly on different devices.
While antitrust investigations of Alphabet in the EU date back at least eight years, the bloc launched its investigation of Android in 2015 following a complaint from a lobbying group. Seeing as this fine is nearly double the previous one, it begs the question: will Vestager go for broke and slap Alphabet with an even larger fine when the EU renders its judgment on its probe into Google's AdSense service, which the EU claims was used to block other rivals in online search advertising?
Perhaps that will depend on how Trump responds: whether he backs down on his aggressive EU trade policy – unlikely – or doubles down.