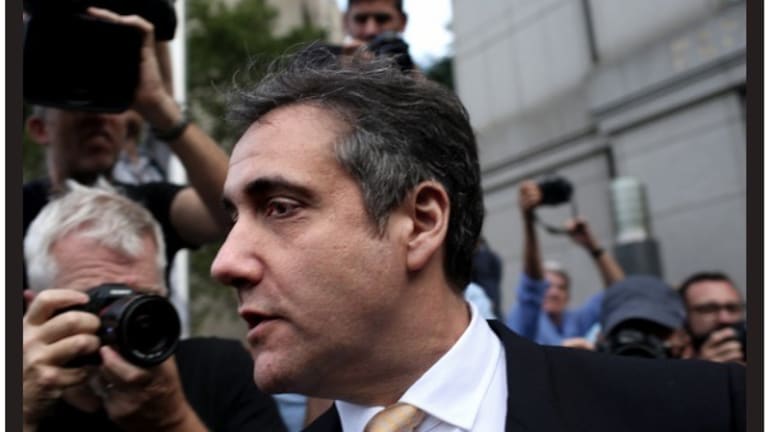 Cohen Pleads Guilty, Says Violated Campaign Law At "Direction Of Candidate"
Cohen was released on $500,000 bond, cosigned by his wife and a second person.
Courtesy Zero Hedge
President Donald Trump's former personal lawyer, Michael Cohen, pleaded guilty on Tuesday to campaign finance violations and other charges, saying he made payments to influence the 2016 election at the direction of a candidate for federal office, potentially delivering a legal blow to the president.
Cohen, 51, who agreed to a plea bargain with federal prosecutors earlier in the day, pleaded guilty to eight counts total, including five counts of tax evasion and one count of making a false statement to a financial institution. He also pleaded guilty to one count of making an excessive campaign contribution on Oct. 27, 2016, which is the same date Cohen finalized a payment to adult-film star Stormy Daniels as part of a nondisclosure agreement over an affair Daniels alleges she had with Trump.
The most damaging statement by Michael Cohen was made when, acknowledging the charges against him, Cohen said he was directed to violate campaign law at the direction of an unnamed candidate for federal office, whom he did not name.
At the same candidate's direction, Cohen said he paid $130,000 in violation of campaign finance laws to "somebody" to keep them quiet, which was later repaid by the candidate. He said he arranged to make payments "for (the) principal purpose of influencing (the) election" at the direction of a candidate for federal office; Cohen did not give the candidate's name, but those facts match Cohen's payment to Clifford and Trump's repayment.
Cohen's exact words:
> "I have donated the money that was in the account in coordination with and at the direction of a federal candidate."
Cohen also tells the federal court he evaded substantial taxes on his income, with Bloomberg noting that the sentencing guideline calls for 46 to 63 months in prison.
The prosecutor told the judge the purpose of the payments was to ensure that the individuals did not disclose "alleged affairs with the candidate." Besides the $130,000 payment, Cohen admitted to making an illegal contribution of $150,000, which was how much McDougal received from the National Enquirer's publisher to quash her story.
As Bloomberg explicitly adds, "at no time was the candidate's name mentioned." The prosecutor also said Cohen failed to report $4 million on taxes and lied about debts and banking details on loan applications.
His voice cracked as he answered questions from Judge William Pauley III. As Bloomberg notes, Cohen was shaking head and appeared to be holding back emotions as judge reviews possible sentence. Cohen faces a likely prison sentence of 46 to 63 months, the judge said.
Cohen's deal does not include an agreement to cooperate with prosecutors in the Southern District of New York, where he was charged. However, it does not explicitly rule out the possibility of cooperating with special counsel Robert Mueller in the federal investigation into Russian interference in the 2016 election, The New York Times reported.
The judge has accepted Cohen's guilty pleas, and scheduled the sentencing for December 12, at which point the plea hearing was adjourned.
Cohen was released on $500,000 bond, cosigned by his wife and a second person. The judge set sentencing for Dec. 12.
As Cohen entered his guilty plea, former Trump campaign chairman Paul Manafort was found guilty on eight counts in a trial in Virginia. The judge in the case declared a mistrial on another 10 counts.
Commenting on Cohen's guilty plea, his lawyer Lanny Davis made the following statement:
​
​
Robert Khuzami, the prosecutor who oversaw the Cohen investigation, said after the hearing, "The message is that we are here, that the we are a nation of laws, and that the essence of this case is about justice and an equal playing field for all persons in the eyes of the law. And that is a lesson Mr. Cohen learned today, and it is a very harsh one."
Khuzami didn't respond to a question about the identity of the candidate who directed Cohen to make the payments.
Futures dropped to session lows on the news…
​
​
… erasing all of the day's gains:
​
​
According to PredictIt, Trump's impeachment odds rose from 33% to 36%.
​
​
The full complaint against Michael Cohen is below (pdf link):
* * *
EARLIER
Update 5: The charges filed against Cohen have been disclosed, and according to Bloomberg they are as follows:
Charges 1-5: Evading personal income tax
Charge 6: False statement to financial institution
Charge 7: Causing unlawful corporate campaign contribution
Charge 8: Making an excessive campaign contribution in October 2016
* * *
Update 4: Bloomberg confirms that Cohen is pleading guilty to 8 counts related to tax and bank fraud, and that Deputy Attorney Rod Rosenstein signed off on his plea deal, adding that "Investigators have looked into Cohen's role in payments to silence two women who say they had affairs with Trump: Stephanie Clifford, an adult film actress better known as Stormy Daniels, and former Playboy model Karen McDougal."
***
Update 3: The NYT confirms that Michael Cohen's plea deal does not involve co-operation with the government, but will include jail time. The plea deal will include tax fraud and bank fraud.
According to Harry Sandick, a former federal prosecutor in Manhattan, there could be several reasons for Cohen to plead guilty without a cooperation deal. As Bloomberg notes, it's possible that federal prosecutors don't consider his information valuable or view him as a worthy witness. But that could change.
"It could mean that they don't need him or don't trust him, or just aren't ready to cut the deal yet," said Sandick, now a defense attorney at Patterson Belknap Webb & Tyler LLP. "Trump might be happy if there's no cooperation today, but there could be cooperation in the future."
As Bloomberg also adds, the charges against Cohen could expose Trump to new risks. Few deputies at his namesake company were as involved in its various dealings as Cohen. With an office on the 26th floor in Trump Tower that was just a few feet away from his boss's, Cohen styled himself as a loyal attack dog – upbraiding reporters in efforts to kill unflattering news articles and arranging deals to stifle accusations by women who alleged extramarital affairs.
* * *
Update 2: Michael Cohen will appear in a Manhattan federal courtroom at 4 p.m. Tuesday, a spokesman for the federal prosecutor in Manhattan told Bloomberg; The statement came shortly after ABC News reported that Cohen had reached a tentative agreement to plead guilty. Cohen is expected to appear in front of Judge William Pauley III.
CNN adds that Cohen has now surrendered to the FBI.
​
​
It's unclear whether any plea deal by the president's former personal lawyer includes an agreement to cooperate with federal officials, although CNN earlier said that Cohen is not expected to cooperate with the government. Any such deal, now or later, would be a potentially perilous development for Trump that could offer investigators a detailed view into the president's business and campaign dealings.
The investigation has looked into Cohen's role in payments to silence two women who say they had affairs with Trump. Stephanie Clifford, an adult film actress better known as Stormy Daniels, and former Playboy model Karen McDougal both sued to void their agreements to stay silent on their allegations.
Clifford's lawyer, Michael Avenatti, said Tuesday's news should help her case. She's also sued Trump for defamation after he said she had lied.
> The developments of today will permit us to have the stay lifted in the civil case & should also permit us to proceed with an expedited deposition of Trump under oath about what he knew, when he knew it, and what he did about it. We will disclose it all to the public.

> — Michael Avenatti (@MichaelAvenatti)August 21, 2018
* * *
Update: Michael Cohen has entered into a plea agreement on campaign finance violations, bank fraud and tax evasion with federal prosecutors in the Southern District of New York, according to ABC,  confirming earlier reports.
CNN reported  that as part of the plea deal under discussion, Cohen is not expected to cooperate with the government. Instead, by pleading guilty, both Cohen and prosecutors would avoid the spectacle and uncertainty of a trial.
Prosecutors said in court their investigation is into Cohen's personal financial dealings. The search warrant authorizing the FBI raid referenced Cohen's taxi medallion business, the identity of banks that loaned him money and payments made to suppress negative information during the presidential campaign, such as the $130,000 hush money payment Cohen made days before the election to porn star Stormy Daniels, who alleges she had an affair with Trump nearly a decade ago. Trump has denied an affair.
It's not clear how any plea deal with Cohen might affect other entities that have been under scrutiny by federal prosecutors as part of the Cohen investigation, including the publisher of the National Enquirer, American Media Inc., which gave a $150,000 contract during the 2016 election cycle to another woman who alleged an affair with Trump.
* * *
Earlier:
Michael Cohen, Trump's former personal attorney who we learned on Sunday is under federal investigation for bank fraud totaling "well over $20 million", is discussing a possible guilty plea with Manhattan federal prosecutors in connection with tax fraud and banking related matters, according to NBC. While no deal has been reached, NBC's sources say the potential deal could be reached as early as today.
A plea by Cohen would have significant implications for Trump, who has worked closely with Cohen for more than a decade and who has blasted Cohen ever since his former fixer and his attorney, old Clinton hand Lanny Davis, began signaling this summer that Cohen might cooperate with special counsel Robert Mueller's investigation.
The Cohen probe is being led by the office of the U.S. Attorney for the Southern District of New York in Manhattan, but any cooperation agreement would likely extend to other federal investigations. As a reminder, in July Cohen, who once bragged he'd take a bullet for Trump, hinted that may have changed. "I put family and country first," he told ABC.
In addition to bank and tax fraud questions arising from Cohen's taxi business, federal prosecutors are looking into whether the hush-money payments Cohen arranged with women who claimed they had sexual encounters with Trump amount to violations of campaign finance law.
> FBI agents raided Cohen's office and hotel room in April and seized documents and electronics. According to people with knowledge of the search warrant, agents were looking for information related to a $130,000 transaction between Cohen and adult film star Stormy Daniels, who allegedly had an affair with Trump more than a decade ago, as well as information about a reported payment of $150,000 to former Playboy model Karen McDougal, who also says she had an affair with Trump, and information about the "Access Hollywood" tape in which Trump was heard making vulgar boasts about women.
The FBI has also monitored his phone calls with a pen register, meaning that the incoming and outgoing phone numbers were recorded but not the content of the calls.
In July, Davis released a phone conversation that Cohen secretly recorded in which Trump mentions "cash" in relation to a possible payment involving McDougal.
In recent weeks, Trump's lawyer Rudy Giuliani has led the push to discredit Cohen. In a July interview with CNN, Giuliani called Cohen "a person who is found to be an incredible liar, who's got a tremendous motive to lie now."
The president and his attorneys have denied that Cohen's cooperation could incriminate the president.
"[Cohen] is not cooperating, nor do we care because the president did nothing wrong," Giuliani said on Fox News in June.
***
See also…Mueller's map: What 35 indictments and pleas tell us