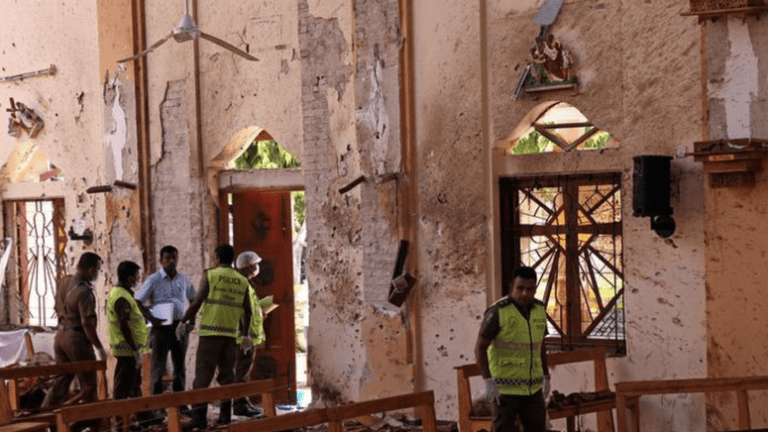 Celebrity Chef, Children Of Danish Billionaire Killed In Sri Lanka's Bombing
Sri Lankan police have already arrested two dozen suspects.
Celebrity Chef, Children Of Danish Billionaire Killed In Sri Lanka's Easter Suicide Bombings
Courtesy of Zero Hedge
The death toll in Sunday's devastating wave of Easter Sunday suicide bombings, which rocked three Catholic Churches and four luxury hotels popular with tourists, has climbed to 290, while more than 500 have been injured, making the assault even deadlier than the 2008 Mumbai attacks.
As the Sri Lankan government scrambles to apprehend anyone who conspired with the at least seven suicide bombers who carried out Sunday's attacks, Prime Minister Ranil Wickremesinghe appealed for international help "to find out if there was foreign assistance" to the bombers. Domestically, Sri Lankan police have already arrested two dozen suspects. A state of emergency is expected to be declared starting at midnight on Monday. The Colombo stock exchange has been closed for the foreseeable future as the capital city tries to process the aftermath of the attacks.
Meanwhile, the climbing death toll has  established the attacks in Sri Lanka as the deadliest in South Asia in recent memory.
Here's a ranking by death toll:
290 (as of now): Sri Lanka bombings, 2019
257 Mumbai attacks, 1993
189 Mumbai train blasts, 2006 166 Mumbai attacks, 2008
151 APS/Peshawar school attack, 2014
149 Mastung/Balochistan election rally attack, 2018
​
Though no group has claimed responsibility for the attacks, it was revealed that Sri Lankan intelligence agents had tried to alert security officials of the potential threat of a major terror attack from an Islamist group known as the National Thowheeth Jama'th. The prime minister said that "although information on this issue has been received before, not enough attention was paid to the matter. The fact that ministers were also not informed is also connected to it, but first what we need to do is to ensure the country is not destabilised." One official said warnings about a possible attack had been received as early as April 4, according to the FT.
Officials were even given the names of some suspects in the bombings.
The National Thowheedh Jama'th is a small jihadist group based in the east of Sri Lanka. Previously, it had come under scrutiny for its extremist rhetoric as well as vandalism against Buddhist religious statues. Since an operation of this magnitude likely required considerable planning and logistics support, authorities believe the group likely had international assistance.
Here's more on that from the Guardian:
Analysts point out that multiple suicide bombings of six or possibly more targets requires a significant logistic operation and months of planning. Such attackers may detonate their devices alone, but need careful management by handlers to keep them committed in the days and weeks before. Large quantities of military-grade explosives would also have been necessary, as well as safe houses and bomb-making workshops.
The Sri Lankan government is asking for international help in investigating the 'international network' it believes supported the perpetrators of the attack.
"We do not believe these attacks were carried out by a group of people who were confined to this country," Minister of Health, Nutrition and Indigenous Medicine Rajitha Senaratne said on Monday.
He added that an "international network" without which the attacks likely wouldn't have succeeded was probably involved.
As the investigation into the attacks ramps up, the BBC is reporting that explosive detonators have been recovered at Colombo's main bus station, not far from the attacks.
​
​
Dozens of foreigners were killed in the attacks, including three of the four children of the Danish billionaire fashion tycoon Anders Holch Povlsen, one of the largest shareholders in the online clothing retailer Asos and owner of international clothing chain bestseller. Several Americans were also killed. Povlsen is also the largest landowner in Britain.
Celebrity chef Shantha Mayadunne and her daughter were also killed in the explosions. The women and their family were eating Easter breakfast in a restaurant in the Shangri-La hotel in Colombo Sunday morning when the bombs detonated.
​
​
To fight the spread of disinformation and hate speech following the attacks, the government has cut off access to social media like Facebook and Whatsapp.
CTGN reported that another bomb detonated in Colombo as authorities tried to disarm it. It's unclear if there were any additional casualties.
​
​
The coordinated attacks began with the bombings of three churches and four hotels, followed by an eighth bombing timed to hit people fleeing from the initial attacks. An apartment complex was also targeted and a bomb found near the Colombo airport was also diffused.
Authorities believe suicide bombers were mostly responsible, per WSJ:
There were at least eight explosions, most blamed on suicide bombers. Six of the attacks were coordinated and were carried out by seven suicide bombers, according to a preliminary examination of scattered body parts by the country's official experts. Two men appear to have blown themselves up at the Shangri-La Hotel in Colombo, said Ariyananda Welianga, a government investigator who studied the bodies, while single bombers attacked two other high-profile hotels and three churches.
The suspected bombers' heads and limbs were severed from their torsos in a way consistent with suicide attacks, Mr. Welianga said. His experience with such cases goes back to Sri Lanka's civil war, during which a Tamil insurgent group carried out suicide bombings, he said.
The analysis of material recovered from the explosion sites also showed that metal balls had been attached to the bombs to inflict shrapnel injuries in addition to blast injuries, Mr. Welianga said.
Here's a map of the attacks.
​
​