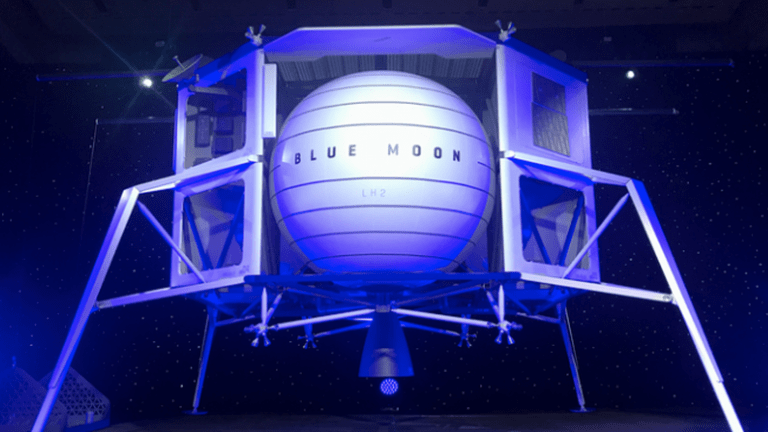 Bezos Reveals Blue Origin's Lunar Lander, Targets Humans On The Moon In 2024
Bezos believes that part of the gateway to doing this is by getting on the moon.
Courtesy of ZeroHedge
On Thursday, Jeff Bezos' space exploration company, Blue Origin, revealed "Blue Moon", the company's lunar lander designed for towing cargo, payloads, and even humans, back to the moon. At an event late last week in Washington D.C., Bezos – pulling a page out of the Elon Musk taxpayer subsidy playbook – gave a grim outlook for energy consumption on Earth and began to ponder another plan – moving to smaller, man made planets, according to Popular Mechanics.
Bezos proposed the idea of building "O'Neill Worlds", named after physicist Gerard O'Neill, instead of going to distant planets. Bezos said Thursday: "This is going to take a long time. How are we going to build O'Neill colonies? I don't know and no one in this room knows. But we need gateways."
Bezos believes that part of the gateway to doing this is by getting on the moon. He said that Blue Moon will be able to transport between 3.6 and 6.5 tons of cargo and will run on liquid hydrogen. He also talked about the engine that will power Blue Moon, called the BE-7 seven engine. It is set to be test fired this summer for the first time.
​
​
The lander appears to come with several robotic helpers, including a lunar rover that's built for exploring the moon. The company also announced that the lunar lander should be set to carry humans as early as 2024.
Greg Johnson, head of the New Shepard program and retired NASA astronaut said: "Jeff laid out a rational reason to do this. That's what's been lacking. Everyone's been putting the pieces together, step by step this is what we have to do. My hope is that it makes everyone enthusiastic for a private/public partnership that gets us back to the moon."
Bezos also has aspirations to mine the moon for resources, like water, according to The Atlantic. Bezos warned at the event that the Earth's resources are finite and will eventually and inevitably wind up depleted. 
"Space is the only way to go," Bezos said about humankind looking for additional resources.  
​
​
Bezos envisions that heavy, pollution causing industry will eventually be done off of the earth, which will solely be "zoned for residential and light industrial use". He then stated that it was up to future generations to help follow through on this plan. Pointing to a group of middle school aged children, he said: "You guys are going to do this, and your children are going to do this. This is going to take a long time."
But in the meantime, Bezos said that starting with the Blue Moon lander, he would mine the natural resources of the moon. Robotic missions to the moon have found evidence in the past decade that water exists there, in the form of ice. Exploiting that resource could make longer-term outposts on the moon possible. Bezos envisioned that future lunar explorers could feed the water ice into life-support systems or split it into hydrogen and oxygen and turn it into rocket fuel. 
"Ultimately, we're going to be able to get hydrogen from that water on the moon, and be able to refuel these vehicles on the surface of the moon," Bezos said.
The news follows the mysterious build up to the event – one that we wrote about  last week. The company had, for the most part, been quiet about its strategy for moon exploration. 
Back in March, Vice President Mike Pence called on NASA to build a space platform in lunar orbit and to put American astronauts back on the moon by 2024 "by any means necessary". This timeline is 4 years quicker than previously planned and Bezos is expected to tailor his plans to align with Pence's timeline request. Meeting the timeline could help Blue Origin attract funds from NASA and one source has said that the company has been working to accelerate its strategy specifically based on Pence's comments. 
Blue Origin hinted at the announcement with a Twitter post last month showing the ship used by explorer Ernest Shackleton on an expedition to Antarctica. Reuters, without sarcasm, said that the Tweet could be "a possible reference to an impact crater on the lunar south pole sharing the man's name." 
Bezos, like his billionaire competitor Elon Musk of SpaceX, has shared a broader vision of a future where millions live and work in space. Bezos also faces competition from United Launch Alliance, a partnership between Boeing Co and Lockheed Martin.
Blue Origin is working on its New Shepard rocket for short space trips and a rocket called New Glenn for potential satellite launch contracts. Its timeline target for delivering its New Glenn rocket is 2021, while its plans to launch humans in a suborbital flight in New Shepard are set for later this year.
You can watch the full Blue Moon announcement below:
​