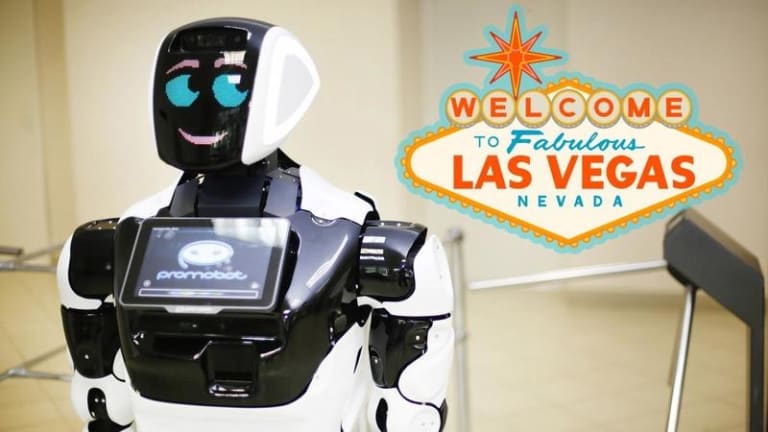 Automating Vegas: How Robots Will Take Thousands Of Sin City's Jobs
The adoption of automation at Southern Nevada casinos could displace thousands of workers in the next five years.
Courtesy of ZeroHedge
The automation wave is expected to reshape the US economy in the 2020s. This disruption will impact the labor force and cause tremendous job losses. By 2030, automation could eliminate 20% to 25% of current jobs — equivalent to 40 million displaced workers, hitting bottom 90% of Americans the hardest.
Last month, we reported how the Port of Los Angeles is preparing for full automation. Last week, showed how warehouse automation is starting to increase traction in Atlanta — now in a new report, robots are coming to Las Vegas.
The adoption of automation at Southern Nevada casinos could displace thousands of workers in the next five years.
The Reno Gazette-Journal asks several crucial questions: What does a future with robots look like in Las Vegas? What will happen to a service industry hopeful that union powers will provide protection? Should workers be afraid?
"Show me a car that (is) built on an assembly line that isn't populated with robots and humans together," said Robert Rippee, director of the Hospitality Lab at UNLV's International Gaming Institute.
Automation technologies are rippling through the hospitality industry, forcing some casinos to recalibrate their labor force.
"I'm surprised, in some cases, it's taken this long," Rippee said. "On the other hand, it's certainly understandable that people are saying: 'That's my livelihood, that's my job. You're going to bring a machine in? What am I going to do?' "
MGM has been quietly rolling out automation technologies. Last August, the gaming giant installed automated beverage systems – known as "Back of House Automated Service Bars."
The automation, according to MGM, eliminates redundant human labor, allowing front of house employees to self-serve guests and reduce wait times.
In a separate report, Miracle Mile Shops, next to Planet Hollywood Resort, installed the first robotic bar on the strip.
​
​
The Mandarin Oriental employs Pepper, a humanoid robot from SoftBank Robotics. Located in the Lobby, the robot supports staff by handling tasks like welcoming visitors, providing directions and answering questions about the facility.
​
​
Culinary Workers Union Local 226, Nevada's largest labor union, held several meetings last year about how robots could impact their jobs.
The Culinary union negotiated a deal with casinos that includes some protections from job displacement due to automation.
Under this agreement, MGM and other casinos must give employees six months notice if their job is taken by a robot.
Despite the automation threat, Culinary Union spokeswoman Bethany Khan said union workers will always have jobs.
"Jobs are never going to be eliminated," Khan said. "There are endless opportunities for retraining. We see technology as assistive and supportive."
Experts say the collision of automation won't lead to a robot apocalypse but will instead transform the labor force, eliminating thousands of low skill jobs in Vegas in the years ahead. 
If automation adoption debuts in Vegas at a slow rate, it'll allow workers who lose their jobs time to retool their skills. But rapid automation of Vegas, for example, could eliminate tens of thousands of jobs in the next ten years.
Automating Las Vegas has started, a new wave of investment in robots is set to disrupt the city's entire gaming and hospitality industry and lead to substantial job losses through the 2020s.