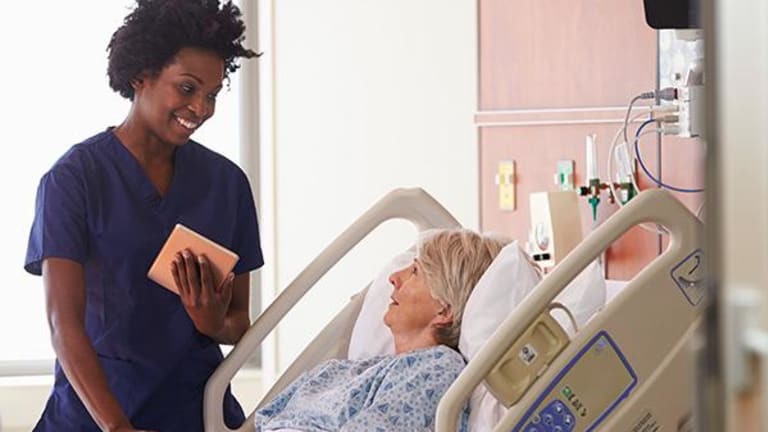 You're Going to Lose Your Financial Independence, but That's OK
Declining health and mental well-being are just part of the aging process, but a sound financial plan can guide you through your later years.
Editor's pick: Originally published Dec. 20.
There's a strong chance that you won't be able to manage your day-to-day finances during the late stages of your retirement.
If you've planned well and communicated your wishes, you shouldn't have to.
According to a study recently released by Fidelity Investments, only 9% of older adults (aged 50 to 80) surveyed felt they'd never lose the ability to manage their day-to-day finances. On top of that, 60% have seen a friend or family member lose their financial independence to dementia or other ailments, while 40% actually helped manage their own parents' finances.
When it comes to maintaining one's physical and mental health late in life, the odds are against you. Studies indicate that financial decision making peaks around age 53 and gradually declines, even among healthy individuals. Though that process is normal, 60% of older adults worry about burdening their families managing their finances. However, roughly eight in ten adult children want to be a part of the process.
"The inevitability of losing financial independence is something for which we all need to plan," says Suzanne Schmitt, vice president of Family Engagement at Fidelity Investments. "That's why it's important for families to be in sync about what needs to happen in the event it's necessary to take the financial keys away from a loved one. By engaging in conversations now and having a strong support system in place, families can help loved ones gracefully transition into that next phase of their lives."
Though three-quarters of older Americans surveyed say it's very important to maintain the ability to manage day-to-day finances, less than half place a similar importance on managing investments. When those investments -- or even your estate -- determine how much you'll have to spend on bills and long-term health care, it's important to have contingency plans in place. Adult children, for example, typically find themselves stepping in when a parent or loved one makes a direct request for financial assistance, when their parents are 75 or older or when that parent or loved one is first aware of a serious ailment.
"When you get right down to it, we're independent right up to the point we're not," Schmitt says. "Well before a tipping point has been reached, families need to be prepared and make sure they have a strong transition plan in place."
According to data released by Hartford Funds, American workers and retirees are frightened of becoming a financial burden on their family members and not saving enough money to enjoy their later life. Meanwhile, adult children are concerned about their aging parents' ability to live the lives to which they've become accustomed.
Roughly 40% of all those surveyed said that becoming a burden to their children and running out of money late in life are huge concerns. Workers between 35 and 54 years old are particularly worried about those issues, with 45% of them voicing those fears, compared to just 33% of those 55 and older.. Additional disparities emerged on the topic when looking at income. Those with income between $75,000 and $100,000 are not only more concerned about these issues than any other income group, they are nearly twice as likely to worry about being a financial burden on children or running out of money as respondents who make $50,000 to $74,999 annually (by a 50% to 29% margin).
"Finances are of course important, but disproportionate compared to qualitative issues like caregiving and maintaining a social network of family and friends," says John Diehl, senior vice president pf Hartford Funds.
Even wealthy investors are incredibly concerned about the burden they'll place on family members in their old age. Financial firm UBS found that greatest fear among wealthy investors as they age is being a burden to children (42%). That weighed more heavily on their minds than surviving on life support (34%) or living in a nursing home (15%).
Though those investors would rather not rely on their children for help -- only 27% would want a child to care for them long-term, while just 15% would want to live with their adult child -- few have voiced their wishes or formulated a plan. Just 39% of investors have talked with children about who will take care of them in old age. Only half (50%) considered health care costs as part of their overall financial plan, and only 23% have saved for their future care. Roughly 77% have not set funds aside for future medical expenses, and 33% are worried about medical or long-term care expenses eating into the inheritance they plan to leave children.
"Maintaining self-reliance is important to the vast majority of investors," says Paula Polito, client strategy officer, UBS Wealth Management Americas. "Having a plan in place for long-term care before they actually need it will help them avoid burdening their children."
Though children want to be involved in long-term planning and care, it is -- without question -- a burden. Of adult children surveyed by UBS, 47% of those who currently provide care for their parents describe it as a heavy burden. Another 41% say it's moderate burden.
With the Census Bureau data predicting that the population of Americans aged 65 and older will grow to greater than 80 million by 2050, a lot more parents have decisions to make. As the number of people likely to require long-term care grows from 12 million today to an estimated 27 million over that time span, a lot more grown children will be bearing that burden.
A survey by Nationwide Retirement Institute found that women, in particular, are having an especially hard time broaching the subject with their grown children. According to the survey, two-thirds of these women (66% are worried they will become a burden to their family as they get older (compared to 50%). Nearly 80% say they are concerned about having money to cover long-term care expenses, but 62% of women aged 50 or older haven't talked to anyone about those costs. Of women with a spouse or at least one child, the most common reason they remain silent is that they don't want their spouse (43%) or children (62%) to worry.
Yet, when asked about how they'd like to be cared for, 67% say they would rather die than live in a nursing home. Roughly 73% prefer to get care in their own home, but only 51% think they will. Another 64% are "terrified" of what health care costs may do to their retirement plans, while 47% are willing to give all their money to their children so they could be eligible for Medicaid-funded long-term care.
"For many families, the job of caregiver typically goes to mom," said Shawn Britt, director of long-term care initiatives, advance consulting group at Nationwide. "After all, being a nurturer is in our DNA. But for many women it is difficult to discuss how the role of caregiver might be reversed when it comes our time to need help."
Even the wealthy aren't informing their families of their plans. Only a third of wealthy investors (36%) told UBS that they plan to turn to family for support or care, with the vast majority (64%) preferring to solicit outside help. Meanwhile, 89% would like to stay in their current home during their old age, while 54% consider assisted living an appealing option. In terms of care, 80% of investors want their spouse to care for them and 67% want a home health aide.
They just don't know how they'll pay for it. Health issues and long-term care are at the top of wealthy investors' priority lists (57% say it is important to them), but fewer than half (48%) say they are confident they will be able to save enough to sufficiently prepare for it. About half (49%) said they are "highly concerned" about rising healthcare costs.
"Even for those who have discussed future health and long-term care decisions, there still is a lot that goes unsaid and unasked between parents and their children," says Sameer Aurora, head of client strategy for UBS Wealth Management Americas. "It's a tough conversation, and no one wants to even think about it, let alone talk about it, but it's important to get everyone on the same page before it's too late."
Those conversations are happening, but slowly. Hartford Funds says that 42% of Americans are making strategic living arrangements, including moving to accommodate their lifestyles (22%) or moving closer to children or into an aging care home or community (20%). Some 26% of women are already making arrangements for long-term care, while just 14% of men have done the same.
Meanwhile, among adult children, 26% feel that having a home their parents can age comfortably in is highly important. Roughly 20% want their parents to maintain a circle of friends, while 32% are moving closer to their parents or are moving their parents closer to them in preparation for long-term care. Unfortunately, just 14% of parents and 12% of adult children are actually sharing these plans and ideas with their family members.
"These percentages should be significantly higher, considering the implications these conversations can have on quality of life. Americans should be starting a dialogue sooner rather than later," Diehl continued. "Avoiding or overlooking these conversations today can lead to significant challenges down the road, including family conflicts and logistical and financial complications."
It helps to give yourself a bit of lead time to address those plans. According to a recent survey by Edward Jones, 60% of Americans are concerned about how they will pay for healthcare expenses in retirement. That includes 69% of Baby Boomers, 41% of whom are "very" concerned. Only 19% of Millennials would consider themselves "very concerned," but a few decades between yourself those realities can be crucial.
"Health care expenses can be difficult to project, especially when you are decades away from retirement," said Scott Thoma, principal and investment strategist for Edward Jones. "Unexpected conditions and medical expenses that manifest later in life pose a great threat not only to physical and mental health, but also to the financial well-being of both the care receiver and the caregiver."
Older Americans have also witnessed the effects of aging and the degenerative conditions associated with it know all too well what kind of effects it can have on not only one's financial planning, but the entire course of their lives. While 43% of all Americans know someone who had or is currently dealing with Alzheimer's disease, only 33% of Millennials can make that claim, compared to 51% of Baby Boomers.
"The cost of Alzheimer's disease is staggering, not only from a human standpoint, but from a financial one as well," says Beth Kallmyer, vice president of constituent services for the Alzheimer's Association. "Out-of-pocket spending for health care for people with dementia, including Alzheimer's, is more than three times the out-of-pocket expenses for people of the same age without dementia."
So what should you do to prepare for the worst? If you've reached 50 or have 75 or older, Fidelity's Schmitt suggests taking stock of the people you consider family (by birth or by choice) and drafting a family financial roadmap. Think about how old each of you are today, and look ahead in five-year increments to consider how your finances, housing, health, caregiving and end-of-life care will need to be addressed. Next, make sure you have friends, family, attorneys, accountants and other advisors in place who know your balance sheet, can step in if you need help and have direct orders if you do.
Beyond that, you should scan and store your legal documents someplace safe and share this information with your loved ones -- as a Caring.com survey found that half 52% of adult children don't know where their parents store their estate documents and 58% don't know the contents of those documents. Finally, you and your family should develop and "in case of emergency" plan just in case your situation declines rapidly.
"The good news is, there are several benefits to building a strong family financial safety net," Schmitt says. "Doing so allows parents the ability to maintain their current lifestyle for as long as possible, helps them preserve their assets and may increase the likelihood they won't fall victim to fraud. Best of all, most parents appreciate the assistance, so it can help forge stronger bonds."