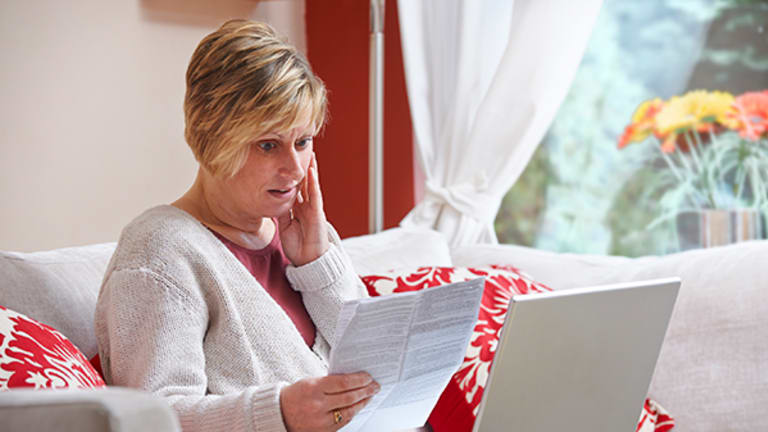 Your Treasured Financial Statements Are Millennials' Trash
Only 6% of adults under 25 get paper credit card statements and bills, but older generations would pay to hold onto them.
There are folks who are not only comforted by a mailbox filled with paper financial statements, but who'd pay for the privilege.
It's 2016 and 93 million credit card holders are still receiving their financial statements through the mail, according to a new survey from CreditCards.com report. Who are these people? Well, they're exactly who you might expect.
The oldest U.S. consumers, 71 and older, are six times more likely to get paper financial statements than the average American. More than a third get paper credit card statements, with similar numbers still receiving paper statements for checking and debit card accounts. In total, there are 43 million U.S. consumers who prefer to only receive and review their monthly financial statements on paper. Of that number, 54% wouldn't switch even if they were charged extra for mailed statements. Only a third would switch if you offered a $5 credit to their account, while only a quarter would switch for a 10% discount at the store of their choosing. Toss them $50, and still only 52% would make the switch to online statements.
Compare that to Millennials ages 18 to 25, who can't get rid of paper statements fast enough. Just 6% get their credit card bills and statements in paper form, while 69% would stop receiving monthly financial statements if a bank slipped them $50.
"It's surprising that in this digital day and age, many people are still receiving financial statements in the mail — I guess old habits die hard," said Matt Schulz, CreditCards.com's senior industry analyst. "The most popular reason to receive financial statements in the mail is for record keeping, and it serves as a reminder that their bill has to be paid as well."
It isn't as if the folks getting paper statements are Luddites, by any stretch. Roughly 55% of those who receive their checking and debit card account statements online also receive paper copies, while 44% of those who receive credit card statements electronically also get paper statements. For many, however, those paper statement remain a comfort.
Roughly 54% of American adults say they get a credit card or checking account paper statement by mail. Among those staying the course, 80% like paper statements strictly for record keeping. About half say that they like to pay bills by check and that mailed statements provide the bill and the envelope. Even if they don't pay by check, 74% of those getting paper statements just like the reminder that the bill needs to be paid. For 67%, meanwhile, it's just what they're used to.
Unsurprisingly, banks really wish they'd move online. In 2015, the U.S. Postal Service took a look at what an anonymous large utility company spent on paper billing vs. online. Electronic bills cost 6 cents to send and process, compared to 53 cents for paper and checks. Regions Bank and U.S. Bank have decided they just aren't putting up with it and are charging $24 a year for paper statements. Commerce Bank charges $3 per statement, while TD Bank charges $1 per statement. Chicagoland's Bank Financial charges customers $3 a month for paper statements, but waives the fee for customers 65 and older.
The Midwest locations of Commerce Bank and Bank Financial are important, as CreditCards.com's survey notes that the Midwest is particularly fond of paper statements and embraces them more widely than any other region. While some banks will attach percentage-based rewards to accounts to get customers to take online statements and use direct deposit, it isn't enough to allay some customers' concerns.
The National Consumer Law Center (NCLC) conducted a study on paper statements earlier this year and found that paper statements were not only easier to review, but made it easier to discern a credit card's interest rates, minimum payments and -- in some cases -- fraudulent transactions.
"Electronic statements might seem cool and environmentally friendly, and paper statements may seem old-fashioned, but paper is just easier to review," says Chi Chi Wu, an attorney who aided the NCLC with its report.
Financial advisors also note that certain investment options, including private equity funds, rely heavily on financial statements for vetting. Paul Jacobs, chief investment officer of Palisades Hudson Financial Group, says investors should be skeptical of funds that do not provide annual audited financial statements or that cannot clearly answer questions about where they store their cash balances.
While CreditCards.com's Schulz personally favors switching to online statements for all credit cards and bank accounts for ease of organization, he notes that financial statements in any form aren't enough to keep your accounts and personal information secure.
"With fraud and ID theft rampant around the country, if you're only checking your credit card and bank statements once a month, you're not being diligent enough," Schulz said. "It's a good idea to check those accounts online at least once a week."
This article is commentary by an independent contributor. At the time of publication, the author held no positions in the stocks mentioned.