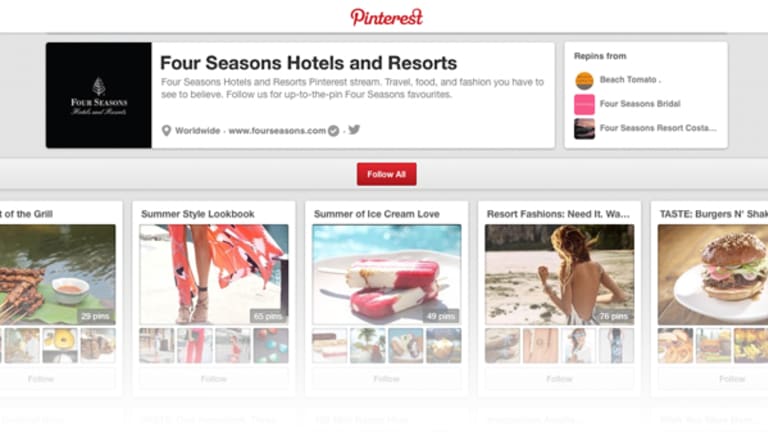 Your Hotel Concierge Wants to Serve You Online Too
Better hotels are using Pinterest, Twitter and apps eagerly to customize travelers' experience.
NEW YORK (
) -- It sounds very much like a conversation between two friends, one of whom is planning a fantastic vacation and needs advice.
Here's how it begins:
"I'll be visiting the City of Lights with my husband for 10 days this September and staying at Four Seasons Hotel George V Paris. We'd love to find one really great treasure -- like a vintage Louis Vuitton steamer trunk for our home. Where's the best high-end antique market?"
The answer: "Without a doubt, Marche aux Puces St-Ouen de Clignancourt. Happy shopping!"
Except this isn't a conversation between two friends over a mocha latte.
It's a conversation from the social media platform
Pinterest
as part of the
Four Seasons
' new
Pin.Pack.Go
board.
Pin.Pack.Go
is an industry first. It's a new, worldwide, collaborative trip planning service created by the Four Seasons that reinvents the way luxury travelers research and receive information when organizing a vacation. In this case, Four Seasons guests are able to connect with any of the luxury hotel chain's local experts around the globe, creating "travel boards" with Four Seasons staff.
Gone are the days of sitting in a travel agent's office poring over dusty travel brochures, hoping the pictures are real.
Pin.Pack.Go makes even
TripAdvisor
(TRIP) - Get TripAdvisor, Inc. Report
start to look outdated.
With Pin.Pack.Go, Four Seasons guests get specific advice, pictures and travel tips from experts on the ground in their destination. The collaboration from the local Four Seasons hotel concierge or other knowledgeable staff includes personalized recommendations, insider knowledge and even the ability to book dinner reservations -- long before a trip begins.
Also see: Inaugural Luxury Hotel Index Shows U.S. Still Leads in Hospitality Brands>>
Back to that conversation about Paris:
"Gregory Marchand's Frenchie is the definition of a Paris foodie 'hot spot.' Fantastic and flavorful food -- a must try!" -- pin (with picture from the restaurant) by the Four Seasons Hotel George V on a guest's vacation board."Yum! Can you arrange a reservation for two for Friday, Sept. 13?" -- response from the guest planning the Paris trip."Absolutely! Does 8 p.m. work?"
Voila.
Whether guests post questions about the best place to go stargazing in the Serengeti or to sip martinis in Mumbai, Four Seasons' local experts respond with an answer.
"We really saw Pinterest emerging as a platform a couple of years ago. Its usage was skyrocketing," says Felicia Yukich, social media marketing manager for the Four Seasons Hotels and Resorts. "We actually saw guests creating Pinterest boards to plan their next trips, and we have renowned concierges around the world and thought 'Wouldn't it be fantastic if we could help our guests?' It's another way to add value to the guest experience, and for us it's an extension of our service culture."
Since starting the program a few weeks ago, the hotel chain has received Pinterest collaboration board requests from guests planning trips to Four Seasons properties all over the world, including Florence, Italy; Chiang Mai, Thailand; Singapore; London; Mauritius; Marrakech; Morocco; and Lanai, Hawaii.
Four Seasons is something of a trailblazer when it comes to its use of social media platforms and technology to connect with and service guests. The luxury hotel chain maintains an active presence on
Facebook
(FB) - Get Facebook, Inc. Class A Report
,
Twitter
, Instagram,
Google+
(GOOG) - Get Alphabet Inc. Class C Report
, Youtube, Vine,
Weibo
 and
Youku
. It also recently launched a virtual wine tasting program via Twitter and a sommelier-on-demand program on its Facebook page.
It's all part of finding ways to communicate with guests.
"I think for us, it is important that we are where our guests are," Yukich says. "We really believe in that. And we are committed to that. It's not about how many platforms we can be on. Because we are a luxury brand in the luxury service industry, when guests have a presence on a certain platform, then it's important for us to be there."
Also see: The Salamander Stands Alone in 2013 Luxury>>
"It's not about just pushing out advertising and content, but about adding more value to guests," Yukich adds.
Other luxury hotels can certainly be found using social media and technology platforms in new and innovative ways, albeit to a lesser degree.
The ultra luxurious
SLS Hotel at Beverly Hills
engages regularly in conversations with its future guests on Twitter and personalizes welcome amenities for those guests based on the conversations.
"Guests start talking on Twitter about visiting the hotel prior to arrival, so we play with that. It's a really nice way to interact with guests," says Emily Bernstein, director of public relations for the SLS Hotel at Beverly Hills. "It depends on what they're coming in for and what they tweeted -- but if we could tell they worked for a production studio we may supply them with an amenity that compliments their industry well. It's about understanding what they are here for and complimenting that with something fun or quirky."
The SLS Hotel at Beverly Hills has also created its very own smartphone app that can be downloaded from iTunes for free and used by guests or anyone interested in the hotel's cultural or entertainment recommendations.
Once a guest downloads the SLS app, they can use it to order room service, book a spa appointment, set a wake-up call and more.
"It includes concierge recommendations for restaurants, night life -- it's a great resource for Angelenos," Bernstein says. "But it's also another way to meet our guests' needs for guests that may not want to pick up the phone and call housekeeping every five minutes. They could be driving back from a meeting and use the app to order a burger and have it waiting for them when they get to the hotel."
"People love SLS. It's very quirky and very whimsical," Bernstein adds. "We are really challenging this modern-day travel, applying modern technology in modern ways to accommodate the luxury traveler."
Meanwhile, in New Orleans, at the
Royal Sonesta
, Social Media Coordinator Colleen McCourtney has been known to act on guest's comments on the hotel's various social media outlets at all hours.
When it comes to Pinterest, the hotel began maintaining individual boards a little more than one year ago for its restaurant, jazz club, coffee shop and oyster bar. McCourtney uses the Pinterest boards primarily to post pictures that are likely to get the attention of browsers.
"We post any kind of interesting picture we have. For the restaurant's board, we have different renderings of the dining room, pictures of the kitchen, links to different articles about food, and I always put a link directing people back to the Royal Sonesta website," McCourtney says. "We use it as a tool to catch people's eye and bring them back to the hotel's website."
There is no real means however, of tracking how much interest a Pinterest board is attracting, or any sort of analytics that give businesses using it, feedback about visitors, but for McCourtney and other luxury hotel social media managers, it's worth the time and energy.
"We do track which kinds of people pin our pictures on their boards," McCourtney says. "And Pinterest is where people are. You just have to be in front of them all the time."