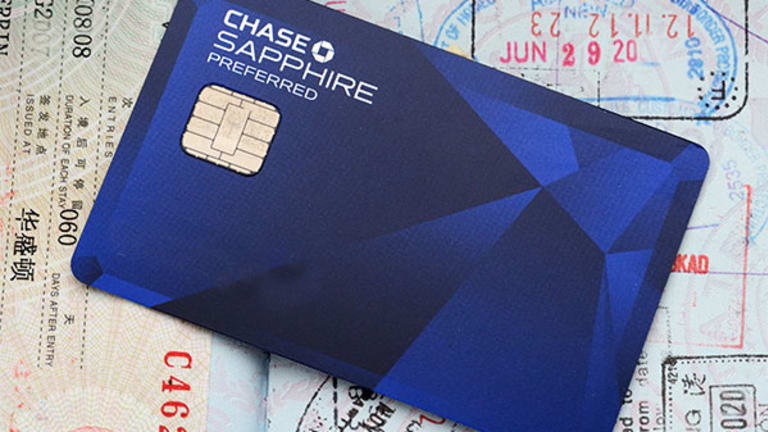 Your Best Credit Cards for a European Vacation
If Europe is on your travel agenda, here's a look at what you need in your wallet to get your money's worth (and score some rewards points as well).
If Europe is on your travel agenda, here's a look at what you need in your wallet to get your money's worth (and score some rewards points as well).
NEW YORK (TheStreet) -- If you're going abroad this spring, your head may be swimming with possibilities for how you'll pay for things during your stay. You'll need a card with chip technology, and having a card with no foreign transaction fees -- and cash when you need it -- is key to a successful trip. While choosing the right card may seem complicated, there are several options available now that will work wherever your travels take you.
Chip and PIN cards vs. chip and signature cards
Although the U.S. is woefully behind the curve when it comes to internationally adopted chip and PIN cards, many major credit card companies are expected to start offering the technology in the next few months, says Brian Kelly, founder of ThePointsGuy.com.
Unlike traditional cards that feature a magnetic stripe and require a signature, chip and PIN cards feature a computer chip and require a personal identification number to complete a transaction. Until they become available, U.S. travelers are encouraged to use one of the chip and signature cards available now. For most all transactions, the chip is really what you need, Kelly explains.
"The chip is what matters. The only place you can't use a chip and signature card is at an unmanned kiosk. So if you're trying to get a ticket for the Paris Metro late at night, you might be out of luck -- there has to be a human there for you to sign. But otherwise, you can use a chip and signature card anywhere you use a chip and PIN card," Kelly says.
For now, there are a handful of cards in the U.S. that offer almost-as-good chip and signature technology, says Bethy Hardeman, consumer advocate for Credit Karma.
Those include the Chase Sapphire Preferred, Citi ThankYou cards, Marriott Rewards Premier, British Airways Visa Signature, American Express Platinum and OPEN and a few others, Hardeman says. Other cards that have promised they'll be getting in on the game very soon include JPMorgan Chase and Barclays.
Also see: 5 Reasons Credit Cards Aren't All Bad>>
"JPMorgan Chase said in February that they will begin offering chip-and-signature technology later this year," Hardeman says. "Barclaycard has shared in their online community that they're planning on launching chip-and-PIN technology for Arrival card members -- they're waiting to see where the market is going in the U.S. They haven't given timing on that transition."
No matter which new card you choose, Jelena Ewart, credit card analyst for NerdWallet.com, says it's always wise to specify your need for chip technology. Magnetic stripe and signature cards are still the default in the U.S.
"A lot of companies just don't have the chip as a standard offering, even though everyone is moving in that direction," Ewart says. "It makes sense to call your bank and ask if they can offer a chip card. Some don't advertise or proactively make the offer. I've heard of a lot of American Express members getting chip technology on request, and that's not a service they advertise."
If you're not interested in applying for a new card, Ewart says that you may be able to get your current favorite travel card reissued with a chip -- just call and ask.
Cards with no foreign transaction fees (and rewards!):
Once you're abroad, using a card without foreign transaction fees is absolutely in your best interest, Hardeman says. Depending on the card, foreign transaction fees can range from 1% to 3% of the purchase.
When you pick out a card with no foreign transaction fees, make sure you're also racking up rewards. Most travelers spend a lot on their journey, and it only makes sense that your European purchases will help you earn points.
Also see: 10 Ways You Invite ID Theft Trouble on Vacation>>
"The main card I use when I am abroad is the Chase Sapphire Preferred," Kelly says. "It's good because you're getting two points for every dollar you spend on travel and dining, and most people who go to Europe spend a lot in those two categories. This includes all your spending on things like tolls, bed and breakfasts, trains and parking -- it includes a lot more than just airlines and chain hotels."
Other rewards cards that don't have foreign transaction fees include the Barclaycard Arrival, and Capital One Venture Rewards, Hardeman says.
The Chase Sapphire Preferred, the Barclaycard Arrival and the Capital One Venture Rewards all come with 40,000 bonus points when you spend $3,000 on purchases in the first three months. The annual fee is waived the first year, but you'll have to pay it every year thereafter. The annual fees for the cards range between $89 and $95, Hardeman says.
ATM cards vs. cash:
Smart travelers never convert U.S. dollars at currency exchange places, where the fees can often be exorbitant, Kelly says.
"Your bank is going to give you the most accurate conversion," he explains.
With that said, don't plan to get all your Euros or foreign currency before you leave the U.S. That's way too much cash to carry around, and the fees associated with that are actually higher than if you just use an ATM while you're overseas.
"Using an ATM when you need money is absolutely the best way to go," Kelly says. "You'll get the best daily exchange rate at the ATM, and it's incredibly convenient."