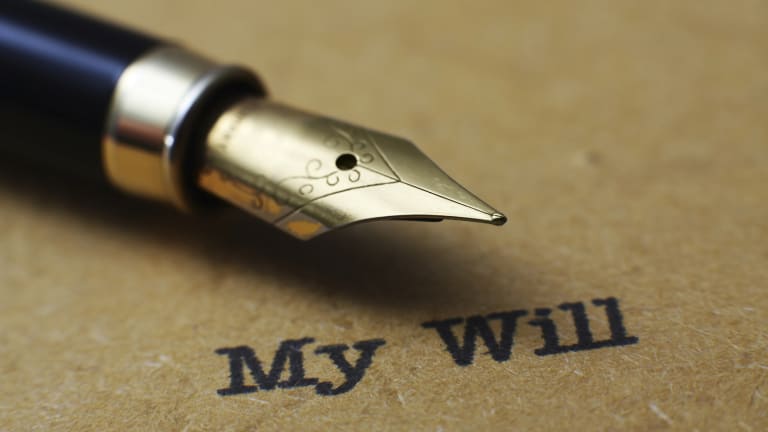 You Don't Love Your Family If You Don't Have a Will in Place
A will is the least you can do to make sure your estate passes to your loved ones after you die, but almost half of American parents don't have one.
NEW YORK (MainStreet) – If you haven't figured it out by now, and many of you haven't, a will is important and you should have one. In fact, it's the bare minimum you should have when planning your estate.
According to a survey by Caring.com, just 56% of American parents have a will or living trust document. A full 27% have made no plans for their estate whatsoever and 16% of their kids are unsure whether their parents have made preparations or not.
"I've been doing this for quite a long time and, through hundreds of clients, you walk down a path," says Masood Vojdani, founder of Bethesda, Md.-based financial firm MV Financial. "Along this path that you walk on, you often find that nobody wants to ask the hard questions and nobody wants to answer them. Oftentimes, they're overlooked."
Those questions can be as simple as "Do you have a will?" or "Have you updated your will?" If anyone bothered to ask — and 25% of adult children don't — only 40% of parents who have a will say they've updated it within the past five years. Vojdani notes that if your will isn't up to date, your wishes aren't up to date and may be influenced by changes within your family or changes to the law. In states where wills are subject to probate law, that can mean exposing your family to a lengthy period in court just to have your wishes fulfilled. Even then, your estate can take a sizable hit if you haven't protected your assets through a trust.
At a meeting of 700 employees of government contracting firms, Vojdani asked a simple question: Do you love your spouse and your children? Only 11 unmarried people failed to answer yes. He then asked how many of them had a will and reviewed it recently. Fewer than 60 answered in the affirmative.
"I said do not lie to your spouse: You do not love them," he says. "If you did, you would not leave them unprotected."
If you're in a second marriage, if you're choosing to disinherit someone or even if you just want to name a guardian for your child and make sure they're not diving into a seven-figure inheritance at age 10, a will is a good idea. As Kim Dula, a partner at Marlton, N.J.-based Friedman LLP points out, a will can set your intentions in stone and protect your family from not only themselves, but from creditors. But it can only do that if it's accurate and up-to-date.
"The biggest thing that I see repeatedly, though, beyond people who don't have a will, is people who don't revisit them," Dula says. "Maybe they have that will created when they're very young, but that will has to be revisited as your family grows, as your career grows, as your assets grow and as tax laws change. It's an investment in their family's financial future and well-being."
If you have considerable assets at stake, a will may not cut it. Vojdani relays the story of one high-income client whose spouse passed away and left her completely confused about where assets were and how they would be transferred. She had to go through probate and is still in the middle of that process but, because her husband's estate was in a will instead of an irrevocable trust — which would have shielded certain assets from estate tax — her family lost more than $5 million of the estate to taxes.
That's a nasty surprise, but one that a lot of families face. The Caring.com survey found that 52% of adult children don't know where their parents store their estate documents. Meanwhile, 58% don't know the contents of the documents. The more assets a family has, the more it puts at risk by not having a sound estate plan in place.
"Go back through history: The Kennedys and Elvis Presleys of the world lost more of their assets through estate taxes than anywhere else," Vojdani says. "Creating an estate plan says 'Honey, I love you' or 'Kids, I love you.' 'I want to keep this family together and its estate intact.'"
That said, there are some assets that don't require a will to make it into the right hands. If you have non-probate assets such as a 401(k) plan or life insurance plan, just designating a beneficiary should be enough to get those assets to your loved ones — or even exempt those assets from creditors, in certain states. If you own a property jointly, as Dula notes, it typically just goes directly to the next person on the title. A will or trust can still come in handy if any of those assets have a minor as their designated beneficiary though.
Palmer Williams, national sales director with Saybrus Partners, partners with financial advisors to provide life insurance options for clients. He says that estate planning is about making sure the right people get the right assets in the right manner with the least amount of cost, but that identifying those people, assets and vehicles (wills, trusts, etc.) can get complex. If a child is named on a life insurance policy, Williams says it's always advisable to consider a trust.
"We try to encourage financial advisors to simplify the discussion," Williams says. "With a life insurance policy, if your beneficiary is a minor child and there's not a trust set up, you're often left with the conservatorship process through the state that can be burdensome and inflexible."
That conservatorship requires the state to provide an authority to account for how that child is being cared for. Unfortunately, that ends when a child is 18 or 19 and the payout just goes immediately to the beneficiary afterward. A trust allows a parent to determine when a child gets that money and how much they get, either at once or over time. All other assets that aren't under contract or title and don't require a named beneficiary, however, would be distributed by the laws of the state you're domiciled in if you don't have a will in place.
"It's time-consuming, it can be costly and it creates an incredible amount of stress for the family you've left behind," Dula says. "The surviving family is already going through such a trying time with the death of a loved one, and now dealing with all of this creates a lot of confusion and can be very painful. To prevent that and put this all in place when somebody is healthy and competent, it's a nice thing to do and it's an investment that everyone should be considering."
— Written by Jason Notte in Portland, Ore., for MainStreet
To follow the writer on Twitter, go to http://twitter.com/notteham.
This article is commentary by an independent contributor. At the time of publication, the author held TK positions in the stocks mentioned.