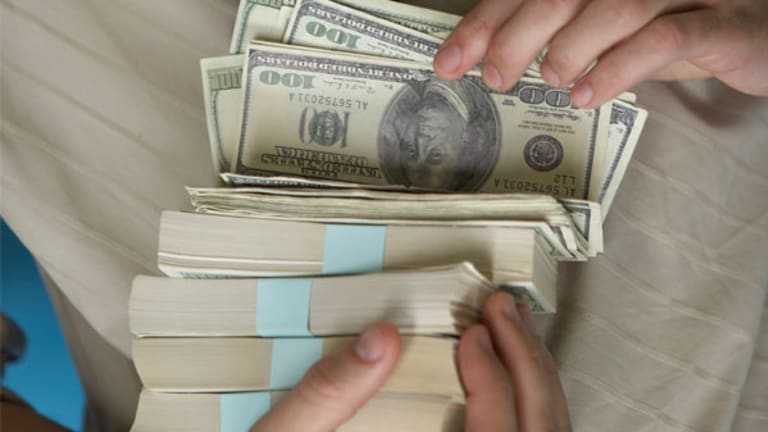 Publish date:
You Can Be a Media Mogul for Fun and Profit
It is a high-risk investment, but the entertainment world is looking for your money.
It is a high-risk investment, but the entertainment world is looking for your money.
BOSTON (
) -- So, you want to be a mogul?
With the summer movie season soon to arrive, looking at blockbuster receipts may reinforce the idea Hollywood offers fast, easy money and plenty of glamour.
It is a high-risk investment, but the entertainment world is looking for your money.
It is not that easy, especially for the average investor, but those dreaming of dropping celebrity names poolside like a modern-day Robert Evans do have ways to get in on the action.
You may already be investing in the entertainment industry without realizing it, or paying much attention to those holdings. Tucked inside your pension fund or 401(k) may be any number of companies that produce movies:
Disney
(DIS) - Get Report
,
Sony
(SNE) - Get Report
,
Time Warner
(TWC)
,
Dreamworks Animation
(DWA)
,
Viacom
(VIA) - Get Report
and
News Corp.
(NWS) - Get Report
among them.
If
Lions Gate Entertainment
(LGF)
is among your investments, either directly held or under the hood of a fund, you are undoubtedly awaiting the release of
The Hunger Games
, a potentially lucrative franchise hyped as the next
Harry Potter
or
Twilight
.
Other investments that can get you at least an indirect exposure to Tinseltown are
IMAX
(IMAX) - Get Report
and cinema chains
Carmike Cinemas
(CKEC)
and
Regal Entertainment Group
(RGC)
.
Commonly held companies with movie related interests include
Apple
(AAPL) - Get Report
,
Comcast
(CMCSA) - Get Report
,
Amazon
(AMZN) - Get Report
,
Wal-Mart
(WMT) - Get Report
(which is steadily growing its Vudu streaming service),
Netflix
(NFLX) - Get Report
,
DISH Network
(DISH) - Get Report
,
DirectTV
(DTV)
and
Google
(GOOG) - Get Report
.
For a basket of silver screen plays, several ETFs have a media focus, including the
Powershares Dynamic Media Portfolio
(PBS) - Get Report
and
PowerShares Dynamic Leisure And Entertainment
(PEJ) - Get Report
.
A more direct, targeted way to make money in the world of cinema is to invest directly in a production. For most, this path leads to the world of independent film.
When everything works out just right, "indies" can be very lucrative.
10 Rags-to-Riches Hollywood Characters
Templeheart Films
, a U.K. based consortium of film investors, used box office receipt data from
to tally the most profitable films of all time based on return on investment.
Topping the list was the 2009 "found footage" horror movie
Paranormal Activity
. It had a $15,000 budget and a worldwide gross of $196.7 million. Based on cinema ticket sales only (DVDs, TV licensing and video on demand are above and beyond the total) it yielded a 655,505% return.
The 1980 apocalyptic thriller
Mad Max
cost a mere $200,000. In addition to launching the career of Mel Gibson, it pulled in a 24,837% return for its investors through nearly $100 million in ticket sales.
The fast food screed/documentary
Super Size Me
cost $65,000 to make, netted close to $30 million and offered a big, fat 22,614% return.
The Blair Witch Project
(1999) produced an ROI of 20,591%.
El Mariachi
(1993) had a 14,485% return, and the film that made Sylvester Stallone a star,
Rocky
(1976), cost $1 million to make and rewarded its faithful backers with an 11,150% return.
These returns, unfortunately, are the exception to the rule. Moviemaking is a demand-driven industry and what the public will pony up for can be hard to predict.
When Hollywood Stars Swap Jobs
Disney is reeling from the bad news delivered by two of its recent big releases. The science fiction extravaganza
John Carter
, met by mediocre reviews, was predicted to be a loser even before the first reel unspooled March 9. With an estimated total budget of nearly $300 million, it has thus far pulled in a mere $56 million domestic and $106 million worldwide. Without the momentum of a solid opening week, it has a deep hole to emerge from.
Disney's animated film
Mars Needs Moms
was also dead on arrival. It cost $150 million and, since its release last March, has made back a miniscule $40 million worldwide.
If you are not scared away from the high-risk nature of film production, there are a variety of ways to get involved.
It all begins with research.
First stop are trade publications such as
The Hollywood Reporter
and
Variety
. Many "in production" projects -- theatrical or direct to video -- are announced through advertisements. SEC restrictions limit direct pitches for investors, a rule independent filmmakers often ignore (or are unaware of) when they make their plea in classified ads or on Craigslist.
Under a typical arrangement, film projects are structured as a limited liability company or limited partnership. This means your exposure is limited to what you invest directly -- you won't be on the hook for additional debt or unexpected expenses.
offers an online resource for the business of independent film production, and the Screen Actors Guild has its own indie-focused Web site,
.
Investors can also contact production companies directly, since few would ignore the lure of potential capital. A good way to network within the industry, and suss out potential investing opportunities, is to attend film festivals taking place around the world, including the Sundance Film Festival and Toronto International Film Festival.
If you don't have thousands of dollars you are willing to gamble, "crowdfunding" may be the ticket.
bills itself as "the largest funding platform for creative projects in the world." Using it, film projects turn to many small investors as an alternative to more standard financing options and typically offer a tiered selection of perks and incentives (as opposed to investment returns) to donors.
The approach has been especially embraced by documentary filmmakers.
Thus far, two Kickstarter-financed documentaries --
Incident in New Baghdad
(2011) and
Sun Come Up
(2010) -- have been nominated for Academy Awards. There's also last year's
Rise and Shine: The Jay DeMerit Story
, which tells the tale of an American who, at the age of 21, moved to Europe with only a backpack, $1,500 and a dream of playing professional soccer. He managed to work his way to the English Premier League and represented the U.S. in the 2010 World Cup.
More than $223,000 was raised by 1,937 backers. Among the costs those contributions defrayed were editing, sound design, $2,500 to produce a trailer, $35,000 for the musical score and licensed songs, $40,000 for the cost of licensing rights for two minutes of Premier League footage and $40,000 for two minutes of U.S. National team footage (World Cup footage was cut from the film because the licensing cost of $50,000 per minute proved too costly).
Blue Like Jazz
, a movie based on the best-selling book of the same name by Donald Miller, raised $345,992 from 4,495 backers.
Those less interested in the perks offered by Kickstarter projects (onscreen credit, DVDs, parties and premieres) than they are financial gain can turn to fractional investing, pooling resources with other investors.
, for example, is a member-only community that works with qualified high-net-worth investors (assets of $1 million and a minimum investment of $500,000), family offices, wealth managers, broker dealers and institutions. Investor assets for each project are held in escrow until all production costs are in place (from pre-production through filming and post-production). Additionally, it operates its own independent film studio, is a domestic theatrical distributor and has partnered with
Viviendi Entertainment
.
"Whether diversifying a noncorrelating alternative asset portfolio, attending film festivals, award ceremonies, red-carpet premieres and screenings, or being on set during productions," members get to "experience the passion of the entertainment industry," its Web site says.
Those who prefer live theater to the silver screen also have investment opportunities.
Like film productions, there is the high risk inherent on a project that relies on enticing an audience. As any Red Sox fan can tell you, it was Broadway-related debts that led the team to sell Babe Ruth to the Yankees in 1919.
Ken Davenport, a Broadway producer whose credits include
Godspell
and Will Ferrell's evening as George W. Bush,
You're Welcome America
, addressed the topic of producing shows on his popular
. Davenport also leads regular seminars devoted to investment opportunities.
"Because Broadway capitalizations can range from $2 million for a play up to $20 million for a Broadway mega-musical, many people fear that the 'entry point,' or the amount of money required for an initial individual investment, must be astronomically high," he wrote. "Not true. While the average smaller investor in a big Broadway show is probably about $25,000, I have seen many shows where investors were able to get in for as little as $10,000, and even a few where the entry point was only $5,000. There are a lot of publicly traded mutual funds that don't allow you to get in at that level."
He explains that capitalizations are typically divided into "units," just like shares of a stock. The number of shares are determined by the producer, often guided by how many investors they see as ideal and what the cost of entry is.
Davenport's 2010 Broadway revival of
included investors who ponied up as little as $1,000 to be "producers."
The risk inherent in any production -- even the marketing might of big studios, which dominate theatrical releases, can't stop a dud such as
John Carter
-- is why crowdfunding efforts don't offer an investment return.
The Securities Exchange Commission considers investments in a film or theatrical project as a "security," an equity share, if they are "passive" and the investor doesn't have a direct say in, or control over, day-to-day operations. As it does with similar financing efforts, the SEC has set a financial hurdle for these investments. The logic is that an investor with greater assets is more savvy and sophisticated and has a greater tolerance for losses. In other words, they know what they are doing and can afford to fail.
That barrier to entry, the SEC's definition of an "accredited investor," is drawn at a net worth of $1 million or more and annual earnings of $200,000 ($300,000 for married couples). Barring state restrictions, productions are allowed a limit of 35 non-accredited investors, providing a list of criteria are met.
10 Movies That Predicted the Future
Efforts are also under way that urge the SEC to revisit its regulations to better reflect the realities of modern crowdfunding and micro-finance.
Offsetting the risk somewhat are a variety of state and federal tax breaks in place for film. Section 181 of the Internal Revenue Code, for example, once allowed investors to deduct 100% of funds invested in "qualified" films (up to $15 million of the budget) if they were shot domestically and had at least 75% of those funds earmarked for paying crew and actors.
One way you won't get to invest in movies is the futures market. Efforts to create such an exchange for motion pictures (treating releases like corn, wheat and other commodities) were squashed in the Dodd-Frank Act, a Congressional package of financial reforms and regulations. The U.S. Commodity Futures Trading Commission had approved the concept in 2010.
Movie studios had fought the idea on the grounds that somehow -- bribed movie critics, perhaps? -- investors would find a way to manipulate the success or failure of releases. Another objection voiced by critics is that such a futures market would could devolve into little more than online gambling.
-- Written by Joe Mont in Boston.
>To contact the writer of this article, click here:
Joe Mont
.
>To follow the writer on Twitter, go to
.