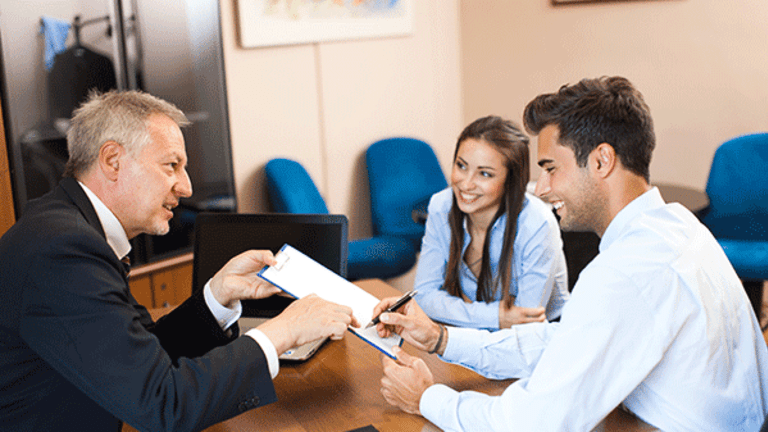 Yes, You Can Negotiate Fees With Your Financial Adviser
There's really no reason you can't negotiate a better deal with your money manager. Here's where to start.
Editors' pick: Originally published Oct. 25.
Conventional wisdom among financial planning clients is that management fees aren't negotiable.
The fact is, those fees can and should be on the bargaining table, says Invest Right, an investor advocacy group.
"The good news is that many fees can be negotiated," the company states in an email to TheStreet. "Just how far you get in the negotiation discussions depends on a mix of your relative standing as a client and the questions you ask."
It's in the best interests of financial advisors to be more flexible on fees, too. "In the age of financial uncertainty, investment advisors who are willing to haggle a little to keep you as a customer stand to prevail over those who are inflexible about fees," Invest Right notes.
To start your fee negotiation campaign, know that you have leverage, and likely more than you think.
"Client leverage over advisors has increased over time as the cost of 'passive' strategies - indexing and ETFs - has rapidly declined," says Greg Blotnick, an equity analyst at a private investment firm.
Blotnick states Vanguard and BlackRock have been the main proponents of this trend, cutting annual fees on exchange-traded funds to near-zero. "The active management industry is well-aware how bad this is for their business and having a hard time justifying what value-add their 80- to 100-basis point flat fee provides," he adds. "A client could mention to this fact to their advisor: 'I can own the S&P 500 via an iShares ETF - IVV - for 0.04% per year. Why should I pay you more than that?'"
"Financial advisors are desperate to maintain business in the face of redemptions and outflows and will be willing to slash fees to retain business," Blotnick adds.
Ryan Koester, a consumer fraud attorney with Koester & Bradley, LLP, and an ex-financial advisor, says the advisory industry is under attack from financial technology firms that aim to take away a significant number of clients. "Advisors, at least those not engaged in pure active management, are desperate for clients and will generally be open to negotiating fees, especially for larger accounts," explains Koester.
The best way to ask for, and engage in, a negotiation, is simply ask the advisor or broker, "What value will you add that I cannot receive elsewhere?"
"Put the advisor or broker on the spot," Koester adds. "It's important to conduct research before the meeting, so that you can name the various alternatives available from robo-advisors of index funds. Bring up Vanguard -- the mutual fund firm is known for its low-fee funds -- that usually works. Then ask directly for a discount."
"If you are an existing client, ask, "What is the main reason I should stay with you versus a lower cost alternative?" - and then ask for a discount," he adds.
You can also negotiate perks, especially with larger brokers and institutions that can offer other products at a discount rather than cutting advisory fees, Koester says. "With smaller advisors, the fee is primarily the tool for negotiation, keeping in mind the advisor does not actually spend that much time on an individual portfolio apart from occasional re-balancing," he says.
Also, make sure you have a firm grasp on the fees involved in working with a financial advisor.
"If an investor doesn't have a clear and complete view of these funds, they will be negotiating with a potentially large blind spot," says Marty Phelan, founder of Phelan Financial Solutions, LLC. "The simplest way for an investor to get a full disclosure of fees is to work with a fiduciary. A fiduciary should be operating with complete transparency regarding any fees or commissions, therefore removing the 'blind spot' for the investor."
"Investors should also ask what breakpoints are available to receive lower fees based on investment volume," Phelan adds.
So yes, you can - and you should - negotiate fees with your financial advisor. Now, more than ever, investment clients have more weight to throw around than ever. Under pressure from fin/tech firms, and from low-fee fund providers like Vanguard, financial advisors are willing to play ball on fee negotiations, and are open to those fee negotiations.