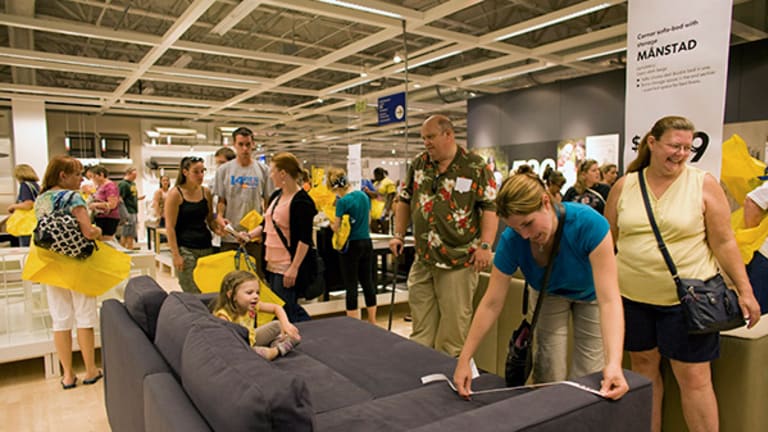 Worst Things a Buyer Can Do Before Closing on a House
Missing credit card payments can set off red flags, but even changing jobs or buying furniture can kill your home loan at the last minute.
Missing credit card payments can set off red flags, but even changing jobs or buying furniture can kill your home loan at the last minute.
NEW YORK (TheStreet) — Once you find the perfect home, secure financing and sign the contract, you may be ready to pop open some champagne and start picking out curtains. Be careful, though. There are several mistakes you may make as a would-be homeowner that will derail a closing or drive your interest rate higher.
When you apply for a mortgage, the first credit check your lender runs won't be the last. Another credit check is performed just before you close. If there are negative changes in your credit score, you could be saying goodbye to your dream home before you ever put the key in the door.
1. Change in job status
Banks want stability, and if you show them you're changing jobs at such an important time in your life, they may think twice about offering you a mortgage.
"A change in job status from part time to full time is fine, but not the other way around," says Greg McBride, chief financial analyst for Bankrate.com. "Going from employee to contractor, or salary to commission, it's just not a good move."
If you're moving to a better job with a higher salary, the change won't torpedo your closing, but it might delay it.
"You would be required to show new paystubs, even if you're moving to a much better job," he says.
Changing positions within the same company is not likely to raise red flags as long as your salary stays the same.
2. Making late payments of any kind.
If you have a mortgage on your current property, missing a payment during this time could cause serious problems, says Peter Grabel, managing director of Luxury Mortgage in Stamford, Conn.
"One late payment will not only kill your score, it will make you ineligible for a loan with most lenders for at least a year," he says.
It's not just mortgages. Even something as innocuous as a utility bill can do damage. Unfortunately, if you're planning a major move, it's easier than you might think to let bills fall through the cracks, says Jacky Teplitzky, a broker with Douglas Elliman in New York City.
"This sort of thing won't show immediately. The utility company has to report it, and the process takes time. But there are scenarios where it can weaken your position," she says.
For example, if you've already moved and your mail forwarding service hasn't kicked in, a missed bill may never make it to your door. Or if you sublet your old place and the tenant has failed to pay the utilities, those negative reports could find their way to your credit score.
"It may not even be something fresh," McBride says. "Even if it happened six to nine months ago, it could just now be showing up on your credit report. All the lender is looking for is a change in your credit score from the first time they pulled it. If those numbers don't match and you have something on there that's new and unfavorable, it's going to be a problem."
3. Having too many unnecessary credit inquiries
Every time a lender makes a credit inquiry — when they pull your credit report — it affects your score. If you're moving, you may be more tempted to apply for store credit cards to save 10% to 20% on expensive items such as linens and home decor.
"Those 'no-interest, no-payment' offers are tempting, especially when you're getting ready to fill a brand-new house with things, but consumers too often jump the gun and apply for new accounts to purchase appliances and furniture," says Gerri Detweiler, director of consumer education for Credit.com.
Store credit cards also carry high interest rates, making them bad choices for the long haul, Teplitzky explains.
"Store cards can be so tempting when you're standing at the checkout. But they are horrible cards. Even if you weren't trying to be on your best behavior for a mortgage, those cards are just a bad choice. Before your closing, don't get tempted, or you're really going to regret it," she says.
4. Taking on debt
If you're moving to a new home because your family is growing or if you're moving from a city to a suburb, you may need a new car. It's best to wait until your home purchase is complete.
"I've had people tell me, 'They had to pull our approval because we took out a $24,000 car loan two days before closing,'" McBride says. "But that's debt that you didn't have upon application, debt that changes the 'before' and 'after' picture on your credit report. If you were right on the edge of approval to begin with, it could be back to the drawing board."
Unfortunately, when you take on any type of debt you didn't have at application, it calls into question whether you'll be able to pay your bills once you add a mortgage into the mix. The debt you take on doesn't even have to be something as substantial as a car. Even common purchases associated with a new home can be dangerous.
"You don't want that $3,000 of furniture — a bedroom suite you bought over the weekend — to derail your closing. Yes, it's a smaller purchase, but it's the same thing as buying a car. It's a credit inquiry, and it's debt you're taking on."
Any expensive items you buy will almost always your credit score, and may also affect your debt-to-income ratio, Detweiler says.
"Wait until after the loan is completed before you go shopping for these major purchases," she says.