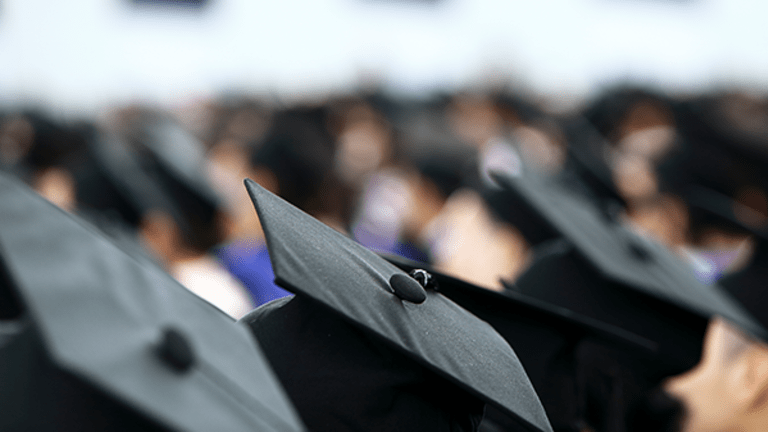 These Are the 10 Worst Colleges in America
These schools all have terrible ROI. You'll shell out for tuition, but alumni from these institutions end up with horrendous earning power after graduation.
The annual rankings of colleges often help high school students and parents whittle down the list of potential universities, but it can be challenging to decide which one will generate the best return in terms of earning power once you've invested thousands of dollars -- heck, hundreds of thousands of dollars -- on tuition.
Getting the most out of a college education ranges from choosing not only the right type of school but also in reducing how much in student loans you will accrue.
PayScale, a Seattle-based compensation data software company, examined 2,441 U.S. associate and bachelor's degree-granting institutions and ranked higher education options by how much alumni earn after graduation.
Earning potential should be a factor that all parents and students consider since the amount of student loans accrued can affect both their children and their family's ability to save for retirement.
Before Choosing Your Institution
While private schools often garner illustrious reputations from their infamous alumni, many influential and prominent figures attended state colleges and were able to borrow less money to pay for tuition and living expenses.
"Choose community college and in-state universities over pricey private schools," said Greg McBride, chief financial analyst for Bankrate, a New York-based financial data and content company.
Students must consider how much they will earn at their future jobs when they are deciding on how money they need to borrow, because large amounts of debt will hamper their ability to buy cars and homes in the future as well as save for retirement.
"If you must borrow, limit the amount of borrowing and calibrate it to your future earnings prospects," he said. "This is where parents have to weigh in. Sorry, but borrowing $100,000 to get a degree in anthropology isn't smart. But I've yet to meet an engineer, data scientist or accountant that can't find work."
Students who plan to attend graduate school such as law or business school need to conduct even more planning. While a bachelor's degree was sufficient for some fields in the past, now many industries are " essentially requiring graduate degrees to secure preferred positions, said Robert Johnson, president of The American College of Financial Services in Bryn Mawr, Pa.
"Fortunately, some students are heeding warnings about the burden of student loan debt and are changing the way they approach college," he said. "Students must take a longer term view of higher education, factoring in the likelihood of having to fund graduate school."
Opting to start their higher education at a community college and transferring those credits into a four-year school is a "cost effective way of earning a degree that preserves some borrowing power for graduate school," Johnson said.
Students should explore other options of paying for tuition such as grants, scholarships, work-study programs and part-time employment before choosing a university, said Bruce McClary, spokesperson for the National Foundation for Credit Counseling, a Washington, D.C-based non-profit organization.
"Taking on too much student debt can get in the way of retirement savings and home ownership and can even lead to major credit problems if the loans are not paid," he said. "While there are affordable loan repayment options for people, it is always best to take the necessary steps to avoid facing loan default. One example is the NFCC's student loan counseling program, a nonprofit service available at studentloanhelp.org."
Post-Graduation
Saving for retirement after graduation needs to be priority even if you have amassed a large amount of student loans.
"Once you graduate, start saving for retirement from the very first paycheck," said McBride. "Don't wait and certainly don't wait until you've paid off your student loans to start saving for retirement. Time is your greatest ally. Paying off low, fixed rate federal student loans is a comparatively low financial priority."
Compounding interest is key to amassing a larger amount of money for retirement. Too many students are forced to delay saving because of their student loans and credit card debt.
"The stories of individuals burdened by student loans in careers with modest income -- for example, education -- are extensive," said Johnson. "The key to building financial security is to invest 'early and often.' However, people with student debt have a difficult time making ends meet, much less saving for retirement."
The sooner consumers can save by cutting back some expenses such as cable or a gym membership help them take advantage of company matching programs in 401(k) plans and not miss out on the greatest advantage - time.
"This phenomenon isn't just limited to students taking out debt," he said. "Many parents are delaying retirement or working well past retirement age to compensate for retirement savings lost by paying a child's education."
The "greatest financial crisis in the United States and one that is increasing in magnitude" is the lack of retirement income, Johnson said.
"It is going to get worse as longevity increases and the retirement income crisis is being exacerbated by the student loan burden," he said.
Here are the ten worst schools as ranked by PayScale on what graduates earn five years after graduation and ten years afterwards. 
WATCH: The Five Worst Colleges For Your Money
More of What's Trending on TheStreet:
Trump Takes Fight Over 'White Supremacist' Comment to Disney's Front Door