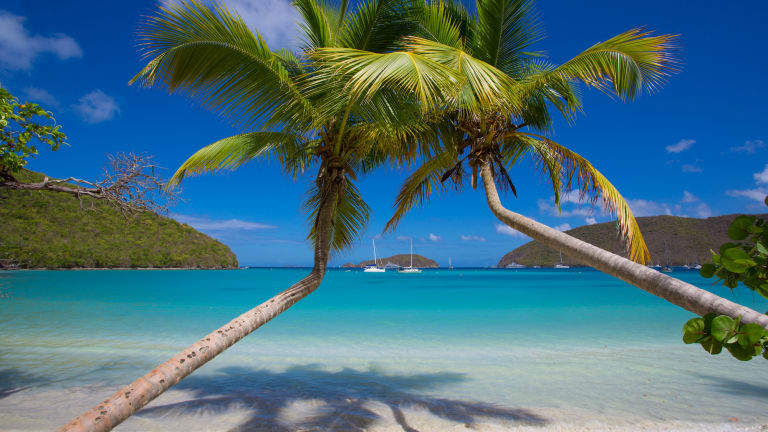 The World's Best Beaches
Grab your towel and sunscreen, it's time to hit the beach.
It's been a tough year, who doesn't want a trip to the beach? But you don't want to go to just any beach. You're dreaming of fine white sand, calm clear water, palm trees gently swaying in the wind, warm sun and cerulean blue skies.
Travel booking site TripAdvisor ranks U.S. beaches based on the quantity and quality of traveler reviews and ratings for beaches on the site, gathered over a 12-month period. The beaches that got top reviews in 2020 range from Australia's Whitehaven Beach on the Great Barrier Reef to England's Bournemouth resort. 
Whether you like surfing the crashing waves of an isolated beach at the foot of a cliff or a peaceful lagoon with a gentle breeze as you sip a cold beer in the shade of a coconut palm, there's a beach here for you.
Here are the world's best beaches: 
1. Whitehaven Beach, Whitsunday Island, Australia
This slice of paradise is located in the heart of the Great Barrier Reef, and with its white sand and clear azure waters is one of the world's most unspoiled and beautiful beaches. The beach is protected as part of a national park. The island is accessible by boat, seaplane or helicopter.
2. Santa Maria Beach, Cayo Santa Maria, Cuba
Visitors praise the fine, flour-like white sand, clear tranquil water, and light breeze. There are restrictions for Americans traveling to Cuba.
3. Baia do Sancho, Fernando de Noronha, Brazil
Fernando de Noronha is an archipelago of 21 islands about 217 miles off the coast of Brazil. This beautiful paradise is a UNESCO Natural World Heritage site, and known for its rich marine life, crystal clear waters, and golden sands. The isolated Sancho Bay Beach is world famous.
4. Grace Bay Beach, Providenciales, Turks and Caicos
Off the northeast coast of Providenciales, this pristine beach is the hallmark of the Turks and Caicos Islands. It has clean water, white sand with no rocks, seaweed or pollution. The barrier reef a mile out protects it from the ocean swells of the Atlantic.
5. St. Pete Beach, St. Pete Beach, Fla.
This beach is on a barrier island west of St. Petersburg, Fla. Enjoy miles of sugary sand and beautiful blue water, chair and umbrella rentals, and plenty of restaurants and bars.
6. Turquoise Bay, Exmouth, Australia
A sanctuary zone in Ningaloo Marine Park, Turquoise Bay is an excellent snorkel site, with a rich diversity of coral, fish and other marine life close to shore.
7. Eagle Beach, Palm-Eagle Beach, Aruba
This pristine beach is the widest in Aruba, and offers ample parking, shaded areas, some beach huts, and a variety of water sports. Sea turtles nest here. Eagle Beach is home to two of the most photographed and renowned Divi Divi trees in Aruba.
8. Spiaggia dei Conigli, Lampedusa, Sicily
This beach is on the south west side of the island of Lampedusa, which sits in the Mediterranean between Sicily and Tunisia. The beach has clear blue water with lots of fish, fine sand and a cool breeze.
9. Ka'anapali Beach, Lahaina, Hawaii
Three miles of golden sand and crystal clear water, one of this beach's most famous attractions is the daily cliff-diving ceremony off the beach's cliffs held every evening at sunset.
10. Baia dos Golfinhos, Praia da Pipa, Brazil
This beach is well known as a place to spot dolphins year round. The calm waters make it excellent for strolling or swimming, and there are kayak and board rentals, as well as a surfing school.
11. Playa de Cofete, Morro del Jable, Canary Islands, Spain
This wild, untouched beach is surrounded by mountains and accessible only by several miles of unpaved, winding road. There are tours that will take you there.
12. Varadero Beach, Varadero, Cuba
Varadero is a resort town, one of the largest in the Caribbean. It sits on a narrow peninsula less than a mile wide and about 12 miles long. The white sandy beach gets about a million visitors a year. Many famous and infamous people stayed in Varadero, including Al Capone.
13. Praia da Falesia, Olhos de Agua, Portugal
Olhos de Agua is a Portuguese fishing town in the heart of the Algarve region, the country's southernmost area. The golden beach is edged with red and white cliffs, and is good for water sports. There are restaurants and bars.
14. Maho Bay Beach, Cruz Bay, St. John, U.S. Virgin Islands
Yes, that beach. Stick your toes in the white sand as you sit in the shade of a coconut palm tree and gaze out over the calm turquoise waters of this beach, the quintessential paradise and a favorite of tourists and islanders alike.
15. Seven Mile Beach, Negril, Jamaica
Negril is a beachside resort town. The beach features dramatic sunsets, smooth white sands, and clear turquoise waters.
16. La Concha Beach, San Sebastian, Spain
This perfectly crescent-shaped urban beach is in the resort city of San Sebastian in the Basque country of northern Spain. La Concha Beach is easily accessible, clean, and there are lots of bars and restaurants.
17. Playa Norte, Isla Mujeres, Mexico
A popular vacation spot, Isla Mujeres is an island just off the coast of Cancun, Mexico. Playa Norte is considered one of the best beaches in all of Mexico. It has soft white sand, palm trees and water so blue it can make the sky look pale.
18. Seven Mile Beach, Grand Cayman
These days, according to Trip Advisor, Seven Mile Beach is now only 5.5 miles. It has clear waters, coral sands and lots of bars and restaurants. 
19. Bavaro Beach, Bavaro, Punta Cana, Dominican Republic
Another beautiful beach of white sand, clear water and palm trees, and this one is backed by shops, bars, restaurants, hotels and a casino.
20. Bournemouth Beach, Bournemouth, England
Bournemouth is a seaside resort on the southern coast of England. Beneath a magnificent cliff line, the bay enjoys its own micro-climate, some of the warmest sea temperatures in the U.K. and stunning views of the Isle of Wight.
21. Balos Lagoon, Kissamos, Greece
Balos is famous for its turquoise waters, the wild natural beauty and exotic scenery. It tends to get crowded in July and August.
22. Playa Manuel Antonio, Manuel Antonio, Costa Rica
One of Costa Rica's most popular beaches, Playa Manuel Antonio frequently hosts parties and festivals, and it is an ideal destination for avid surfers, according to TripAdvisor. The beach is inside a national park of the same name.
23. Nungwi Beach, Nungwi, Tanzania
This white coral sand beach at Nungwi village on Zanzibar Island is good for swimming, snorkeling and diving. Visitors say the water changes colors throughout the day, from light blue to emerald green.
24. Elafonissi Beach, Elafonissi, Greece
This beach is on the southwestern side of Crete. The white sand has pink hues, the water is shallow and warm and good for small children.
25. Plage de Santa Giulia, Santa Giulia, Corsica, France
A sheltered beach in southern Corsica with clear shallow waters, great for swimming, but can be crowded in the summer.