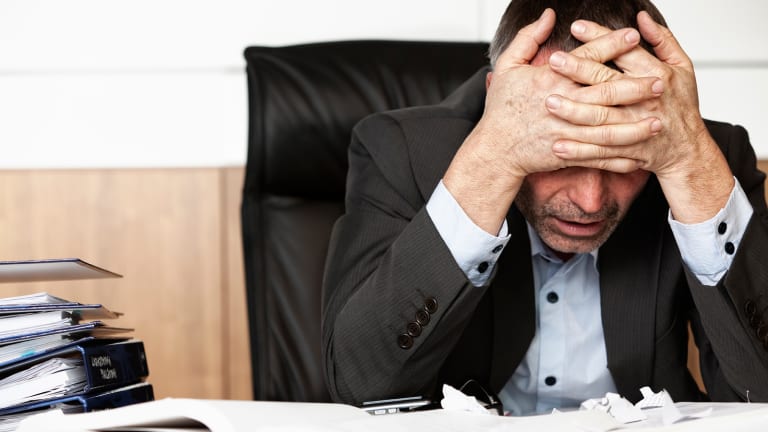 Workers Who Don't Feel Appreciated Suffer from Extra Stress and Discontent with their Jobs
A new survey finds being valued at work can make a big difference in worker satisfaction, with supervisor and self-employed people having the upper hand.
NEW YORK (MainStreet) — If you don't feel appreciated at your job, chances are you are feeling stressed out. Not only that, but recent research indicates that you will likely carry that stress over from your work to your personal life.
A new study released by the project management software producer InLoox found that feeling valued as an employee was paramount in worker satisfaction--and that supervisors and self-employed individuals tended to be happier in their jobs.
To come to these findings, InLoox conducted a "Work-Life-Balance" survey that polled more than 200 people who work in a variety of fields. Of the respondents, about one-third work in the IT/telecommunications industry, 22% in marketing and media, 15% in the service sector and 11% in the production industry. The remaining 4.6% were non-working, either because they are unemployed, retired, a student or due to another reason.
Overwhelmingly, the survey participants--particularly entry and mid-level employees--who referred to a sense of being undervalued at their jobs tended to be the ones who experienced the highest levels of stress. In fact, 80% of those who believe their work is not appreciated reported that their job has a negative impact on their private life, compared to only half of of those who do feel appreciated at their job.
Being undervalued at work can manifest in many ways, ranging from a lack of verbal approval or praise to being ignored or the frequent target of criticism.
"The lack of appreciation at the workplace is a multi-faceted topic, so we tried to look at it from different angles in the survey," says InLoox cofounder Dr. Andreas Tremel. "[J]ust like personal stress levels, feeling appreciated is first and foremost a very subjective, personal feeling. It can mean different things to different individuals."
Feeling overworked can be a part of the problem, too.
For instance, only a little over half (51%) of employees surveyed by InLoox believed they have enough time to complete all of their important work-related tasks during the week. In fact, 36% of respondents said they need between an hour and a half to two hours per day just to manage their emails. This sense of being overburdened is further underscored by the enormous amount of multitasking many of the workers are expected to perform--with 21% of survey participants reportedly juggling five projects at once and 14% working on ten concurrent projects. Only 5% of the participants work on only one project at a time. Overall, one out of five employees said they feel exhausted before the workday even begins, with 19% anticipating eventual burnout.
Tremel notes that the pressure of companies to compete in the global market has caused many employers to increase workloads, which takes its toll on employees.
"It is up to the employers and supervisors to provide employees with tools and methods to cope with their workload in an efficient way," says Tremel. "The goal should not be to work more, but to work more efficiently."
On the other end of the spectrum, supervisors and people who work for themselves fared much better when it came to job satisfaction.
Namely, 98% of supervisors and self-employed persons stated they feel appreciated in their working environment, while only 12% were afraid of suffering burnout and merely 3% reported feeling exhausted before the workday even begins.
Why are supervisors and self-employed people less stressed and more content than their other working counterparts?
Tremel believes it has at least something to do with having more freedom and flexibility in their professional roles and not having to rely on someone else for direction or appreciation. Another reason be may be that supervisors tend to have more years work experience than their underlines.
"With long years of professional experience, people gain more security when dealing with problems and they become aware of their own skills and have a greater ability to use them," says Tremel, who notes 70% of supervisors feel they have achieved strong professional goals, while only 45% of non-supervisors reported the same. "Long years of professional and life experience seem to make people more confident and calm."
And, of course, the higher income that often comes along with a managerial position is another likely contributor to increased contentedness at work--with 85% of supervisors reporting satisfaction with their income, as compared to only 60% of other employees.
Employees also seem to be harder on themselves than supervisors are--with 66% stating they have higher expectations of themselves, whereas only 50% of supervisors said the same.
In general, it would seem the best way to address this, as well as to curb stress and burnout among workers, is for their superiors to offer appreciation and positive reinforcement.
"Appreciation can alleviate the effects of a high workload," says Tremel. "So, even if employees have to deal with several projects at once and a shedload of emails – if they feel appreciated at the workplace, their personal stress levels are lower and work is less likely to have a negative impact on their private lives."
--Written by Laura Kiesel for Main Street