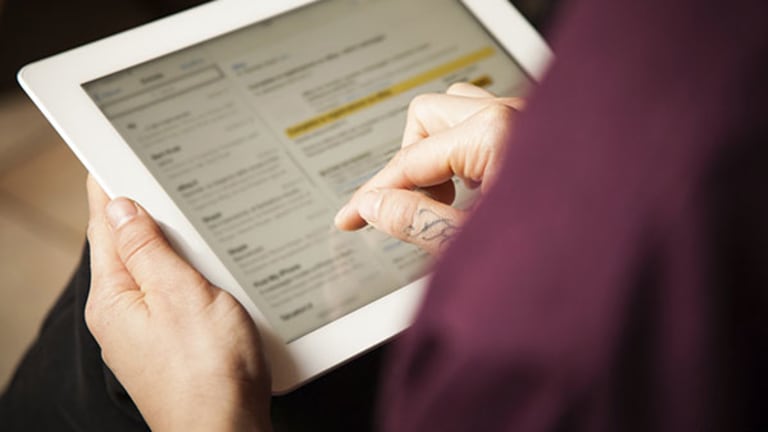 After-Hours Work Email Has Created a Stressful New Night Shift
A slew of recent studies find that checking work email from home may be a health hazard, but in some cases more than others.
NEW YORK (MainStreet) — Ben Gagnon, an IT worker from Belchertown, Mass., doesn't think twice before checking and answering his work email, even during off-hours. Of course, it's not a requirement at his office.
"But I actually check and respond anyway, because I actually like my job," he says. He takes his penchant for responsiveness seriously. 
Gagnon's behavior is part of the norm in the modern workforce: widespread Internet access in homes across the United States has enabled what Wendy Boswell, a professor at Texas A&M University's Mays Business School, has called "a new night shift."
In her new study with research partner, Marcus Butts, Boswell tried to assess how employee mindset and other factors played into the impacts (both positive and negative) of checking work email off-hours.
In other-words, we know off-hours email checking has grown like kudzu: one study reports more than half (52%) of American workers check their work emails outside of work--including on sick days--and some estimates put that percentage even higher--with one 2008 report contending that 96% of employees when remote still use internet, email, or cell phones to stay in touch with communications from work--about triple than those in 2002. But is the effect generally an adverse one, or are workers more like Gagnon and taking it all in stride?
Tonal Harmony
To find out, Boswell and Butts surveyed 341 working adults over a seven-day period--with study participants completing sampling surveys after the end of each of their workdays and after receiving a work-related electronic communication. Overall, 21% of electronic communications outside of work time were received from supervisors, 41% from coworkers, 16% from subordinates, and 22% from clients/customers.
The study found that the tone and content of the email, the amount of time it required to respond and/or perform the work requested and who it came from (whether by a supervisor, co-worker or underling) often colored the effect it had on the worker to whom the email was addressed.
Namely, those emails in which the tone was positive or included praise, or in which the time required of the worker to respond was minimal, tended not to bother the email recipient and even could have positive impacts.
"There was consistent evidence that more positive content elicited joy and more negative content elicited anger," says study author Butts. "However, anger was more likely to spillover into people's personal lives and interfere with their thoughts and behaviors."
Likewise, a person's relationship with his boss can have a lot to do with how he's impacted by receiving work-related emails from them during their leisure time.
"[I]f a manager was perceived as abusive of his power, people were increasingly angry in response to negative email content, whether that content was from the boss or other coworkers," says Butts of the survey participants.
As noted in the study: "Because they are motivated to seek approval and rewards from higher status others in the organization...employees may become angry when they receive communications from supervisors during non-work time, because they have no other course of action other than to acquiesce to their supervisor's demands."
Furthermore, the study found that people like Gagnon who like their jobs and don't have a problem with checking work emails after hours are less likely to have a negative reaction.
In particular, it has become increasingly common for employees to log back into their work email after hours in order to read and respond to new messages.
Health Hazards
Of course, perception is a key determinant in how workers respond to off-hours emails. Yet, when negative, the consequences can be intense.
Last September, a German study published journal Chronobiology International, found that checking work email or taking work calls from home has several health implications, including insomnia, headaches, fatigue, anxiety and digestive distress, as well as muscular problems and cardiovascular issues.
The study--which was based on two surveys of 57,000 people across Europe--found that 90% of office workers had work email access on their personal cell phones and a third accessed those emails accounts more than 20 times a day. The scientists who worked on the study, who are from the nation's Society for Labour, Industrial and Organizational Psychological Research in Oldenburg, argued that having recreational time completely free of work worries was crucial to allowing one's physical and mental health to recover from stress. 
Additionally, another study released toward the end of last year out of Northern Illinois University and published in the Journal of Occupational Health Psychology found people who tend to check their work email from home in the U.S. had higher incidences of sleep problems, burnout and health-related absences from work.
Despite the health problems associated with checking work email from home, it is becoming more the norm, even though many employers don't require their workers to be logged in or respond to work emails during their off-hours.
"It's like your to-do list is piling up, so you're cognitively ruminating over these things in the evening and re-exposing yourself to workplace stressors," Larissa Barber, PhD, assistant professor of psychology at Northern Illinois University, told Time. "When people don't have this recovery time, it switches them into an exhaustion state, so they go to work the next day not being engaged."
The compulsion or incentive from colleagues to always been engaged has led Barber to coined a term for the phenomenon: telepressure.
Receiving Emails the Right Way 
So how do your avoid having emails wear you down and raise your blood pressure?
Since there do seem to be benefits to receiving positive work emails, even during non-work time, the Texas A&M study suggests that organizations that want to send emails after hours should include or emphasize goal progress for the addressees, rather than stress work deficiencies or corrective action.
On the employee end, the study authors believe workers should try to find an employer that matches their preferences when it comes to checking work-related email outside the office.
"Ultimately, the best solution for people with high segmentation preference may be to choose their employer wisely….going to work for a company that has clear organizational policies for electronic communication use during nonwork time that are personally acceptable," said the Texas A&M study.
--Written by Laura Kiesel