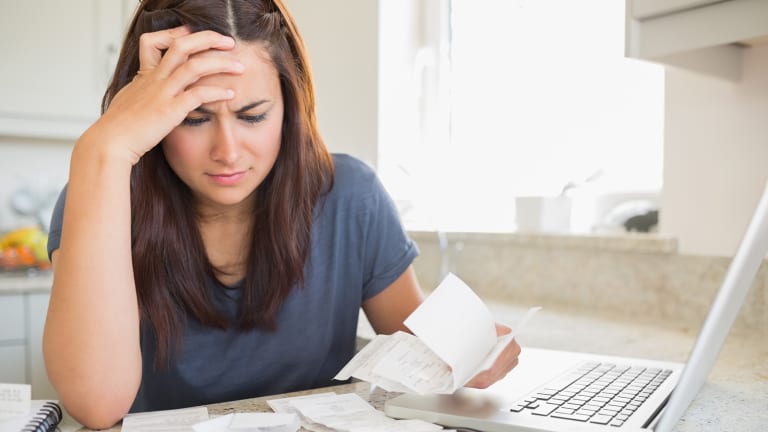 Women Who File For Restraining Orders Experience Decreased Earnings
New research finds that domestic abuse survivors often take a huge financial hit when filing for restraining orders--and often don't recoup their losses later on.
NEW YORK (MainStreet) — When discussing the topic of domestic abuse, many tend to ask why the women involved don't just leave their abusers and start fresh. The truth is, it is not that easy.
In many cases, the abuse doesn't stop simply because a woman divorces or moves out of the home she shared with her abuser. In fact, oftentimes such efforts at independence on the woman's part can actually lead to an escalation of violent and threatening behavior by her abuser--as shown in a 2002 study from the University of Hawaii that found that over a third of abuse survivors surveyed (34.4%) encountered stalking and nearly another third (32.1%) experienced harassment by their former partners.
Women who decide to take action against such behavior usually file for a civil restraining order, otherwise known as a "Protection From Abuse," or PFA, order. However, though PFAs can offer women some protection from abuse and entitle them to legal recourse for future threats from their abusers, a new study indicates these women often pay a stiff penalty for filing for them in the form of lost earnings.
Specifically, Professor of Sociology Lisa Brush and Associate Professor of Sociology Melanie Hughes of the Kenneth P. Dietrich School of Arts and Sciences at the University of Pittsburgh studied records of 3,923 women in Allegheny County, Pa. who had reported any earnings between January 1995 and December 2000 and who had petitioned for a PFA order between January 1996 and December 1999.
Their research revealed that women who filed for PFAs lost anywhere between $312 and $1,018 dollars in the year that followed their filings. Additionally, the women in the study were unable to recoup these losses in their income later on.
"We found that virtually all petitioners experienced not only short-term shocks to their earnings but also longer-term stalls," said Brush.
The study--which is titled "The Price of Protection: A Trajectory Analysis of Civil Remedies for Abuse and Women's Earnings" and appears in the most recent issue of the American Sociological Review--is the first to analyze the economic impacts experienced by women who file for restraining orders.
The results of the study don't surprise Toni Troop, director of communications at Jane Doe, Inc., an organization that advocates for victims of sexual and domestic abuse.
"Studies consistently show that there are short and long term financial impacts for survivors in terms of lost wages, compromised employment and educational choices, and medical and housing costs," says Troop.
Of the nearly 4,000 women sampled for the Hughes and Brush study, all had at least one three-month period of non-zero earnings during the study period, with 40% having spent at least one month as a welfare receipt after the filing (78% had spent at least some period of time on public assistance prior to their filing). Furthermore, the study findings indicated that women who were already on public assistance at the time of their PFA filing actually were more economically secure than those who weren't--with welfare payments offering a steady source of income at a time when working women in the same scenario were often forced to scale back their work hours or quit their jobs altogether to attend court dates and attend to other logistics to address their abusers.
"The good news in our findings is that those women [on public assistance] were somewhat buffered from the worst economic instability that was endemic among petitioners," says Hughes.
Brush and Hughes noted that related research on the issue has shown that women trying to escape abusive relationships are usually struggling at the same time to secure other financial resources that can ease in their transition, but often have a tough time.
"The bad news is that there are not a lot of other supports in place, especially for women who are not welfare recipients," says Brush. "[W]omen at many levels of earnings--not just poor women but also relatively highly paid women--experience tremendous economic instability and vulnerability when they are petitioning, with lasting effects."
This has also been the experience Johanna Crawford, a former volunteer at a domestic violence shelter who founded the nonprofit Web of Benefit in 2004 to offer modest cash grants to help abuse survivors start their lives over.
"I don't know any woman who has not taken some kind of horrible financial hit when leaving an abuser," says Crawford, who explains that many women suddenly find themselves the only income earner in their homes, which can be especially daunting if they are raising children.
Most of the efforts of Crawford's organization focus on helping women find work or in securing affordable housing--something that can be particularly challenging in an expensive metropolitan area like Boston, where Web of Benefit is based.
Brush and Hughes highlight increased access to social services like affordable housing as a crucial component to helping abused women gain their footing again.
"Support for women's shelters and supportive housing, and efforts at primary prevention…are important," says Brush. "[M]any women need generous economic support while they struggle for safety for themselves and their children."
Employers can also play a vital role in easing transition for women subjected to abuse by not firing or penalizing them due to the actions of their abusers and offering them some leave time to address the issue in the courts or to relocate away from dangerous home situations. Not only that, the benefits of such standards would be mutual.
"Employers who have taken steps to prevent domestic violence and sexual assault see improvements in performance, productivity, health, work site safety, job retention and other outcomes related to employee well-being," says Troop.
Unfortunately, many businesses today are not particularly proactive in offering such accommodations to potential domestic abuse victims on their payrolls.
"[N]ot much has changed in the institutions involved in the process of petitioning, in how most employers respond to the ways abuse spills over from home to work, and in the time limits and work requirements imposed on poor women applying for welfare," says Brush.
Without changes in policies to offer women escaping abusive relationships some financial security, Hughes and Brush warn PFAs will only have limited success in helping these individuals thrive in their new lives.
"We cannot offer women a restraining order as a tool to stop abuse and then walk away," says Hughes. "We need to offer women other forms of support, especially economic ones."
--Written by Laura Kiesel for MainStreet