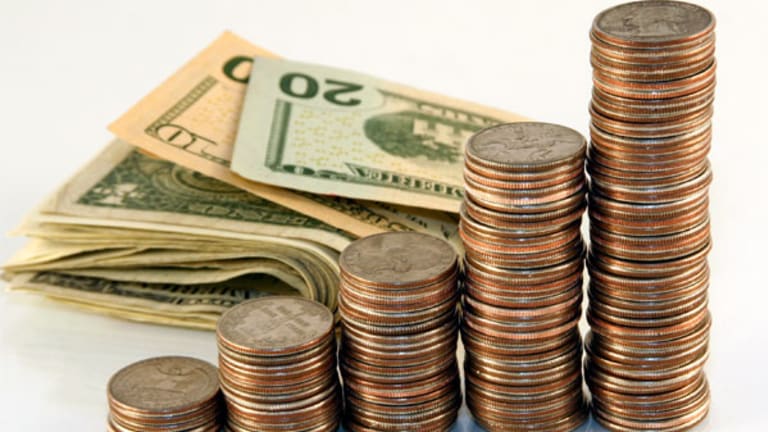 Publish date:
Women Want to Know How Big It Is
Your credit score, that is. Survey says credit scores can be more important than physical attractiveness.
Your credit score, that is. Survey says credit scores can be more important than physical attractiveness.
By Hal M. Bundrick
NEW YORK (
) -- You may only be a "5" when it comes to looks, but women love you because you're really a 750. We're talking about what may be a critical measurement to a successful love life: your credit score. That big number can be more important than looks, according to a new survey from freecreditscore.com. And it's not just women that want to know how well-endowed a potential mate is financially -- both men and women view financial responsibility as a key component of appeal.
Nearly all women (96%) say financial responsibility is paramount, with good looks a runner up at 87%. For men it's a tighter race, with 92% favoring attractiveness to money management skills (91%). Collectively, financial responsibility is second only to personal compatibility when sizing up a potential romantic partner.
Read: Alt Lending Booms for Small Businesses, But Watch for Booby Traps
"Both genders consider credit scores and overall financial responsibility when selecting a partner, but women are definitely more focused on those factors," says Ken Chaplin, senior vice president at freecreditscore.com. "Survey results show that 75% of women consider credit scores important, as opposed to 57% of men. 58% of women also agree that a good credit score makes a potential partner more attractive. Conversely, more women believe that a poor credit habit, like spending beyond one's means, reduces attractiveness."
Here's a toss-up men might not want to hear: Women rank financial compatibility just as important as sexual prowess when considering a long term partner (96%).
Read: Avoid Popular Stocks like the Devil
The study, commissioned by Experian Consumer Services, was conducted by Edelman Berland among a nationally representative sample of 1,000 American adults, split equally among men and women ages 30 to 49. Other key findings:
Women find financial responsibility (96%) more attractive in assessing a romantic partner than physical attractiveness (87%) or career ambition (87%)
Women view a person who "is financially responsible" and "pays bills on time" (95% and 92%) as the top two financial attributes when evaluating a romantic prospect's attractiveness.
Collectively, men and women view "spends beyond means" and "has debt" (88% and 52%) as the least attractive attributes.
Nearly half of the respondents (48%) discuss their credit score with a romantic prospect or partner, and 39% discuss it within the first year of a relationship.
Women are more likely to factor credit scores into their dating decisions, with 30% of women surveyed indicating they would not marry someone with a poor credit score.
20% of men also said they would not marry someone with a low credit score.
Read: Living in a Boat to Pay Tuition
So if you're well-heeled, you're in luck. A majority of both sexes said that "a good credit score makes a potential romantic partner more attractive."
--Written by Hal M. Bundrick for MainStreet