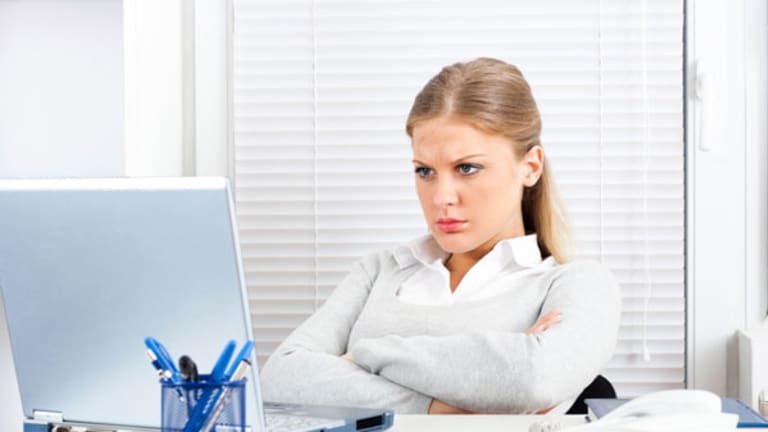 Women Ask: Why Have We Been Getting as Little as 4% of VC Money?
It seems male investors like to give their money to other men -- even when their product is for women.
NEW YORK (
) -- It seems male investors like to give their money to other men -- even when the product is geared toward female consumers.
This became clear last month when entrepreneur and co-founder of popular sports website BleacherReport.com Bryan Goldberg caused an uproar when he announced the launch of a female-focused website, Bustle.com. The uproar was not so much caused by his encroachment on the terrain of women-themed sites, but because he claimed he was carving out new territory -- dismissing a slew of existing websites such as
Jezebel
,
The Hairpin
and
Bust
.
Adding to the collective ire was Goldberg's bragging at having been granted $6.5 million to launch
Bustle
, then offering to pay female staffers $100 a day for up to six posts, which translates to $26,000 a year, assuming the gig is full time. (The ads for these positions have been removed from the Web).
By comparison, the women's websites already out there -- founded and run mainly by women -- often run on much more modest budgets, having been overlooked by investors despite their popularity.
In an open letter to Goldberg,
the Bust editors decried
that he "was actually able to launch a website, with a spiffy responsive design ... All because some other men gave him $6.5 million."
Also see: Student Loan Debt Bad? It's Much Worse for Women>>
With $6.5 million, they could spiff up their own website and pay writers better -- much better than Goldberg seems willing to, they wrote.
That seems unlikely to happen; the vast majority of all investment money in the United States goes to male-led ventures. Specifically, only about 4% to 9% of venture capital funding goes to women, despite the fact that as of a decade ago, 28% of businesses were owned by women, employing more than 10 million people and generating $1.5 trillion in sales.
A report by business analysts the Diana Project,
Gatekeepers of Venture Growth: The Role and Participation of Women in the Venture Capital Industry
, found that at the turn of the century women represented less than 10% of high-level venture capitalists and had been leaving the industry at twice the rate of men.
Of the women venture capitalists that exist, the Diana Project estimated some 70% were in partnerships with other women-led companies. Additionally, women-owned firms start out with an average of only 64% of the capital of male-owned firms; less startup capital usually means slower business growth.
One would hope to see more gender parity in investments made in the millennial generation, but that doesn't seem to be the case.
Also see: When Grades Suffer, College Students Ditch Science, Math -- Along With Good Jobs>>
In 2010,
PayPal
founder Peter Thiel piloted the Thiel Fellowship, which offers $100,000 to approximately 20 young adults under age 20 each year to drop out of college temporarily or permanently to pursue projects or business ideas focusing on science or technology.
Of the 62 fellows offered funding so far, eight have been women, or 12.9%. In general, women make up about a quarter of the workforce in the science, technology, engineering and math sector.
According to a program rep, women are much less likely to apply than men, and their board has been trying to shore up numbers of future female applicants with roundtables and collaboration with other groups that focus on fostering and widening opportunities for women in science. They have had some success. At the start, 10% of Thiel fellowship applicants were women; in the latest applications, that's risen to an estimated 20% to 25%, which more closely reflects the national ratio of men to women in the STEM field.
There are other signs of improvement. The Center for Venture Research at the University of New Hampshire found that
women now make up 21.8% of active angel investors nationwide
, up from 12.2% last year.
Hopefully, some investment firms will start taking cues from this and seek out and fund more women-led ventures.
Bust asked it directly: "Isn't it time for an investment firm that puts women's projects right alongside men's?"