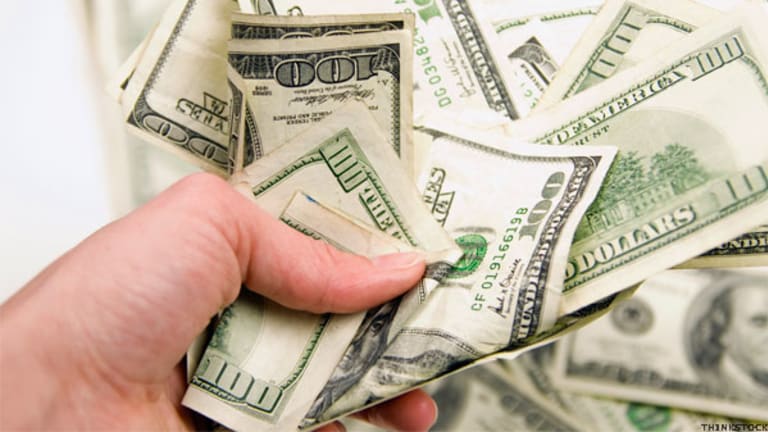 With Record Low Rates, Who Wants an ARM?
Even with mortgage rates at an all-time low, some still seek out adjustable-rate loans.
BOSTON (MainStreet) -- Mortgage rates continue to be at historic lows, begging the question: Why would anyone still get an Adjustable Rate Mortgage?
With rates about as low as they could possibly be and nowhere to go but up, where's the upside and logic to financing property using one?
With mortgage rates at an all-time low, who is still seeking out adjustable-rate loans?
On Thursday, Freddie Mac, in its Weekly Primary Mortgage Market Survey, reported that U.S. mortgage rates once again fell.
The average 30-year, fixed-rate mortgage was at 4.12%, with an average 0.7 point; 15-year fixed-rate mortgages averaged 3.33% for the week, with an average 0.6 point, down from an average of 3.39% the previous week.
Five-year Treasury-indexed, hybrid adjustable-rate mortgages averaged 2.96% with an average 0.6 point. A year ago, the five-year ARM averaged 3.56%. One-year, Treasury-indexed ARMs averaged 2.84%, with an average 0.6 point; at this time last year, the one-year ARM averaged 3.46%.
Jacqueline Racz, a loan originator with Pennsylvania-based
, has been in mortgage banking since 1993 and seen shifts in which audiences gravitate to various products.
"Even back in the '90s when fixed rates jumped up into the nines, the ARMs were always very low in comparison," she says. "Right now they just seem so close to each other because fixed rates haven't been this low for a very long time. But ARMs are always popular for certain individuals in certain situations. Everyone is quick to jump on that 30-year fixed, but there are many scenarios to consider."
Where ARMs were once frequently sought out by those scraping by to make a home purchase -- trading the money saved from a lower rate against the hope their future income would keep pace with future payment increases -- those seeking out this variety of loan these days are more likely to be either wealthier or more strategic.
Racz sees three key areas where homebuyers might gravitate toward an ARM: to lower payments further, especially on Jumbo loans; if they have a job that moves them around every few years; or if they know they will be downsizing or moving (after their children finish school, for example) or no longer need the home they are in and that paying the loan off in full over 30 years is not a goal.
On a large loan amount, the difference between a 4.5% 30-year and 3.25% on a 3/1 ARM can be hundreds of dollars a month, Racz says.
"In addition to lower payments, a lot of them will allow interest-only payments, which can be a significant savings a month," she says. "When you are looking at something in the $700,000 range, going from even a point spread between the fixed and adjustable can save you about $1,500 a month."
Racz is seeing most ARMs being used for Jumbo loans, part of a trend dividing borrower demographics.
"I'm seeing a lot of people who have every dime going into the transaction trying to get to closing, or they have a lot of money saved and invested in different places," she says. "There is not a lot of the in-between anymore."
Some of those ucing ARMs are doing so as part of a financial strategy. They are investing the savings and, if all goes according to plan, may accrue more than future increases would claw back.
"I'm also finding that those same people do not want to escrow their taxes and insurance," Racz says. "They think, 'Why should I have that money sitting there when I could be investing it?' That's a large chunk of money for some of the people. The taxes on some of those larger homes can be $12,000 a year."
ARMs, however, are certainly not ideal for everyone, and there should be considerable scrutiny before taking that route.
ARMs may start with lower monthly payments than fixed-rate mortgages, but those payments are likely to change, possibly spiking considerably. Buyers could end up owing more money than they borrowed and, in some cases, even paying off an ARM early to avoid higher payments can incur a penalty that amounts to thousands.
The Federal Reserve, in its
Consumer Handbook on Adjustable-Rate Mortgages
, stresses that there is a lot to consider when deciding whether an ARM is a good fit.
"To compare two ARMs, or to compare an ARM with a fixed-rate mortgage, you need to know about which indexes are used to calculate rates, margins, discounts, caps on rates and payments, negative amortization, payment options and recasting (recalculating) your loan," it says. "You need to consider the maximum amount your monthly payment could increase. Most importantly, you need to know what might happen to your monthly mortgage payment in relation to your future ability to afford higher payments."
The initial rate and payment amount on an ARM will remain in effect for a limited period -- from just one month to five years or more. All ARMs can see their rates rise, but not all will adjust downward from the initial deal.
"You have to weigh the risk that an increase in interest rates would lead to higher monthly payments in the future," it adds. "It's a tradeoff -- you get a lower initial rate with an ARM in exchange for assuming more risk over the long run."
-- Written by Joe Mont in Boston.
>To contact the writer of this article, click here:
Joe Mont
.
RELATED STORIES:
>>Market Mayhem Means Lower Mortgage Rates