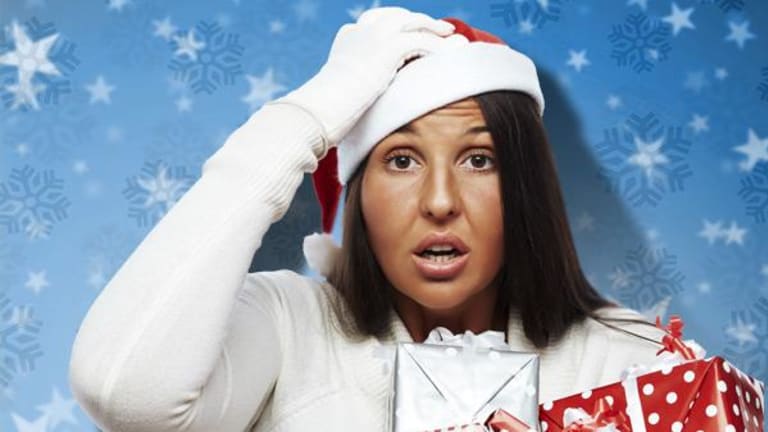 With Holiday Spending, It's the Unexpected Costs That Kill Your Christmas Buzz
You better watch out, and you better not cry, as budget-busting holidays costs come from places you may least suspect.
You better watch out, and you better not cry, as budget-busting holidays costs come from places you may least suspect.
Editors' pick: Originally published Nov. 11.
If you want to avoid releasing your inner Grinch this holiday season, keep an eye on those unexpected costs you didn't see coming.
Experian, the credit ratings provider, calls them "unanticipated" costs in a new report and warns they can really lead to higher financial stress levels into the holiday season and beyond.
"According to the survey, most stress comes from unexpected added expenses beyond gifts, such as postage costs, hostess gifts, gift-wrapping supplies and greeting cards," Experian says in an email to TheStreet. "On average, consumers reported spending $288 on unexpected expenses in past years, and 31% said they accrued credit card debt as a result."
Debt specialists agree, stating that holiday consumers should keep an eye on the little things that add up, and that can upend even the most carefully cultivated November/December spending budget.
"Some of the biggest unexpected costs I've seen are postage, holiday activities (especially for those with children), impulse buys of $5.00 or less, and food," says Ashley Narcisse, owner of Budget Brain Consulting, in Fort Worth, Tx.
Narcisse cites shipping costs, which tend to rise during the holiday season due to increased demand, as a big budget-busting culprit. "If people are ordering online, it might be more cost efficient to have the items shipped to the store for free," she says. "Of course, that involves lines, but they can save big bucks on shipping."
Then there are holiday activities like tree lighting ceremonies, ice skating, and holiday festivals, which are packed with unexpected costs because most people don't account for the price of food while enjoying the festivities. "You've got kettle corn, hot chocolate, and roasted almonds," she says. "Holiday revelers also don't account for additional costs, such as parking and add-ons like photos with Santa Claus."
For those wallet-draining shipping costs, experts advise building a budget that includes hem, and figure out ways to minimize them.
"People who use online holiday cards sometimes forget there could be costs, as more online sites are charging now," says Kevin Gallegos, a consumer finance expert with Freedom Financial Network in Phoenix. "Those sending paper cards to relatives and friends overseas often forget or underestimate the postage costs." Gallegos advises finding online sites that offer free cards, or create your own cards or holiday letters online to email. "If you have tech-savvy kids, enlist them to help."
Watch out for unexpected food and drink costs, as well.
"People forget to include not only the cost of a turkey or ham, but also any spices or oils needed for baking, appetizers and drinks," Gallegos adds. "The key is to not overdo it. Many people cook far too much than needed. The result is a good amount of wasted food. Be realistic about what your group will eat for any given meal, and what you can consume in leftovers, or see if you can donate extras to a soup kitchen."
Buying items on layaway can also lead to surprisingly - and not in a good way - high expenses.
"Layaway can seem like a helpful store service, but it will often cost you more," says Benjamin Glaser, features editor with DealNews.
Stores have service fees just to initiate layaway, then add a down payment, and often a cancellation fee if you miss payments, Glaser warns. "You could end up losing money, and not even getting the item," he says.
It's much better to budget carefully, and buy only what you can afford during the shopping season, he adds. "If you're good at paying down credit card debt, you might consider carrying a balance just for the holidays," Glaser notes. "But don't fall into the trap of thinking your bonus or tax refund will cover it, only to be disappointed."
Here's one last unexpected budget-buster - the "guilt gift."
"The guilt gift is an unexpected cost that can completely ruin a budget," says Adam Torres, CEO with Century City Wealth Management, LLC, in
Beverly Hills, Calif.
Torres says he views a guilt gift as one people give out of obligation, but not of necessity. "These gifts usually come up at unexpected times, like when you're invited to a last minute party and don't know what to bring," he says. "So that extra $50 to $100 gift is purchased out of obligation. Multiply this situation by a couple unexpected invitations and you'll see how this will quickly add up."
Torres coaches his clients to keep a few extra gifts laying around for such an emergency. "But purchase them after the holidays when everything is on sale," he says. "Then when the unexpected occasion arises next year, you'll be prepared."
Actually, "prepared" is the operative term for avoiding unanticipated holiday costs - and the more prepared, the more your savings.