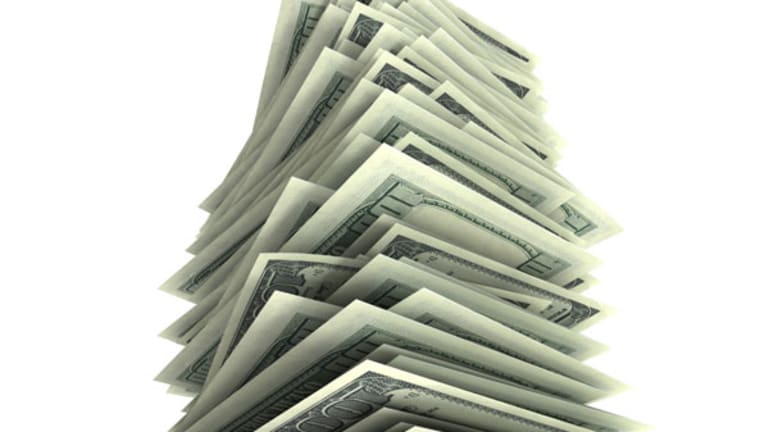 Witbier Clear Summer Beer Winner For Brewers
Beer giants such as Anheuser-Busch and MolsonCoors share craft's love of wheat beer.
PORTLAND, Maine (MainStreet) -- Sixteen years ago, Rob Tod was traveling to any place with a tap handle to convince bartenders and managers that the cloudy, yellow concoction he was pouring for them was a drinkable beer. Consensus was he was nuts.
Today, that cloudy, clover-and-citrus-flavored brew makes up 70% of annual production at Portland-based Allagash Brewery, and his Allagash White flagship beer is just one of many Belgian-style witbiers on the U.S. market. It's permeated mainstream America's kegs and coolers in the form of
MolsonCoors'
(TAP) - Get Molson Coors Beverage Company Class B Report
Blue Moon,
Anheuser-Busch InBev's
(BUD) - Get Anheuser-Busch InBev SA/NV Report
Shock Top and
Boston Beer's
(SAM) - Get Boston Beer Company, Inc. Class A Report
Samuel Adams White. It's serious business for craft and corporate beer alike this summer, but Tod says it was as foreign to most Americans as Flemish when he founded Allagash in 1994.
Beer giants such as Anheuser-Busch and MolsonCoors share craft's love of wheat beer, including the Ipswich, Mass.-based Clown Shoes label.
"We could not even give that beer away when we first started making it," Tod says. "Very few people were drinking Belgian-style ales, very few people were drinking Belgian-style witbiers, and I used to walk into bars all the time 14 or 15 years ago with a sample and the first thing bartenders would say was 'What's wrong with it?"
What's "wrong" with witbier is that the yeast allowed to float around and give it a hazy color disgusted brewers adhering to the
Reinheitsgebot
, the German brewing purity law enacted in the early 1500s that limited beer ingredients to water, barley hops and, begrudgingly, yeast after some prompting by Louis Pasteur. Under that uptight provision, witbier's standard combination of wheat, bitter Curacao orange peel, coriander, sweet orange peel and only a slight touch of hops is about as pure as driven slush. Though some craft brewers originally prided themselves on strictly following
Reinheitsgebot
-- Boston Beer founder Jim Koch even used it as a marketing device in the early days of his Samuel Adams Boston Lager -- beer purity eventually started to seem prudish.
"Unlike wine, where wine is just so unilaterally one combination of things -- grapes and water -- American craft brewers in particular are proving that the limits of a beer are only up to a brewer's imagination," says Sam Calagione, founder and owner of Delaware-based Dogfish Head Brewery, which brewed its first witbier, Namaste, just two years ago. "Since we opened in 1995, we've included the whole spectrum of culinary ingredients into what we'll consider putting into beer, so we don't feel stilted at all and, if anything we're just really psyched to see other brewers play outside the
Reinheitsgebot
lines."
Some of the credit for a more laid-back American beer belongs to one Belgian and his brief stay in Texas. Pierre Celis single-handedly revived the witbier after centuries of dormancy in 1965, when he began brewing it in his barn in the Belgian town of Hoegaarden. His recipe became the recipe for Hoegaarden White Ale and sold more than 300,000 barrels at its peak in 1985, when a fire engulfed its brewery and forced a cash-strapped Celis to sell to giant Belgian company Interbrew. That company is now known as Anheuser-Busch InBev and is the reason jelly-glass tumblers of Hoegaarden can be found in outdoor restaurant spaces and beer gardens across America.
Even Hoegaarden wouldn't be the success it is today if Celis hadn't dusted himself off, moved to Texas and opened his own craft brewery just outside Austin in 1992. His Celis White was good enough to get Celis a buyout from Miller and introduce witbier to a generation of craft brewers. Celis died in April, but his legacy is in every hazy, spicy sip a beer lover takes of a white beer this summer.
"The first one I ever tried was the Celis White, when Pierre Celis was still brewing it in Texas," Allagash's Tod says. "That's what turned me on to the style and though our white is different than that white, I love that white and remember exactly how it tasted and the mouth feel."
Two years after Celis debuted his white, Tod was selling his first batches of Allagash. A year later, Coors brewer Keith Villa formulated Blue Moon while working at the company's on-site brewery at the Denver home of Major League Baseball's Colorado Rockies in Coors Field. By 2003, the U.S. would have its first Belgian-owned beer maker when Duvel Moortgat bought Cooperstown, N.Y.-based Brewery Ommegang and its Witte witbier less than a decade after its 1997 opening.
Witbier has become so widely accepted that breweries in their infancy can lean on it as a summer staple. Gregg Berman was distributing wine when Tod was getting Allagash off the ground 15 years ago and wasn't a big fan of witbier when he and his brewing partner, Mercury Brewing head brewer Dan Lipke, began working on one as a summer beer for his new Ipswich, Mass.-based Clown Shoes label last year.
"I'll be totally honest, it was 100% something to fill up the lineup," Berman says. "The couple of witbiers I had tried bored me, but with the brand starting we had to pay attention somewhat to the seasons -- and I wasn't just going to be making beers for myself."
Berman, Lipke and a close circle of home-brew helpers found the witbier a bit tough to nail down after burning through a dozen test batches. Eventually, they decided to blend one batch using sweet orange peel with another using clementine orange extract to make what became their Clementine witbier. The beer has since become the small label's second-best seller and has made a witbier fan of its owner.
"It's probably the beer that I have
enjoyed the most out of all the beers that we make," he says. "It's refreshing and I've learned to enjoy beers in the category other than mine, like the Hitachino Nest White Ale and Allagash White."
Dogfish Head's Calagione, meanwhile, is increasing his brewery's production of its Namaste witbier next year; its popularity already has brought coast-to-coast distribution. Namaste also helped boost Dogfish Head's overall production from 97,000 barrels when the beer was introduced in 2009 to 121,000 barrels last year. The beer is a rare bit of traditional brewing for Calagione, whose bike-ride brainstorms, basis in brewing history and brief flirtations with molecular archeology gave birth to the majority of Dogfish Head's beers and were the substance of his short-lived Discovery Channel series
Brew Masters
earlier this year.
Namaste's birthplace wasn't in Belgium or any of the above, but at a family dinner when Calagione asked his wife and kids what kind of beer they'd like to make and what it would be called.
"My kids were 7 and 9 at the time and I forget their goofy answers, but my wife had just done yoga that morning and she loves wheat beers," he says. "She said 'I'd love a Belgian white style made with lemongrass that I'd like to be called Namaste,' which at the end of yoga practice means 'the spirit in me recognizes the spirit in you.'"
Inspired by a friend at 3 Fonteinen brewery, which lost one-third of its total production to a power outage the day after his wife's suggestion, and with the help of a brewer from the Birra de Borgo brewery in Italy, Calagione went about making "a very off-centered white beer." Instead of sticking to the standard Curacao orange peel-and-coriander formula, however, Calagione found an organic petrified orange in his travels and threw the dried peel's flesh into the mix to produce more sugars without losing the orange aroma.
It's perhaps the exact opposite of mass-market witbiers such as Blue Moon and Shock Top, but also perhaps the best example of just how broadly the nation's palate for witbiers has expanded since the early '90s. It's also a reminder that, in any of its forms, it's still more difficult to make with any regularity than clearer, bubblier brews.
"Can you just bang a witbier out? Yeah," Tod says. "But to make it consistent and have that delicate balance between the spices and the character of the wheat, to make it cloudy and get that texture and look, it's a tough beer to make."
-- Written by Jason Notte in Boston.
>To contact the writer of this article, click here:
Jason Notte
.
>To follow the writer on Twitter, go to
.
>To submit a news tip, send an email to:
.
RELATED STORIES:
>>10 Best Craft Beer Vacation Destinations
>>5 More Craft Beer Vacation Destinations
>>Craft Beer Goes Macro On Cans, Low Alcohol
Follow TheStreet.com on
and become a fan on
Jason Notte is a reporter for TheStreet. His writing has appeared in The New York Times, The Huffington Post, Esquire.com, Time Out New York, the Boston Herald, the Boston Phoenix, the Metro newspaper and the Colorado Springs Independent. He previously served as the political and global affairs editor for Metro U.S., layout editor for Boston Now, assistant news editor for the Herald News of West Paterson, N.J., editor of Go Out! Magazine in Hoboken, N.J., and copy editor and lifestyle editor at the Jersey Journal in Jersey City, N.J.