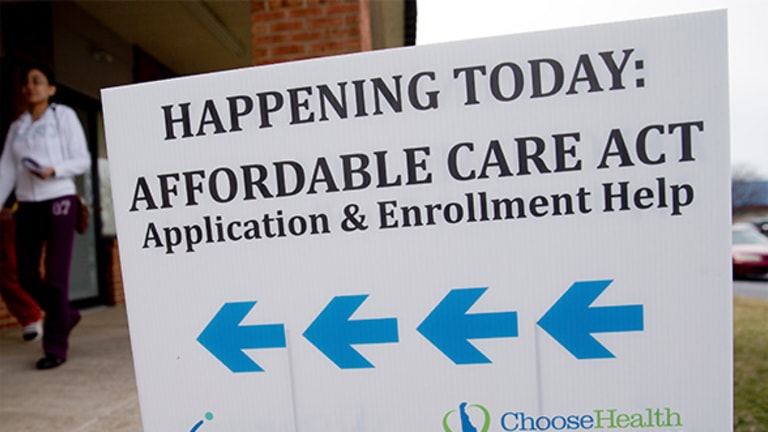 Will Your State See a 40% Rise in Obamacare Premiums in '16?
Health care costs will rise in 2016, but the amount will vary from state to state.
NEW YORK (MainStreet) - With open enrollment for health care insurance only weeks away (the official 2016 enrollment launch date is November 1, 2015, the first day you can enroll in an Obamacare marketplace health plan), it's time to start thinking about health insurance needs - and, inevitably, costs. Nationally, health insurance costs are a mixed bag.
Some states, like Illinois, North Carolina, and Tennessee are expected to see premiums rise between 20% and 40%. Others, like New York and Massachusetts, are expected to see health insurance rates rise under 5%.
The reason health insurance premiums vary so widely on a state-to-state basis is primarily due to the relative infancy of the Affordable Care Act. Two years in, insurers are just now starting to get a firm grip on costs, as they have more data on consumer health care spending.
According to the Society of Actuaries, insurers pegged their plan costs too low in 2014 and 2015 and feel justified in raising them in 2016. A recent white paper from the American Academy of Actuaries further highlights particular changes in health care costs for 2016: "Major drivers of 2016 premium changes include: the underlying growth in health care costs, the phase down of the transitional reinsurance program and how assumptions regarding the composition of the 2016 risk pool differ from those assumed for 2015."
While the amount health care consumes can expect to pay for health care insurance will vary on a state-to-state basis, what's the overall consensus for health insurance rates across the board in 2016? "Health insurance rates will continue to rise, because as insurance companies get larger via mergers, they will become even more powerful and will be able to dictate cost," says Dr. Elaina George, an Atlanta, Ga.-based head and neck surgeon. "As Blue Cross Blue Cross Blue Shield has said about it's planned merger with Cigna, now they will have leverage to negotiate with physicians. That leverage will not only include further lowering reimbursements to doctors, but will likely lead to higher charges for patients because their choice of insurance companies continue to fall."
In essence, less competition means higher prices. 

There is no shortage of other factors that combine to hike health care insurance prices. "Every market is unique, as they have different experiences with consumers signing up for individual insurance, competitive dynamics and health care costs," says Sally Poblete, the chief executive of of Wellthie, a technology-based healthcare service firm.
"2015 is the first year that insurance companies have a full year of data on the risk pool and on enrollment coupled with industry competitive forces to adjust premium structures," Poblete adds. "There are annual cost increases driving costs up, such as increases in the costs of prescription pharmaceuticals. There are also forces that are driving premiums down, such as projected enrollment increases -- partly due to the increased tax penalty for being uninsured -- and increased competition in many markets."
In many cases, your 2016 rate level also depends on where you work.
"2016 fully-insured health insurance rates are more likely to rise for small businesses -- i.e. fewer than 100 enrolled employees -- versus mid-to-large size companies," predicts Anthony Cellucci, head of the employee benefits division at King Of Prussia, Pa.-based Beacon Group of Companies. "Contributing to rising premiums are factors such as individual rating methodologies, Affordable Care Act parameters, rising costs of care, and adverse risk pools resulting from medical underwriting preclusions."
Consumers can expect rates to continue to rise on a year-to-year basis, and a big part of the problem is the way health insurance plans are modeled. Health care prices are soaring due to several factors, says Joe Graves, founder of I Hate Buying Insurance, a Nashville, Tn.-based insurance provider, but he points to two in particular. "The greatest factors are utilization and the artificial restrictions and/or requirements placed on the health insurance carriers."
Graves advises health care consumers to think of health care utilization in different ways: "If you could use your car insurance to pay for oil changes, tire rotations and a once a year tune up wax job and detail, and all are subject to a deductible, auto premiums would skyrocket," he says. "Imagine getting new tire with a $25 co-pay? The difference between auto insurance and health insurance is that the former really is insurance, and the latter is not."
"Auto insurance is still just that, 'insurance against the catastrophic,'" he adds. "It's not designed for everyday 'maintenance.' Now that health insurance has so many 'has to cover' rules, the premiums will continue to skyrocket."

Again, health insurance costs will vary from state to state, and from insurer to insurer in 2016. The Kaiser Family Foundation estimates that health care premiums will rise by 4.4% for a benchmark ACA silver plan on a national basis.
The best bet, as always, is to do your due diligence, ask questions about what is covered and what isn't from providers and keep costs down by living a healthy life. That can keep health care costs down, even if insurance prices will go up in 2016.