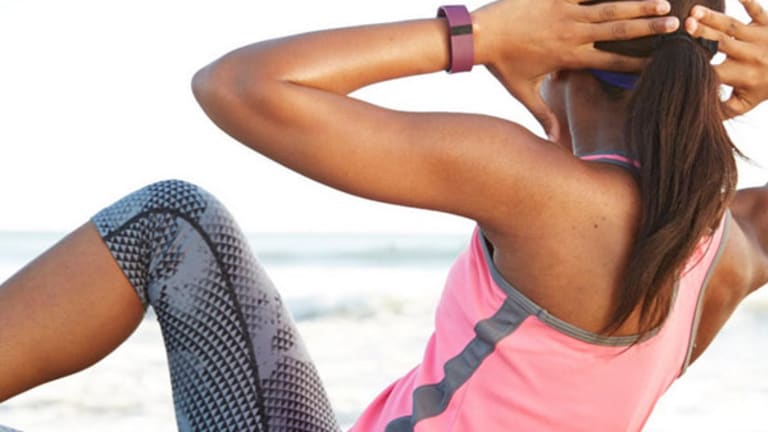 Will Your Boss Make You Use a Fitness Tracker?
Is a fitter worker a better worker? That belief is spreading fast.
Editors' pick: Originally published August 24.
Don't be surprised if your boss's next demand is that you wear a fitness tracker. Suddenly programs are proliferating, where companies earn discounts on their health insurance premiums and employees who meet goals are rewarded, often with discounts on their health insurance costs, sometimes with added perks such as free athletic shoes or a health club membership.
"There's a lot of interest in using fitness trackers," said Kaenan Hertz with consulting firm EY. "We are in the early stages of companies figuring out what they want to do with this."
"We have seen a significant increase in interest in wellness programs and many involve fitness trackers," said Jill Micklow, a wellness consultant at insurance agency Assurance.
Interest in this is gaining velocity, probably because awareness is growing regarding the fact that the U.S. is increasingly unfit - two in three adults are overweight or obese. The guiding belief of programs built around fitness trackers is simply this: "The more active you are, the healthier you are," said Hertz.
Programs are getting more ambitious. UnitedHealthcare, a few months ago, announced a program - UnitedHealthcare Motion - that equips employees in insured companies with fitness trackers and, for those who meet goals, the reward is up to $1,460. Other large insurers - such as Aetna and Humana - offer similar incentives, sometimes directly to individuals through policies available via the Affordable Care Act.
Even tiny insurer Oscar is offering insureds a free Misfit tracker and rewards - up to $240 per year in Amazon gift cards - for steps taken.
More fuel is that many of us are rushing to wear fitness trackers. Research out of NPD Group said that 2015 dollar and unit sales of wearables were up 110% and 85% over 2014, respectively. Even though free apps - such as Apple's Health for iPhone - track steps with reasonable accuracy, NPD said it sees a continuing demand for standalone devices. "The dedicated fitness tracker market will continue to thrive as the products evolve and cover a wider range of users' fitness needs," said Ben Arnold, an NPD industry analyst, in a press statement.
Research out of CivicScience, a market intelligence firm,shows that fitness trackers also continue to grow in popularity. 33% of adults said their popularity would keep growing in 2015. In the 2016 poll that number inched up to 35%.
Another CivicScience metric: 18% of adults already own a fitness tracker. That's another reason more insurers - and more employers - are unveiling new campaigns involving trackers. The technology just keeps growing in usage.
What's a program look like? Micklow described the program at Assurance for its own employees, where workers get points for exercising, but they also can earn points for attending a health education class or getting a flu shot. She said there are "15 to 20 ways to earn points."
At year end, employees who reach the Silver level get a $250 bonus. Gold wins $500. Platinum also wins $500, plus a fun experience ("perhaps indoor skydiving," said Micklow).
She added that this year the company's goal is for 85% of employees to reach gold and, if they do, everybody gets another $250 bonus. "I expect we will get there," said Micklow. "Our employees are very engaged."
Another way many companies are seeing engagement involving fitness trackers is in impromptu group challenges - easy to organize and monitor with devices like market leader Fitbit. All that's required is for one employee to message three or four others and set up a challenge for the most steps Saturday afternoon - maybe with free beers for the winner. "We are seeing this in a lot of companies," said Micklow.
One grumble about fitness trackers - they generate lots of personal data and when they are synced with a company or an insurer, that data resides on their servers. Experts said that may not be a deterrent to wider use of trackers, however. Hertz said that "we will trade information if we perceive we are getting value in return."
And that value, often, is cash.
Another grumble: the payoffs of broad fitness campaigns seem intuitively obvious but they are largely undocumented and unproven. But, suggested Hertz, that will come especially as organizations move into what he called the next wave of fitness where trackers and their data are deployed precisely to improve health. "Insurance underwriting will also be more accurate and health outcomes will be better, too," said Hertz.
Stay tuned. Your turn to don a tracker just may be coming.
This article is commentary by an independent contributor. At the time of publication, the author held TK positions in the stocks mentioned.