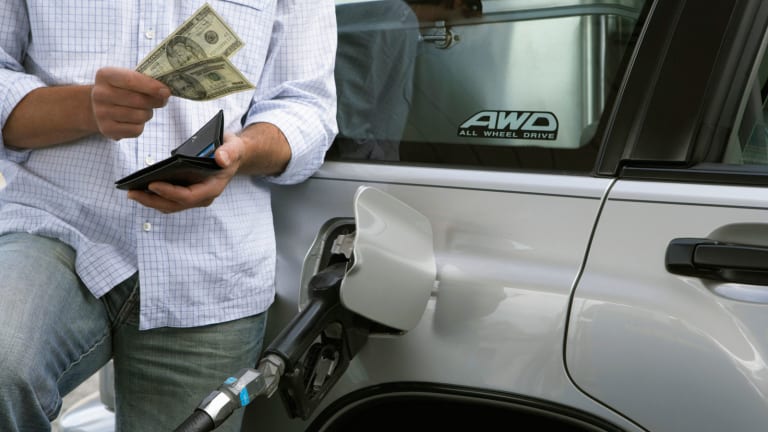 Will Uber Give me a Ride During the Blizzard of 2015? Yes, But That Could Change
Uber drivers are still out there looking to give you a ride, but get home soon.
NEW YORK (MainStreet) - The massive blizzard that has slammed the East Coast from New Jersey to Boston Monday and Tuesday will cause more than a few people to try and find a cab ride home, and Uber said it is up to the challenge as long as it's safe.
The app-based rideshare taxi company said that not only are its drivers still operating, but it has capped its fee to 2.8 times the normal rate in New York. However, the company will have its drivers fully comply with any instructions declared by local municipalities.
"Uber driver partners should comply with government safety directives, including all road closures and vehicle travel bans," said Uber spokesman Matthew Wing. "We are in contact with NYC TLC and will be communicating any driver safety directives or recommendations to our partners. Per our national policy, during states of emergencies, dynamic pricing will be capped and Uber proceeds will be donated to the American Red Cross to support relief efforts."
New York Governor Mario Cuomo said at a press conference yesterday afternoon that all roads on Long Island would be closed to traffic at 11pm Monday.
Meanwhile, in Connecticut Governor Dannel Malloy has declared a state of emergency, as well as a travel ban starting at 9 p.m., January 26, that will prohibit any non-emergency vehicles from being on the roads.
Uber's primary competitor Lyft told MainStreet it would be suspending operations in select cities.
For those people who need a ride amid limited cabs and closures, using either service is pretty simple.
A top level view of both services shows they are pretty similar. The first step to take, so you are ready to go when you need a ride, is to download the app. This is a quick process and can easily be done while standing on a street corner, but why wait until the last minute. Each company does require attaching a form of payment to the system; Uber accepts credit cards along with Apple Pay and Google Wallet, while Lyft insists just on a credit card. So that could require some fumbling about with your wallet, so better to do it ahead of time.
The GPS function in your phone allows each service to more or less pin your exact location, or you can type in the address, so the car knows where the pickup will take place. In each case, the app gives you an idea how long the wait will be for your ride. On Lyft the time appears at the top of the screen and on Uber next to your location. This bit of info is great because the passenger can choose the quickest ride or decide that neither service is working well in his area and opt for another mode of transportation. A map also appears showing the nearest drivers.
At this stage the destination is entered and this generates an estimated fee, usually the spread is $4 or $5. The final fare is not set in stone and can be impacted by such vagaries as traffic and weather. The slower the car goes the higher the fare, just like in a metered taxi. Expect a major impact on travel time with the current weather conditions.
With both services the passenger is told who the driver is and the type of car that will arrive. Each company goes to great lengths to explain that background checks are run on all the drivers so passengers do not have to fear getting in a car.
Uber has several car choices available, but if you need an SUV or want something fancier than an average vehicle, it could take longer for the ride to appear. Lyft has a specific segment called LyftPlus for those who need a larger vehicle, while Uber handles this on the app screen with a slider that moves between the car types available.
This takes us to another aspect of these services. Unlike a typical car service reservations are not possible. A person can't call in and ask to be picked up at 6 a.m. Tuesday. Instead a person has to hop on to the app just before the ride is needed. Uber and Lyft say that since each is a 24/7 company, a car is always available so reservations are not needed.
Once the destination is reached the driver ends the ride on his or her phone and the passenger is automatically charged. This is an entirely cashless transaction, and the tip is built into the final fare.
The tip tends to be the difference in price between a regular taxi or car service and Uber and Lyft. Using TaxiFareFinder.com the base fee for most trips is about the same, but the tip is already included in the Uber and Lyft rates, and that can save 15% to 20% per ride. Of course, with the app-based services there is no option to stiff the driver if the service was not up to par.
That takes us to the next step. The passenger rates the driver at the end of the trip, if the experience was less than optimal a poor mark will ensure that specific driver is never sent to you again. Delivering a good trip is also critical to the drivers as enough low marks can get them removed from their job.
On the flipside, drivers also rate passengers so if you are drunk and yak in the back of the car, odds are you will never see that driver again.
Bear in mind: Uber does not yet have service everywhere in the United States, but it does cover the majority of the metropolitan areas.
--Written by Doug Olenick for MainStreet