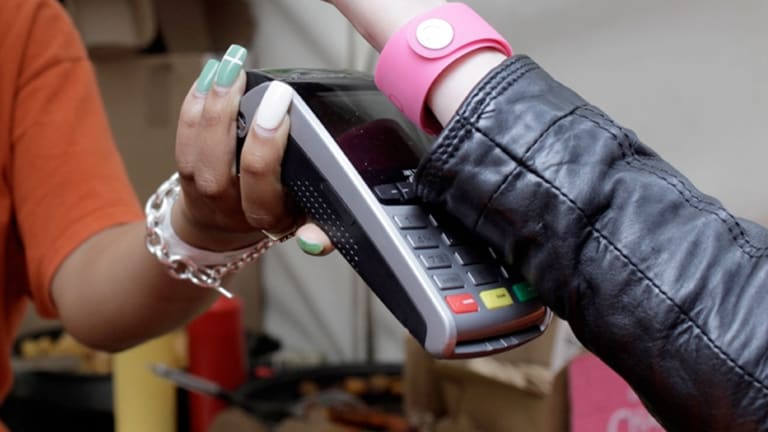 Will the Barclaycard Wristband Really Replace Cash and Credit Cards?
This month Barclaycard released its full-scale launch of three smart payment devices that enable customers to pay without using cash or credit cards. Will this stick?
NEW YORK (MainStreet) –- This month Barclaycard, the leading credit card issuer in the U.K.,  released its full-scale launch of three smart payment devices that enable customers to pay without using cash or credit cards. Barclaycard, which is part of Barclays Retail and Business Banking, believes its cashless payment system is part of the "sweeping change in the way payments are made." But are consumers and experts as impressed?
One of the series of high-tech payment devices is a wristband, which cost £24.99 (about $39.00) and is now available for shoppers to buy. Equipped with a chip that connects to an app, with the band securely around their wrist, consumers merely have to wave the gadget at a contactless payment pad instead of fumbling in their wallet for cash or cards. Intent on being a pioneer of contactless payment innovation, Barclaycard released a similar key fob that costs £19.99 ($31.20) and a £14.99 ($23.40) sticker, both of which are also flapped in front of a payment pad in exchange for consumer goods.
Barclaycard's smart sticker can be placed on any device, such as a watch, tablet or smartphone, which can then be used as a contactless payment gadget. The high-tech gadgets are known as the bPay system. It was designed primarily so that athletes, drivers and cyclists could pay for items with ease instead of having to carry bulky cash with them.
bPay was piloted in 2014 at two festivals, as a means of cutting the queues to pay for goods and speeding up payment time. It was also designed to enable children to buy goods without having to carry money with them, giving youngsters more financial independence. Parents are able to top up their bPay gadgets via an app that works with Barclaycard, MasterCard and Visa credit and debit cards.
If the devices are stolen or lost, the chip can be cancelled by the customer simply by placing a phone call to the bank.
What started as a trial at a couple of festivals has now been picked up by 300,000 stores in the UK, which are now accepting the wristbands, stickers and key fobs as payment. However, there is a spend limit in place. Consumers can only use the "wave and pay" gadgets to pay for goods for £20 ($31.22) or less. Though this will increase to £30 ($46.83) in September, Barclaycard says.

In a press release, Barclaycard referred to the roll-out of bPay as being "an evolutionary step on" from PayTag stickers. Launched in 2012, Barclaycard's PayTag allows customers to pay for everyday items without cash. Barclaycard added that approximately two years after being launched, PayTag has issued more than one million stickers.
"We're in the midst of a sweeping change in the way payments are made," Mike Saunders, managing director of digital consumer payments at Barclaycard, told reporters.
Like the PayTag, Barclaycard's newly-launched cashless payment system certainly sounds like it has potential, but will it really replace cash and plastic cards?
Barry Collins, an author for Expert Reviews, an independent technology review site, delivered a hands-on review of the bPay range. According to Collins, using the devices is "predictably painless." To boot, in addition to the fact that many of the major British high street retailers accepting the new form of payment, Londoners can use them as "pseudo Oyster Cards," allowing them to travel across London's Underground network without having to rely on cash or cards.
Despite several advantages, Collins remains unconvinced that he would continue to pay for items with the new Barclaycard devices, due to several key downsides. The biggest shortcoming is the fact consumers are unable to use the smart payment gadgets if the retailer doesn't accept them. This compares to contactless credit and debit cards that can be used in every store that has a regular chip-and-pin reader. Collins also notes the £20 limit is restricting, as unless consumers are buying small items, they will still need to rely on cash or cards.
"In short, we think bPay is an over-engineered solution to a problem that doesn't exist," writes the technology reviewer.
Though not everyone shares Collin's pessimism for the new cash-free payment system.
Londoner Alice Beckworth, who is the mother of two young sons, embraces devices that offer a smarter alternative to cash.
"All too often have I given my boys a £20 note and asked them to get some groceries from the local store, and when they return with a loaf of bread and a pint of milk, the change to the £20 has mysteriously disappeared," she says. "This wristband would mean children can shop much more safely without the temptation of overspending, giving parents' greater peace of mind."
Semina Jackson reiterates the practicality of the cashless payment devices.
"My mum has dementia and is always losing her card and money, so at least with this, she is able to buy the little stuff she wants and is able to use it on the bus when we're going out without the risk of losing or forgetting it," Jackson said.
Roger Bullock, a quality surveillance engineer at Parsons Brinckerhoff, told TheStreet that bPay's breadth of choice in allowing customers to select which contactless method most appeals to them. Still, Bullock is cautious of the potential robberies the devices may create.
"One downside could be vulnerability to mugging – 'Giz us yer wristband,' could be the new muggers' chant," said Bullock.
Whether you're impressed with the prospect of paying for goods with a wristband, key fob or sticker, or remain unconvinced, it's hard to deny that the popularity of contactless payment technology is rocketing. In 2014 contactless payment transactions worth £2.32 billion were made in the U.K., some 331% higher than in 2013. Love or loathe this new technology, it seems payments with dirty cash may be soon become a thing of the past. In the U.S. mobile payments are projected to hit $142 billion in total, according to research firm Forrester, up from the current level of $50 billion.