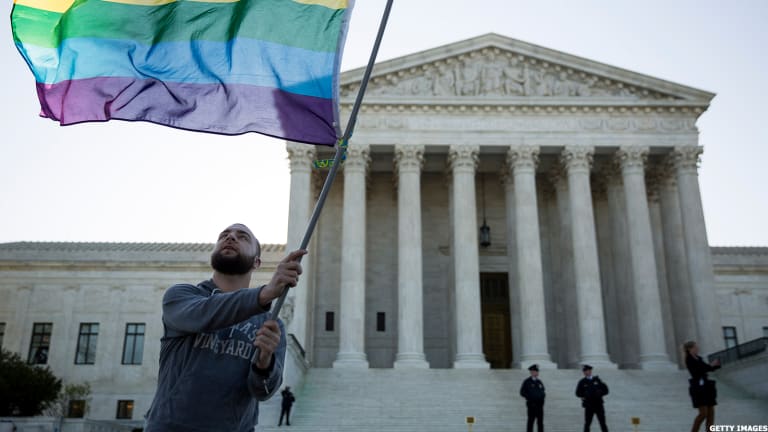 Will Same-Sex Marriage Impact the Wedding Industry?
LGBT Americans received very good news after the Supreme Court's ruling last month. Is there going to be a nuptial spending explosion?
LGBT Americans received very good news after the Supreme Court's ruling last month. Is there going to be a nuptial spending explosion?
NEW YORK (MainStreet) — LGBTQ Americans received excellent news after the Supreme Court's ruling on June 26 that the Constitution, in fact, guarantees a nationwide right to marry regardless of sexual orientation. The wedding industry celebrated, too—overnight, its cake makers, decorators, planners and tailors found an estimated 4.5 million couples who could potentially become customers when they get set to exchange vows.
So how much are those nuptials worth?
About $2.6 billion in total spending, according to UCLA's Williams Institute, which conducts independent research on sexual orientation, gender identity and public policy. It released an infographic this month that offers a stunning snapshot of the business impact of same-sex marriage. The $2.6 billion in spending also reflects $184.7 million revenue for states, too, especially California, Florida, New York, and Texas (with Illinois, Massachusetts, Pennsylvania and Washington in close second).
Shane McMurray, founder of The Wedding Report, thinks $2.6 billion is a little unrealistic, though, owing to the fits-and-starts that same-sex marriage has had over the last few years.
"I actually think it will be lower, because most of the demand that was pent-up for same-sex weddings has been addressed," he said. "Folks who really wanted to get married in the past few years would just travel to a state where they could do it."
McMurray notes, though, that—as with the case in Massachusetts and California—there will be a nationwide, initial surge in the next few months, which will eventually even out. In total, he says, same-sex marriage will add about 75,000 to 90,000 weddings per year to the total number in the U.S., which he estimates to be 2.1 million.
Of course, the 75,000 or 90,000 lucky people tying the knot will still have to deal with same things that have long made weddings memorable: meddling aunts, flaky caterers, sloppy bridesmaids, cringe-worthy toasts and uncooperative weather. But, if some analysts are right, and the buying power of the LBGT community is north of $800 billion annually, will it up-the-ante on the average cost of weddings, which The Knot puts at $31,000?
There are two reasons why it won't.
First, as The Atlantic pointed out last year, the "myth of gay affluence" is quite a myth, indeed, based on the assumption that the LGBTQ community's buying power is far greater than that of its heterosexual counterparts. The writer, Nathan McDermott, even called it "a pernicious insinuation." On the day of the Supreme Court's decision last month, The Knot released its third annual LGBTQ Weddings Study, which helped dispel this myth: in the LGBTQ community, men spend an average of $15,992 on their weddings, while women, opting for relative frugality, only spend an average of $13,055—half the national average for the straight community.
So, no: more same-sex weddings will not necessarily mean that the national average cost per wedding will skyrocket.
And, why not? The number of guests.
"Guests are a good indicator as to how much a wedding will cost—since half the cost is catering and the bar," says Anja Winikka, site director for The Knot. "When you look at the average guest list of an LGBTQ wedding, it's 71 people compared to the average guest list of a straight wedding, which is 138."
It's not that LGBTQ weddings are more budget minded, then, but just more intimate. And, intimate weddings are trending upward, regardless of who is getting married. Quite simply, the average guest list is shrinking across the board, reports Winikka.
The Knot's survey also points to a few notable trends, based on same-sex weddings already preformed in the states that allowed them prior to the ruling. First, nomenclature matters—96% of LGBTQ couples prefer the term "marriage" to "same-sex marriage," and 95% prefer to call their big day a "wedding," rather than a "commitment ceremony" or "civil union."
Tradition matters, too—97% have exchanged, or plan to exchange, wedding bands and 70% walk down the aisle. Self-reliance also matters—85% of men and 79% of women pay for the majority of their weddings themselves (read: without parental involvement), according to The Knot's survey.
The Wedding Report's McMurray calculates that 2.1 million weddings in the U.S. represent a $54.5 billion industry. Against those numbers, the Williams Institute's $2.6 billion uptick seems like a drop in the bucket. But, when you start looking at things like job creation and expanded services, a broader picture of growth appears.
"More weddings across the board means an impact on wedding registries and airlines, but the impact will be felt the most by local merchants like florists, bakers, and photographers," says Winikka. "Weddings are so personal, and you're going to seek out vendors who reflect your values and your brand."
For the LGBTQ community, values and personal brand are out front—and those who cover weddings are eager to work with those things to offer something unique.
"Instead of having a traditional ceremony with audience facing forward, I've seen couples arrange everyone in a circle for the ceremony," says Manolo Doreste, a photographer based in Coral Gables. "It's really depends on how creative you want to be. My former partner and I, for instance, had a ceremony a decade ago—and we did it around a campfire."
Although Doreste has seen his "consistently strong business grow stronger" over the last couple of years, he has also seen something else grow: the willingness among same-sex couples to invest in their union.
"In the past, if you went to a same-sex ceremony, it was usually done in someone's home, in their backyard, or a park," he says. "But, now, I'm going to resorts and hotels to photograph couples and their special day."
Although, as McMurray points out, the spike in sheer number of same-sex weddings will even out, so, too, will the distinctions we make between a straight wedding and a LGBTQ wedding.
"Since The Knot launched, we've never siphoned off content into a 'gay weddings' area," says Winikka. "A wedding, after all, is a wedding."