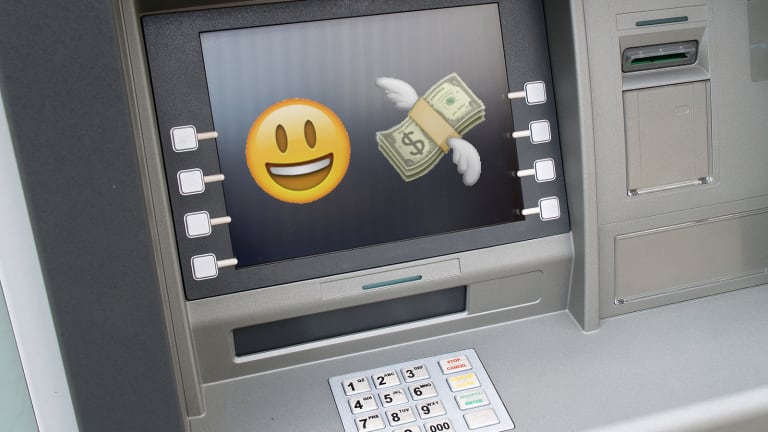 World Emoji Day: How Emoji Passwords Will Obliterate PINs and Make Bank Accounts Safer
The pictographic revolution is beginning amid concerns over financial security.
NEW YORK (MainStreet) –- World Emoji Day is being celebrated today by the fans of the pictographic language, but beyond being a cutesy form of communication, using emoji may provide a new level of security in consumer banking.  
Debate has erupted since a U.K. online banking service provider called Intelligent Environments announced it is introducing an emoji passcode system. The system will allow users to use codes from a selection of 44 emoji options, an advent the company is calling the "world's first emoji-only passcode."
Some seem to be embracing the prospect of an emoji password system, especially amid increasing concerns over financial security breaches. On the other hand, some are not so keen on using smileys to protect their money.
Of course, a whopping 64% of Millennials regularly communicate using only emoji. While the likes of a winky face, a strawberry and a champagne glass might have superseded conventional text messaging of a certain age group, these juvenile, cartoonish symbols may just be the future of online banking security.
Intelligent Environment's solution is to enable users to create a PIN that consists of four emojis from a collection of 44. By allowing a total of 3,498,308 totally unique combinations of emojis, this image-based passcode would be mathematically more secure than traditional number codes, which offer a mere 7,290 combinations of non-repeating numbers.

Speak, Memory
The benefits of emoji passcodes to the individual consumer go further: Intelligent Environments believes that those who have difficulty remembering their PINs and passcodes, will find relief through passcodes comprising of only emojis.
Intelligent Environments cited findings of its survey of 1,300 U.K. residents that revealed more than a third of adults have forgotten their PIN codes. The company used the widespread tendency of the public to forget PINs as motivation to employ this more memorable system of ideograms.
A passcode made up of emoji "plays to humans' extraordinary ability to remember pictures, which is anchored in our evolutionary history," according to memory guru Tony Buzan, whom Intelligent Environments consulted. 
By comparison, the human brain doesn't naturally work "digitally or verbally," he said, explaining why we regularly forget our passcodes.
"Images are the prime way of remembering anything you want to remember," Buzan added.
There are inevitably going to be detractors, like Steve Redwood, a 59-year-old teacher in Manchest, U.K.

"We've been using PINs as an efficient form of banking security since the 1960s," he said. "Why change a good thing?"
But for some, the emoji passcode option represents enough of an improvement to warrant change. 
Rebecca James, an administrator in London, agrees banks should definitely have a security system in place that uses emojis rather than numbers. "I'd be more likely to remember my password if it was written in emojis, as I'm forever forgetting my PINs," said the 31-year old.

Picture Perfect?
David Webber, managing director at Intelligent Environments, believes the new emoji passcodes will be lapped up by bank customers, who will find the cartoon-imagery PINs easier to remember. "The reaction we've had from consumers has been overwhelmingly positive," he told CNBC.
However, while this might appeal to Millennials, it's uncertain whether the appeal will extend to Boomers and Gen X-ers, especially considering resistance to chance and the fact that infrastructure would have to be overhauled. There are current 360,000 ATMs in the U.S. that would need to be emoji-equipped.
Roger Bullock, quality surveillance engineer at Parsons Brinckerhoff, one of the world's leading planning, engineering and program construction management organizations, spoke of the impracticality of a banking passcode system that abandoned traditional numbers.
"You would not be able to use emojis with the current generation of ATM machines, so you would still have to remember a PIN to withdraw cash," he said.
Still, if the right infrastructure were implemented, the amped up security and ease of memory could appeal to consumers.  
"That's not to say it's a not a good idea, as there can be more combinations and you could link up the sequential emojis in your mind as a story or memorable event to remember your code," he added.
Industry experts are divided over the credibility of emoji passcodes.
Stephen Pao of IT company Barracuda is in favor of the image-based passcode, believing it will heighten security as hackers would be less likely to crack the code.
"The weakness in numerical PINs is often not the math," Pao told CNBC. "It is the human problem of remembering them and the social engineering of cracking them...What I like about this emoji PIN concept is that numerical PINs are generally never random."
With numbers, people often pick their birthdays or anniversaries -- leaving consumers vulnerable to hackers who have even basic biographical information. With emoji, it would be difficult to match the inputs to life events with these pictographic symbols, thus potentially enhancing security. 
That said, Sian John, chief security strategist for EMEA, has security concerns about the emoji PIN, telling CNBC: "Just as hackers can guess weak passwords that use pet names or memorable dates, picture-based arrangement could be cracked by anyone who know which emojis someone uses most frequently, and therefore are likely to choose for their passcode."
Of course, emoji-based passwords have distinct limitations, according to a report in Slate. The biggest short-fall highlighted is the fact that not all websites recognize emoji symbols, making "web-authentication a nonstarter." While the day may come when everyone will have emoji-able keyboards, traditional keyboards do not have an input system for emoji, notes Slate. 
While the Millennials might relish the concept of outnumbering the days of forgetting their banking passcodes with their favorite form of language, mass adoption remains a question mark. Meanwhile, Intelligent Environments is in talks with several U.K. banks about the prospect of customers using the emoji passcode system.