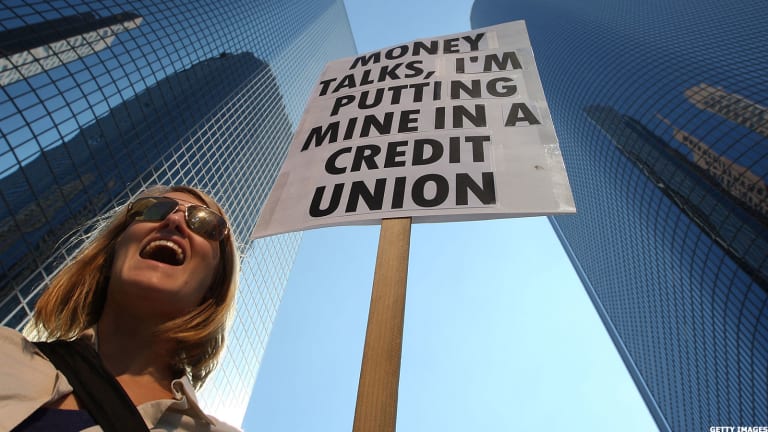 Will Credit Unions Lose Their Federal Tax Exempt Status?
With tax reform on the table, credit unions could face the loss of a longtime federal tax break.
Editors' pick: Originally published Jan. 26.
Should credit unions lose their federal tax break, an exemption the industry has enjoyed since 1934?
Some banking industry veterans think so.
"As President-elect Trump and the new Congress proceed on tax reform, there is one loophole in particular that needs to be closed, shut and buried: the one for credit unions," states Alejandro M. Sanchez, president and CEO of the Florida Bankers Association, in a recent op-ed in American Banker. "It is outdated. Credit unions that act like banks should be taxed like banks. Currently, even multi-billion-dollar credit unions pay zero corporate income taxes to support the needs of our nation."
Sanchez cites a $20 trillion U.S. national debt that needs to be addressed - and soon. "We can start by putting credit unions' tax exemption on the chopping block," he notes.
Not so fast, says the Washington, D.C.-based National Association of Federally-Insured Credit Unions.
In a move to get ahead of the issue, the NAFCU released a new study this week, stating that U.S. consumers benefit from the credit union federal income tax exemption to the tune of $16 billion per year, or $159 billion over the 10-year period the study tracked.
"This study is more proof of what we already know: The credit union industry is a vital component of the nation's economy, benefitting not only the more than 106 million credit union members but other consumers as well," says Dan Berger, president and CEO of the NAFCU. The organization states that removing the credit union tax exemption "would cost the federal government $38 billion in lost income tax revenue over the next ten years" and that U.S. gross domestic product "would be cut by $142 billion, and nearly 900,000 jobs would be lost over that period."
The primary benefit for consumers is that, with the tax breaks, credit unions "outperform banks by offering lower interest rates on loans, higher returns on savings and deposits," the group claims.
The NAFCU also states that if credit unions paid income tax, the contribution to state and federal treasuries would make not "one penny difference" in the taxes consumers pay. "But the effect such taxes would have on how much you pay for credit union loans for cars, education, and houses, or the dividends you earn on credit union savings, would be significant," the group states, "Just as banks pass along their tax payments in fees and interest rates, so credit unions would have to pass along that expense to members, also in the form of higher fees, higher loan rates, and lower savings dividends."
So who's on the right side of the debate?
Some tax experts side with the credit unions.
"Credit unions maintain their not-for-profit status by providing benefits to their members," notes Kenneth Carow, a finance professor at The University of Indiana, Indianapolis campus. "The tax-exempt status of credit unions ensures that credit unions have incentives to continue to provide financial services to consumers."
The elimination of the tax-exempt status for credit unions would result in this "separate and distinct industry that is dedicated to consumers" being converted, merged, and acquired by the banking industry," Carow says. "This would result in increasing consolidation of banks and increase the average size of our financial institutions."
"Maintaining the tax exemption of credit unions will ensure that consumer lending stays competitive and consumers are able to benefit from competition specifically centered on their marketplace," he adds. "And reduced competition for consumer loans and consumer deposits would likely result in increased loan rates for consumers who borrow and lower returns for consumers who deposit their money in financial institutions, as a result of less competition in this area of the economy."
Nobody is making any predictions yet, but with a Trump administration that is looking for revenue wherever it can find it, the credit union federal tax break may prove to be low-hanging fruit politicians can't ignore.