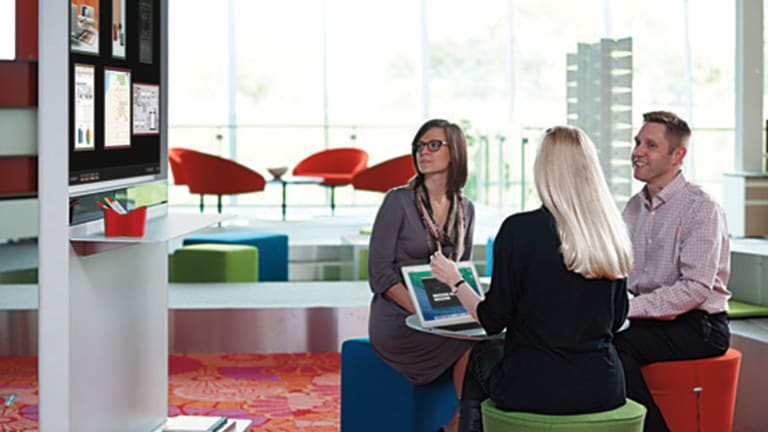 NEW YORK (MainStreet) -- The American cubicle worker is imperiled. Sitting, after all, is the new smoking. Employers are pushing workplace wellness programs more than ever, but desks are increasingly cramped: the average work space per-person today is a claustrophobia-inducing 176 square feet, down from 225 square feet in 2010. But can innovative furniture and office design fight the limitations while enhancing employee productivity?
The commercial interiors industry's three-day NeoCon, which began on Monday at the Merchandise Mart in Chicago, is featuring designs at the cutting edge of solving this predicament. This is where consumers can find original Haworth Inc. designs, for example, that uses ergonomics to reduce office space risk factors and replace suffocating solitary workspaces with collaborative environments. Companies stressing the smaller but smarter open-plan work desks will cause the average workspace to drop to 151 square feet on average by 2017. But doing so in the right manner can make all the difference.
Haworth, a Holland, Mich.-based company that designs and manufactures adaptable workspaces, has partnered with Delos, a company focused on "wellness" real estate for building homes, offices and schools. Together, the two companies are using research they've commissioned to create a new standard for office space designs dedicated to protecting the mental and physical health of employees in return for increased employee productivity.
Does this mean employee breaks rooms be feng shui-adhering spaces? Not exactly. For many years now, the idea for designing an office space is to make people more productive.
"Employees are expensive, and organizations want to keep them for as long as possible," said Dr. Michael O'Neil, senior research strategist at Haworth Inc.. O'Neil's goal is to better understand how furniture and technology can improve people's well-being.
Hunching over a computer for eight hours a day calls for constrained and awkward posture, repetitious hand movements and a fixed room temperature that might be too cold for an employee's liking. Some of these factors can be caused by poor working habits while others from non-adjustable workstations. By reducing ergonomic risk factors, employees can reduce negative costs while improving their physical quality of work and overall productivity.
Economic Booster Seat
Alan Hedge, a professor who directs the Human Factors and Ergonomics Program in Cornell University, says the solution to an optimal work space varies depending on the job and the tasks that a person has to do -- from confidential tasks to collaborative team work.
Hedge's research focuses on understanding how to create environmental conditions and ergonomic design criteria for healthy and productive workplaces.
He says there are two universal principles: always work in a neutral posture, whether sitting (better for precision tasks such as typing/mousing) or standing (better for power tasks such as pushing/pulling), and always create postural variety at work."
That variety, Hedges says, can be achieved by following the so-called "3s" pattern of working. This includes Hedge's sit-stand working program compromised of 20 minutes of sitting in good posture, eight minutes of standing for sit stand work stations and two minutes of standing and moving -- such as gentle stretching or walking.  
The stakes are high for optimizing an employee's furniture and environmental comforts: According to the archive from the United States Department of Labor's Occupational Safety & Health Administration (OSHA), $1 of every $3 spent in the workplace comes from a lack of ergonomic protection. This bill can total up to $20 billion per year nationwide; good ergonomics means good economics. What's more, according to SitOnIT Seating, a study coordinated by health-research consulting firm Health and Work Outcomes, individuals who received office ergonomic training and sat in an adjustable chair increased average productivity by 17.8% after a year. These future designs can ease space limitations leading to help you say goodbye to that lower back pain and usher in increased productivity.
Some of the special featured exhibits in this year's NeoCon exhibition include Koleksiyon's "Oblivion." This European company with American headquarters in Dallas, promotes office spaces as internal pods constructed with circular high walls. The purpose is to create a sense of privacy and comfort for individual office work.
Herman Miller, another company promoting "high performance living offices," displays a line of performance work chairs, executive seating and multi-use chairs all designed to enhance the work experience. This Zeeland, Mich.-based company encourages collaboration in open office space settings. In NeoCon, the company is displaying a modular system in a show room hat transforms from individual seats to multiple pieces that have height adjustability.
Flexibility and Senses
Haworth's O'Neil also looks at factors such as floor plans, noise levels and lighting when strategizing new furniture.
To enhance employee performance, floor plans should be easy to understand and support easy navigation throughout the office and meetings with colleagues. Haworth's designs include open spaces -- but not the scary emptiness. The Haworth Adaptable Workspaces offering includes different layout designs from panel based desks with high partitions to collaborative desks with collective bench seats.
Choice does drive performance and innovation, and employees with a choice are more effective and more likely to meet their goals and overperform.
Some of that choice has even resulted in extreme versatility for American employees who are still unsatisfied with their work space options: Global Workplace Analytic's shows us the total number of employee teleworkers has increased from 3.1 million in 2010 to 3.2 million in 2012. The flexible office space has become a trendy option for more employers with workers who need to make use of the office on an occasional basis but don't need a fixed desk.
For those permanently stuck in their cubicles, Haworth wants them to be stuck in style. In anticipation for NeoCon, Haworth displayed 14 new products with a new color palette in collaboration with Patricia Urquiola, designer and architect. The products are all designed to fit the work space in order to enhance employee performance--all with a splash of color.
One of the featured products is displayed as a portable screen called "Bluescape." Fusing furniture and technology, the touch screen can be the size of an entire wall that will allow users to create, move, organize and retrieve information with a cloud-based system. Bluescape aims to replace the Post-Its sitting around your desk and computer screen and allow for an interactive use of office architecture.
Not all of us can work at Google and ride a scooter to the conference room, but with companies like Haworth Inc. and Delos dedicated to the wellness of employees, the future of office space sounds like an upgrade to an extra supportive chair.
Of course, the future of productivity-conducive office furniture may ultimately lie in its flexibility, according to Hedge.  
"The optimal furniture for each worker will depend on the nature of their job and their size and shape," he said. "So good ergonomic products provide appropriate adjustability for the user."