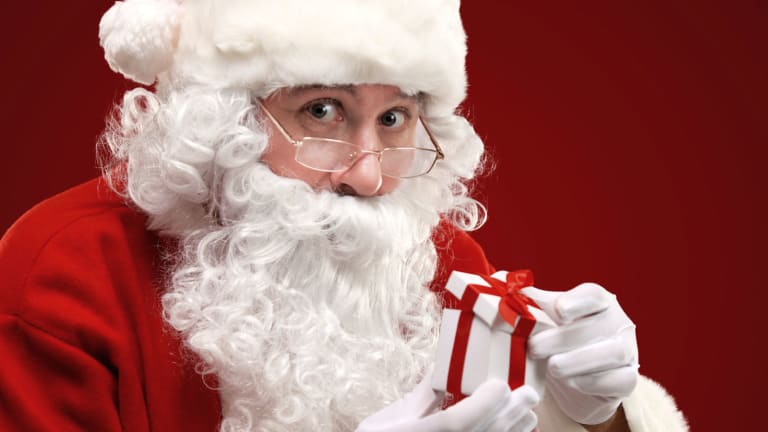 Why You Should Sell Your Funds This Holiday Season
If a mutual fund or ETF is going to cause you more trouble or taxation than it's worth, it may be best to cut it loose and shop around.
It's the end of the year, it's tax preparation time and you're giving your mutual funds and ETFs and long, tough look.
Do you sell?
Well, there's an argument to be made for cutting loose the losers and starting fresh in the New Year. However, there are a few financial advisors out there who think that argument isn't the only one worth making when it comes to selling funds. Paul Jacobs, chief investment officer of Scarsdale, N.Y.-based wealth manager Palisades Hudson Financial Group notes that there are myriad reasons to sell your funds, even if they're doing particularly well.
If you're willing to hold onto them in the new year, Bill Ringham, vice president and senior wealth strategist at RBC Wealth Management-U.S., notes that there are even more reasons to sell. However, this isn't exactly an easy decision to make. E-Trade notes that equity mutual funds (loved by 57% of E-Trade investors) and ETFs (46%) trail only individual stocks (65%) as favored asset classes. With far more diversity and less volatility, funds offer a bit of stability in troubling times.
However, if you're mulling your funds and looking for a devil's advocate to argue on behalf of selling, Jacobs, Ringham and other advisors have come up with the following reasons to at least consider selling:
1. The fund did too well–for all the wrong reasons:
Is there such a thing as an overperforming fund? If your fund has dramatically outperformed similar funds in the short term, you're going to want to ask yourself why -- and how long it will last.
"Spectacular short-term performance often indicates the fund manager is doing market timing or taking too much risk," Jacobs says. "It's great while it lasts, not so great when the fund tanks."
2. The fund knocked your portfolio out of whack:
One of the drawbacks of overachieving is putting all your investments in one basket. If you funds did so well that you have too much in one asset class, selling to
may be wise. If you can sell at least some of your position in the fund to bolster your assets that haven't fared so well, it may be just what you need to stay on on target.
"By rebalancing regularly, you will continually be buying low and selling high," Jacobs says.

3. You need the loss:
If a fund has declined in value because the overall market has fallen, selling for a capital loss to lower your tax bill often makes sense, especially if you sold a winner in the same year.
"If you have zero capital gains, you can use up to $3,000 of your tax losses to offset other ordinary income," Ringham says. "And for a loss greater than $3,000, you can 'carry over' the excess and deduct it from your taxes in future years."
The best part? If you like the fund, you can buy back after 31 days and avoid violating IRS "wash sale" rules, or you can immediately buy a different fund that uses a similar strategy to maintain market exposure.
4. The fund manager changes:
Nobody is telling you to fear change, but a
can become your investments' worst enemy if your goals don't mesh.
If you are uncomfortable with the new manager, ask yourself how experienced he or she is? Will he or she change the fund's strategy?
"Most of the time I don't sell a fund I recommended just because the manager changed," Jacobs says. "But I do monitor the fund closely to make sure the new manager does not deviate significantly from the previous manager's strategy."
5. "Style drift" sets in:
This can be related to the last point if your new manager has different ideas for the fund, but even stable management doesn't stop a fund from drifting. A manager following the herd can lead to your fund becoming a "closet index fund" that charges higher fees but performs very similarly to its benchmark index. Don't feel especially badly if this happens: actively managed stock, bond and balanced funds are all especially vulnerable to drift.
"You want a manager to be disciplined and stay true to the fund's overall strategy, which is why you bought it in the first place," Jacobs says. "If your fund is no longer adding value, you should look for cheaper or better-performing funds that can deliver what you want."

6. You're uncomfortable with your fund's investments: Sometimes, the risk just gets too great. When a fund starts investing in illiquid investments, derivatives or other securities that make a more cautious investor queasy, there's no reason for an investor to stay. When funds start mixing in options, currencies, commodities or private securities at the margins, they may be just fine for a while, but they can get problematic down the road. When the redemptions get too big and the fund has to sells them for pennies, that isn't a good time for anyone -- especially someone who was just looking to dabble in stocks and bonds.
7. The asset base shrink:
Actively managed funds with less than $200 million in assets have a host of problems. Jacobs notes that they can lead to large year-end capital gain distributions if some shareholders hold large fund positions. When funds must sell appreciated securities to meet large redemptions, any shareholders unfortunate enough to hold that fund in a taxable account suffer.
"Even in years with flat or negative performance, small funds may find themselves distributing 20%, 30% or more in capital gains," he says.
There's also the big risk of that fund terminating altogether, which can leave you with some unexpected gains. If you've been warned that such an event is coming, Jacob says it's worth selling immediately.
8. The asset base has become too large. Yep, it can hurt you both ways, especially if that fund invests in smaller companies. When a fund grows, it gets more difficult to spread bets across many small companies and avoid taking too large a stake in any one firm. It leads to the fund buying up a huge number of stocks, diluting the fund's returns and making it near impossible for the fund to outperform its benchmark index. If you want to play it safe, stick to actively managed funds with an asset base between $200 million and $2 billion, according to Jacobs.

9. Expenses increase: If you bought into a low-cost fund that jacked up its expenses, it doesn't pay to stick around if there's a comparable fund offering better terms. Compare index funds and make sure you aren't taking an unnecessary bath.
10. You can do better elsewhere: Even a strong, high-performing fund may not be the best option if it's bludgeoning you with expenses. The end of the year is a great time to carefully think about what your fund is doing for you, analyze its performance, see how it's affecting your portfolio and taxes. If there's a fund out there that offers better performance or lower expenses, it may be worth a look.
"It pays to regularly check for better investment options," Jacobs says. "There's steep competition on annual fees among index mutual funds and ETFs. Many new index funds charge 0.15% or less. If your index fund charges 0.50% or more annually, or if your actively managed mutual fund charges 1% or more, look for alternatives at least once a year."
This article is commentary by an independent contributor. At the time of publication, the author held no positions in the stocks mentioned.