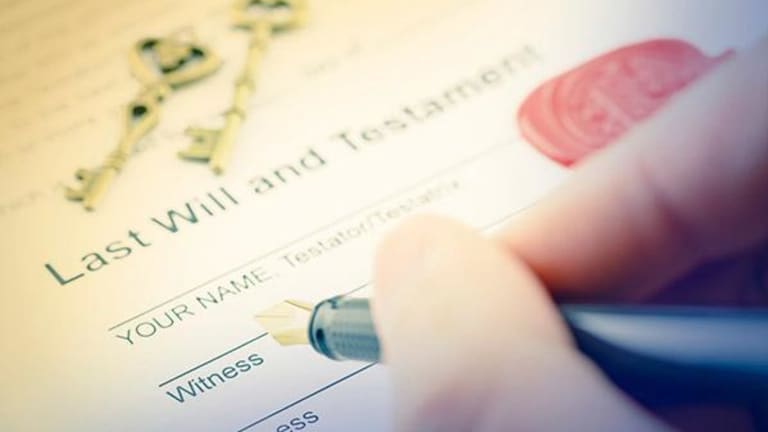 Why You Might Want to Refuse That Inheritance
Sometimes a bequest can create more problems for beneficiaries than it solves.
Your Money, Your Retirement, and the 2016 Presidential Election - What changes will you need to make to your portfolio should Hillary R. Clinton become president? What happens to your investments should Donald Trump become president? Join us on September 12 as our panel of the world's top financial experts provide trusted information on the investment risks and opportunities that arise with the upcoming presidential election in November. [Learn more about the event and RSVP.]
Your dreams seem to have been answered: a distant relative has died and named you in the will. But after carefully considering the bequest, you take a pass. Have you lost your mind?
Not necessarily. There are several reasons why an heir might disclaim -- to use the technical term -- an inheritance. "The biggest time you see people do it is when you're trying to redirect the money within the family to a more tax-efficient recipient," says James Frank, director of financial and wealth transfer planning for Karr Barth Associates in Bala Cynwyd, Pa.
One example is when a gift would bump your own estate above the federal estate tax limit, currently $5.45 million for an individual and $10.9 million for a couple. Estates over those amounts incur a hefty 40 percent tax, while smaller estates pay no federal estate tax. If a named beneficiary can expect to incur estate taxes on his or her death, it could save on taxes to disclaim an inheritance to a child with a smaller estate.
Another common use of disclaiming is to re-direct assets to a family member who needs them more than the original beneficiary. For instance, children who are financially secure may elect to disclaim assets willed by a parent, so the assets can help support a surviving parent.
Leslie Thompson, a CPA and financial planner with Spectrum Management Group in Indianapolis, describes one client who won't write a will or do other estate planning. When someone dies without a will in Indiana, half the estate goes to the surviving spouse and half to children. That split would leave this surviving spouse short, Thompson says, so when it is time to settle the estate, the children may use disclaimers to return a portion to the surviving parent.
Disclaiming is primarily used by wealthy families to reduce estate taxes. However, it may also help less-affluent families. For instance, if a beneficiary has creditors who might stake a claim to any inherited assets, it could be prudent to direct those assets elsewhere.
Disclaiming may also help when elderly family members require costly nursing home care, which Medicare does not cover. Medicaid will pay for long-term care, but only when recipients have exhausted their own assets, so one strategy is to spend down nursing home residents' assets so they can qualify for Medicaid.
Claiming an inheritance could delay the time when Medicare begins paying for long-term care. In that case, Frank explains, disclaiming could protect an inheritance from being consumed by nursing costs, and keep it within the family.
Disclaiming isn't always possible. For instance, if an heir is already on Medicaid, the state-run health program might contest an attempt to disclaim an inheritance that if claimed would make the heir ineligible for Medicaid, Frank says.
Disclaimers also have just nine months after death to disclaim the inheritance, Thompson says. And during that time they must not have benefited from the assets, such as by spending a portion.
To disclaim an inheritance, notify the estate executor in writing about the intent to disclaim, she says. Use registered or certified mail. And don't delay. IRA custodians may cash out IRA accounts on their own initiative when notified of a death and mail checks to heirs, she says. Cashing that check could make it hard to disclaim it later on.
So decide quickly, but first be certain that disclaiming your inheritance is what you want. Because this is permanent. "When you disclaim, you can't get it back," Thompson says. "So you have to make sure the beneficiary does have sufficient assets."