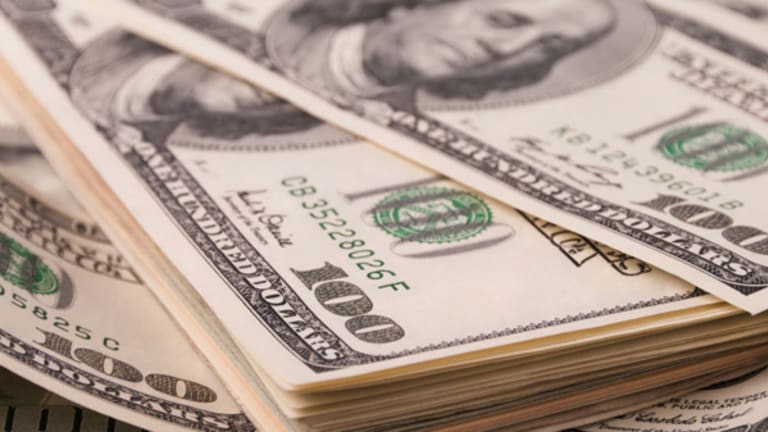 Why You Can't Escape Christmas Radio
All-holiday radio may be arriving earlier and increasingly annoying, but it's still ratings and revenue gold.
BOSTON (TheStreet) -- To consumers, all-holiday radio sounds like Mariah Carey's "All I Want For Christmas is You" played 28 times an hour every day for more than a month. To radio stations, it's the jingle bells of a machine that hits the jackpot the same time every year.
Each holiday season, with increasing eagerness and frequency, radio gets into the spirit by booting its regular offerings from the airwaves and replacing them with just about every hymn, carol and children's song ever played -- in all their various and oft-overwrought pop iterations. In Providence, R.I.,
Clear Channel
-owned WSNE 93.3 was all-holiday and playing Andy Williams' "It's The Most Wonderful Time of the Year" by Nov. 7. Even on Web-based Pandora, spokeswoman Deborah Roth says the site's "Christmas" genre station is the most frequently added station as of Nov. 12, while
Sirius-XM
(SIRI) - Get Sirius XM Holdings, Inc. Report
Satellite Radio launched six holiday-themed channels yesterday.
This year, 33 stations across the U.S. changed to the all-holiday format before Nov. 12, according to broadcast and cable tracking firm
. Eventually, there will be more than 100 stations nationwide embracing the same 24-hour holiday format that Media Monitors says was responsible for playing last season's most popular all-holiday song -- Burl Ives' "Have A Holly Jolly Christmas" -- 17,233 times in December alone. Considering those stations usually bring the format screeching to a halt Christmas night, that's more than 689 plays per day -- or 29 times an hour.
Considering it's a two-minute song, that actually leaves listeners with 48 "Holly Jolly"-free minutes a day. Last year's No. 2, Brenda Lee's "Rockin' Around The Christmas Tree," is a similarly merciful length, but the No. 3 -- Mariah's aforementioned "All I Want For Christmas Is You" -- defies mathematical logic. Played 16,634 times last December, the four-minute holiday powerhouse is played roughly 28 times an hour in the first 25 days of the month -- cramming 112 minutes of pitchy holiday standard in a 60-minute time slot.
It's too early to tell which songs will be monopolizing the airwaves this year, but Mariah, Burl and Brenda seem like safe bets to retake the crown.
"They're just not on our radar yet," says Dwight Douglas, Media Monitors vice president of marketing. "But neither is the fat guy in the red suit."
Why expose the public to this annual, seasonal sensory overload? Because you like it. According to a 33-market study by radio research firm
Arbitron
( ARB), the average market share for radio stations that switched to the all-holiday format rose 91% during the last holiday season. Clear Channel stations WNIC 100.3 in Detroit and KSNE 106.5 in Las Vegas and LDS Church-owned KSFI 100.3 in Salt Lake City all tripled their ratings last holiday season, while independent WBEB 101.1 in Philadelphia captures roughly 30% of its market during the holiday season, according to Arbitron's figures. Such fluctuations generate millions in nationwide ad revenue -- generating $8 million in extra revenue for Clear Channel alone in the fourth quarter of 2009 -- just by giving the people what they apparently want.
"In 32 out of 33 markets the audience went up in the key demographic audience of persons 25 to 54 and on average has just about doubled," says Bill Rose, Arbitron's senior vice president of marketing. "It seems to me that people in those markets sure want to be listening to holiday music during the holidays ... that's self-evident."
What's not evident is how many people are listening because they want to and how many people are listening because they have to. When Arbitron went to its Personal People Meter method of ratings data collection in 2007, its ratings team began carrying around cell phone-sized monitors that could pick up broadcasts its carriers were hearing and detect the watermark of the station playing in the background. Thus, when a listener is out shopping and hears Jose Feliciano's "Feliz Navidad" playing on the all-Christmas station on a store's sound system, that's included in the ratings.
A small, Scroogy contingent in Kansas City claims all-holiday stations that treat themselves to a seasonal ratings feast in December do so only by starvation dieting in November. Station KCJK 105.1 built a comedy bit it ran in 2008 into an anti-holiday-format "Save Thanksgiving" campaign complete with a Save Thanksgiving website, contests and "Thanksgiving Weekends" featuring Thanksgiving-appropriate playlists -- which one assumes would include a healthy serving of Adam Sandler's "The Thanksgiving Song." KCJK's program director, Brian Tuta, cited Arbitron's PPM ratings as his muse, saying listenership plummets in November when stations get overzealous with the holiday cheer. While the
Cumulus Media
(CMLS) - Get Cumulus Media, Inc. Class A Report
-owned station's stunt smells like a stuffing-scented swipe at all-holiday competitor KCKC 102.1, Arbitron says the PPM is probably what started the holiday encroachment in the first place.
"In the more distant past, stations would wait until a week or two into December to begin," Rose says. "As PPM came on board, stations were able to observe that when they did flip the format somewhat earlier -- just after Thanksgiving and some before -- they began to see increases sooner."
If there's any fatigue among listeners who just can't hear David Bowie and Bing Crosby's "Little Drummer Boy" one more time, they don't show it during the holiday. In fact, the number of total listeners increases 66% as holiday-only stations approach Christmas. The tradeoff is that the overwhelming majority of stations usually have to throw out their holiday gift with the wrapping paper Dec. 26.
"If you've been running holiday music since Nov. 7, people's interest wanes the minute the day ends," Rose says. "There is a benefit to tying in what you're doing over the air with the holiday season, but it runs its course pretty quickly."
-- Written by Jason Notte in Boston.
>To contact the writer of this article, click here:
Jason Notte
.
>To follow the writer on Twitter, go to
.
>To submit a news tip, send an email to:
.
RELATED STORIES:
>>Hot Sites For Online Holiday Shopping
>>5 Best Gift Cards For Early Holiday Shopping
>>Credit Cards That Pay For Holiday Shopping
Jason Notte is a reporter for TheStreet.com. His writing has appeared in The New York Times, The Huffington Post, Esquire.com, Time Out New York, the Boston Herald, The Boston Phoenix, Metro newspaper and the Colorado Springs Independent.