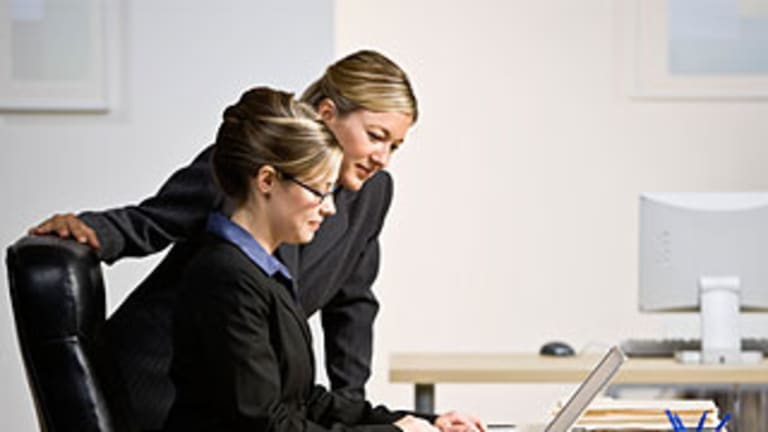 Why Women Entrepreneurs Love New 'Power Circles' Concept
Mastermind groups focus on goals and finances, and women's groups are more about the internal process. This Emerging Women project combines them.
NEW YORK (MainStreet) — As a member of the Masterminds group at the Denver Metro Chamber of Commerce, Lane Walsh is no stranger to getting out and networking with fellow business owners and the benefits that come with such relationships.
The twice-monthly meetings provide a very staid and traditional approach to navigating life as an entrepreneur.
"It's very business-oriented, very masculine," says Lane, owner of a thriving boutique real estate agency. "We talk about stuff like cold calling."
All of which couldn't be more different from what she experiences as a member of an Emerging Women's Power Circle.
The lexicon of Power Circles has little to do with cold calling and other such approaches to business, instead centering around inspiring women to draw on their authenticity and feminine strengths.
In signing up for a Power Circle, participants join forces with female peers, a high-level support network of female leaders, entrepreneurs and visionaries who help participants realize their goals and dreams.

WATCH: More personal finance videos on MainStreet | More videos from Scott Gamm
View Today's Auto Loan Refi Rates
Launched just last month, Power Circles meet in person or virtually via Google Hangouts. Groups of about seven women and a facilitator come together once a month for six months. At each gathering the group is guided through discussions of various themes aimed at helping women manifest their visions. 
"I like the idea of stepping into your power and embracing all of the amazing things that come from showing up authentically," says Walsh, who hopes to be able to grow her busy real estate business into something so successful that she can sell it in the next 10 to 15 years. "I also like the idea of connecting with a group of women with a facilitator and meeting several times and really getting to know each other."
Power Circles are just the latest offering from Emerging Women, an organization created in 2012 by Colorado's Chantal Pierrat to provide the tools, knowledge and network to help women lead, start and grow their businesses. 
"I feel like I have never been so inspired and felt so supported as I do when I 'm in a community of women," Pierrat says. "I think that especially when I've been in transition — career transition or giving birth — just choose any life event, I find I lean on my sisterhood sometimes more then my husband, and that's where I get great perspective and empathy and that feeling of being held."
What began as the annual Emerging Women Live conferences, attracting speakers such as Brene Brown, Liz Gilbert, Arianna Huffington, Alanis Morrisette and Eve Ensler, has diversified to include podcasts (Grace & Fire) a blog (Rise & Actualize) and now Power Circles.
About 70 women are participating in the first round of Power Circles, including in the United States and Canada, Singapore, Australia, the U.K. and France. Nearly 130 women are already on the waiting list for the next round, which begins in February, and there should be three to four rounds each year, Pierrat says.
"I started Emerging Women with the idea of having these circles. It just took longer because it's a harder thing to scale then the live events," Pierrat says.
As part of her journey, Pierrat has attended chamber Mastermind groups and numerous women's groups. Her goal was to blend the best of both. 
"Mastermind groups have a totally different flavor. They tend to be more focused on goals and careers and finances. Whereas women's groups are more about the internal process," she says. "But the two have never been combined, that I know of. I wanted to create a circle of women, a place where women could go, when they are about to start something or birth something and needed specific support around the work they do."
For many of the women participating in this round, membership has required stepping out of their comfort zone, engaging in deep reflection about their own personal and professional ups and downs and possibly using all of that to develop their own voice and a clear path forward. 
About 70% of the participants are entrepreneurs, with the rest coming from corporate backgrounds. What all have in common is being women on the cusp of a major change, Pierrat says. 
Member Michelle Krogmeier has had various mentors, including a group of women she works with as a user experience designer, but her recent move to New York made it clear to he she is not a consummate networker.
"One of my goals in 2014 and 2015 is to expand my relationships here in New York, because I'm still somewhat new," she says. "This was my way of stepping out of my comfort zone and meeting like-minded women."
Her long-term Power Circles goals involves a clears vision of her professional future.
An Iowa native who attended Iowa State University, Krogmeier majored in graphic design and minored in entrepreneurial studies and would like to eventually start her own business. What exactly that business will involve remains unclear.
"That's something I'm trying to sort out," she says. "Whether it would be a graphic design business or something else — maybe more product development."
Resolving that question will ideally come as a result of her Power Circle membership.
"I hope I have people I can just pick up the phone and call who will be a sounding board for me as I come across harder life decisions," Krogmeier says.
Constance Klein has spent nearly the past two decades working for some of the biggest names in fashion, including as director of corporate internal communications for Gucci Group and leading international business development for Tod's.
Now, as owner of Scout Talent, a talent acquisition agency, she too is drawn to what the Power Circles have to offer.
"In this country, small business is huge and growing, and so is sole entrepreneurship," she says. "On the one hand, professionals can build thriving businesses in so many new ways, yet often feel alone and isolated."
Partnerships, collaboration and building alliances, she says, are hugely important. And relationships are the currency of the economy she is describing. Enter Power Circles.
 "For me it's a place to try on for size and get support around taking a leap to the next step, or being more authentic in the way I work and lead my team," Klein says. "It is about showing up in your authentic self with a group of people who have ambitions to play bigger — whatever that means to them."
"I certainly hope to gain more confidence and clarity about moving my business to the next level," she says. "And I will certainly have a solid support group of people who know me."
These are just some of the stories of the women drawn to the inaugural round of Power Circles.
The first session of Power Circles concludes in April, when Pierrat will send out a survey to gauge participant's satisfaction.
Some members say they are already reaping the rewards. 
"It's been less then two weeks since I got feedback from the Power Circle about my business, but there has already been a huge shift internally for me," says Walsh, the Colorado real estate business owner. "I can see meeting with these ladies a year or two from now and still having a bond with them."
— By Mia Taylor for MainStreet