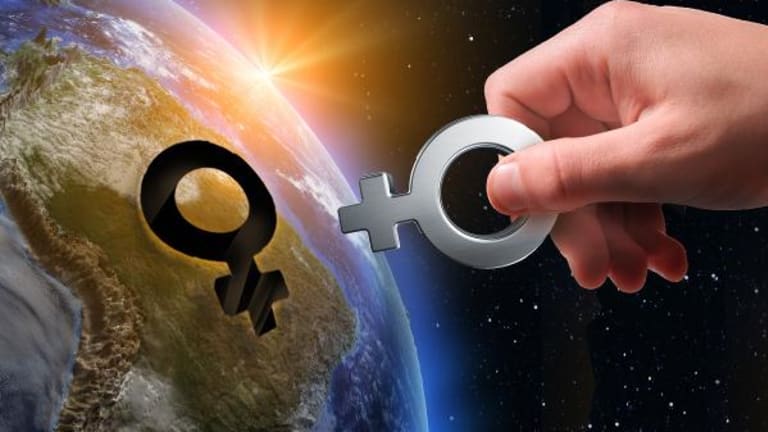 While men are traditionally thought of as the money managers of a household, women actually may be better suited to handle the investing — even if they don't think they are.
New numbers show women tend to outperform men when it comes to investing, even though they generally feel less confident. The study — by the Wells Fargo Investment Institute — showed women achieved higher returns for the five-year period between 2010 and 2015, and women achieved even higher average returns over men when adjusting for risk. Nevertheless, 19% of women said felt they had little investment experience, compared to only 12% of men, and only 43% of women said they felt they had a high amount of experience, compared to 60 percent of men.
"Women have the ability to think more about the long-term than the short-term," said Michelle McKinnon from Payne Capital Management. "When it comes to investing, that is critical. I've found men tend be more focused on the day to day moves while women acknowledge volatility as short term and move past it."
However, McKinnon said even in Millennial relationships where the woman makes more money than the man, she still finds the woman defers the investment decisions to her spouse.
"Maybe it's because she doesn't want her significant other to feel less important," McKinnon said. "But this just doesn't make good financial sense for the future. With women on average having longer lifespans, we'll have to manage our finances eventually."
Lou Cannataro, partner at Cannataro Park Avenue Financial in New York, said another reason women tend to make better planners and investors is they are better savers.
More of What's Trending on TheStreet:
"Women save more in the first place — almost a full percentage point annually — in the workplace using their companies' 401(k)s and utilizing individual vehicles such as IRAs and brokerage accounts," he said. "In addition, men are more likely to make trades, which means that trading fees eat a their savings."
Cannataro also points out — as does the study — that overall, women assume less risk, such as not loading up entirely on equities, and also invest more in vehicles like target-date funds, whose automatic allocations make for smarter diversification.
"For the most part women over men seem to approach planning in general with much more enthusiasm and commitment early on life," he said. "They do want to talk about creating the ability to be finically independent and strive to make the right decisions early on in life. They want to be ahead of the curve in terms of planning for buying a home, possible wedding and children."
When it comes to investing, the female investor may begin with less confidence but with the correct amount of education and time, become dedicated long-term investors, Cannataro said.
"The long-term investor grasps the concepts of diversification and allocation," he said. "Women tend to be more patient especially in a tumultuous market due to smart planning prior to any market correction. Men do not lack confidence and will take action, but only when ready. Many men delay investing in their early career years and this is usually a concern. They are typically more influenced by the market and more impulsive decision makers."
Men's penchant for trading more may be due to their inherent nature of thinking they know everything, said Brent Wilsey, owner of San Diego-based Wilsey Asset Management.
"Women, on the contrary, want more information and want to know everything before they invest," he said. "Men also tend to panic more when the market drops. They lose patience and sell out at bad times, which leads to poor returns."
However, Wilsey said women can be too risk adverse at times — which also has its drawbacks.
"So the answer to the question is that they tend to make the opposite decision, but both are equally poor in the long term," Wilsey said. "This is why the average investor has made 2.1% per year over the last 20 years, compared to the S&P 500 average annual gain of 8.2%.
"No matter if you are a man or a woman, it comes down to investing in good quality companies and making money over the long-term," he adds.
Watch More with TheStreet:
How Well Do You Know Floyd Mayweather?
Happy National Watermelon Day! 3 Watermelon Recipes You Can't Resist